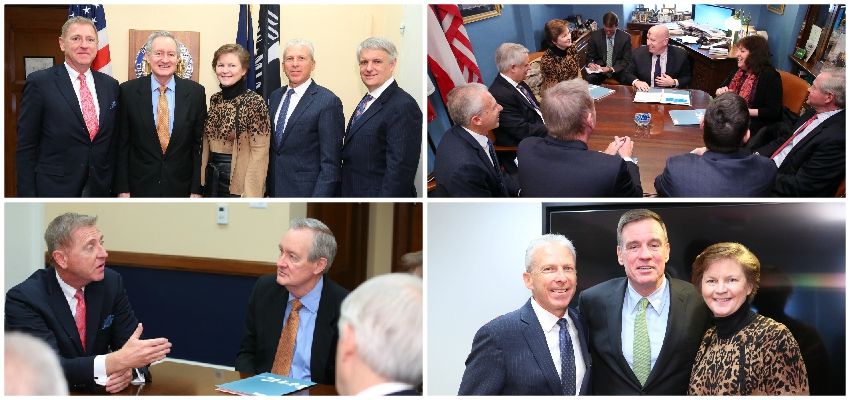 In a whirlwind series of meetings and briefings on Wednesday, March 6, NMHC officers and members, including Sue Ansel, NMHC Chairwoman and CEO and President of Gables Residential; Ken Valach, CEO of Trammell Crow Residential; Jim Schloemer, CEO of Continental Properties and Jeff Brodsky, Vice Chairman of Related Companies, as well as NMHC President Doug Bibby and staff, met with Treasury Department leadership and Members of Congress to discuss policies critical to the multifamily industry.
First and foremost, NMHC leadership highlighted the growing housing affordability challenge facing communities across the country and policy solutions at the federal level that lawmakers can use to help their constituents. An Op-Ed authored by NMHC Chairwoman Sue Ansel entitled, Congress Can Help Solve the Housing Affordability Crisis, which ran in the D.C. newspaper, The Hill, the morning of the lawmaker meetings, summarized NMHC's policy priorities, including:
Housing Finance Reform – Getting multifamily right in housing finance reform is a key factor to ensuring that the apartment industry can meet the nation's growing rental housing demand and address the affordability issues.
Regulatory Reform – Research conducted by NMHC/NAHB found that, on average, regulatory costs contribute to 32.1 percent of a project's overall costs. What's more, in a quarter of cases, such costs can be as high as 42.6 percent. There are immediate steps federal leaders can take to modernize and streamline the regulatory environment.
Infrastructure – An infrastructure package could address housing affordability issues by leveraging federal financial resources with incentives for state and local governments to reduce regulatory barriers and impact fees.
Conversations were wide-ranging and focused on other serious issues like renewing the National Flood Insurance Program, the implementation of tax reform, Opportunity Zones, and the Low-Income Housing Tax Credit & Middle-Income Housing Tax Credit.
While there has been a lot going on in Washington, housing continues to be an increasingly important issue in states and municipalities from coast-to-coast.
Following the industry's 20-point victory in California last year, beating back Proposition 10, other states have followed suit in pursuing rent control legislation. Unfortunately, last week Oregon became the first state in the country to pass a statewide rent control law despite almost a hundred letters from NMHC members being sent to Oregon lawmakers and media coverage that generated nearly 2,000 television, radio, print and online stories in national and Oregon outlets, ranging from The Oregonian and Statesman Journal to the New York Times, Wall Street Journal and CBS News, among many others.
Housing affordability and rent control will continue to pose new challenges to the industry over the coming months, at the same time, NMHC stands ready to continue to push back on these out-of-date, failed approaches while encouraging lawmakers to consider forward-thinking, nuanced policies that will actually help solve the housing affordability problem.
---