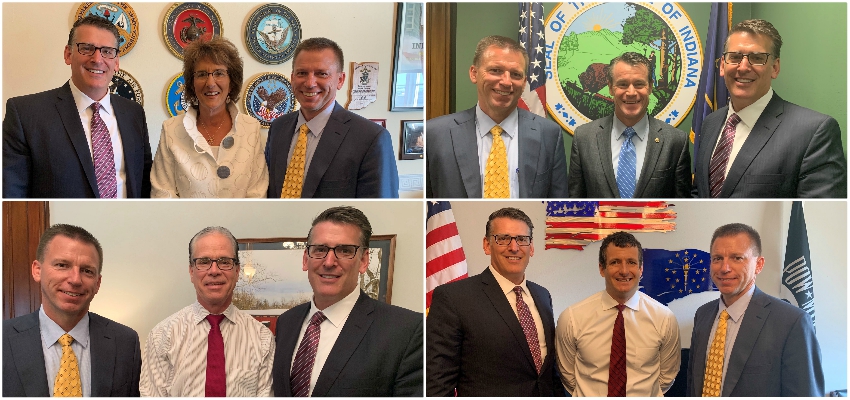 NMHC members – John Sebree, First Vice President and National Director of Marcus & Millichap's National Multi Housing Group, and Paul Thrift, President of Thompson Thrift Development – participated in several meetings on the hill on May 2 to discuss issues of importance to the multifamily industry.
Sebree and Thrift, accompanied by NMHC staff, visited the offices of Representatives Jackie Walorski (R-IN) and Trey Hollingsworth (R-IN), and Senators Mike Braun (R-IN) and Todd Young (R-IN). Throughout the day, the group discussed a variety of issues – including, infrastructure, tax reform, and housing finance reform.
However, much of the conversation centered around the affordability challenges facing the country and the industry. Sebree and Thrift explained that while apartment completions have increased in recent years, it is virtually impossible to develop and renovate units at the rent levels low- and middle-income households can afford. The cost to develop apartments has escalated dramatically in recent years. Land, material and labor costs have increased significantly. But, so have the regulatory barriers that raise the cost of housing. During the meetings, they referenced the recent NMHC and NAHB research that shows that 32 percent of multifamily development costs are attributable to local, state and federal regulations. In addition, they referenced Daryl Carter's testimony that took place earlier in the week before the House Financial Services Committee.
As highlighted in the testimony, and reiterated at these meetings, developers must contend with things like outdated zoning laws, unnecessary land use restrictions, and arbitrary permitting and parking requirements. On top of that, many localities impose impact and inspection fees, inclusionary zoning mandates and rent control rules. Easing these regulatory and other policy obstacles is critical as policymakers explore solutions to close the housing affordability gap and look for ways to make serious investments in our nation's infrastructure.
It is critical that policymakers remain aware of the issues affecting the multifamily industry so they can support the communities in their respective states and districts. Member advocacy is a key component to getting the industry's message out and NMHC thanks Sebree and Thrift for highlighting these important issues.
To learn more about NMHC's advocacy efforts, please visit our advocacy page or reach out to Cindy Chetti, NMHC's Senior Vice President of Government Affairs, at cchetti@nmhc.org for more information.
---