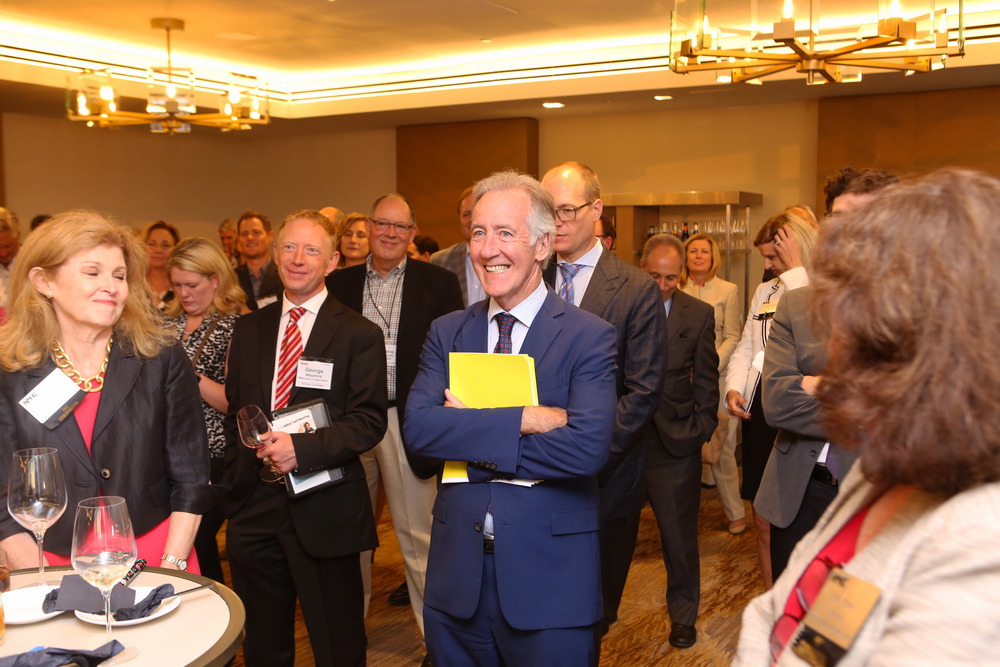 NMHC members were treated to top level policymakers from both sides of the aisle during the 2019 NMHC Fall Meeting. Throughout the week, prominent members of Congress and key administration officials discussed a wide range of topics—from housing affordability and housing finance reform to digital connectivity and opportunity zones.
NMHC hosted an opening reception honoring the who's who on Capitol Hill, including House Minority Leader Kevin McCarthy (R-CA), who talked about the diversity and strength of America. Other congressional leaders honored were:
Congressman Andy Barr (R-KY)
Congresswoman Cheri Bustos (D-IL)
Congressman Denny Heck (D-WA)
Congressman Tom Emmer (R-MN)
Senator Catherine Cortez Masto (D-NV)
Senator Rob Portman (R-OH)
Congressman Richard Neal (D-MA)
At the reception, the lawmakers covered a variety of topics such as the political landscape in Washington, solutions to the housing affordability crisis, party policies and principles and the importance of multifamily housing to our nation.
Moran & Company Co-Chair Mary Ann King kicked off a general session on Thursday by introducing Congresswoman Maxine Waters (D-CA) who discussed her role as the chair of the House Financial Services Committee. Waters also touched on housing affordability, housing finance reform and a potential reauthorization of flood insurance.
Following Waters, John Sebree, first vice president and national director for the national multi housing group for Marcus & Millichap, introduced Senator Shelley Moore Capito (R-WV). During her remarks, she focused on the importance of equitable broadband connectivity, particularly as it affects rural communities in her home state of West Virginia. She also informed the group of her thoughts on opportunity zones, immigration and the opioid crisis.
Congressmen Josh Gottheimer (D-NJ) and Tom Reed (R-NY) discussed bipartisanship in a divided Washington, outlining their roles as co-chairs of the Problem Solvers Caucus—a bi-partisan caucus dedicated to putting partisanship aside to pass legislation.
Senator Tim Scott (R-SC), who was interviewed by Daryl Carter, former NMHC chairman and chairman and CEO of Avanath Capital Management, discussed one of his signature initiatives, opportunity zones, and shared his view of Washington. Carter and Senator Scott had a candid conversation on the issues of race in today's America.
Ranking Member Patrick McHenry (R-NC) of the House Financial Services Committee, introduced by Blake Oakland, vice chairman and head of U.S. multifamily for Newmark Knight Frank, spoke on issues related to housing affordability, flood insurance, and Terrorism Risk Insurance Act (TRIA). He went into great depth on the political landscape in Washington, bipartisanship and his approach to getting things done in a dysfunctional Washington.
To close out the second day of the meeting, Chairman Mike Crapo (R-ID) of the Senate Banking Committee talked to the group about his work on housing finance reform and the administration's new housing finance reform plan. He also discussed housing affordability at large and the important role housing finance reform played in meeting those challenges.
House Majority Leader Steny Hoyer (D-MD) and HUD Secretary Ben Carson joined NMHC membership later for a reception, sharing thoughts on the political landscape in Washington as they see it. Both policymakers discussed housing affordability and identified solutions that actually work.
After the NMHC business meeting on the third day of the meeting, NMHC Vice Chair David Schwartz of Waterton introduced FHFA Director Mark Calabria. During Director Calabria's remarks, he announced the agency's new plan for multifamily caps. He also addressed several questions surrounding the administration's recently released housing finance reform plan.
---