A new weekly survey from the U.S. Census Bureau provides some somber insights into the COVID-19-related disruptions many households are facing, particularly around income, rent payments and financial confidence.
The U.S. Census Bureau has created a new weekly survey, the Household Pulse Survey, to collect near-real time data on how the COVID-19 pandemic is impacting households across the country. The survey asks respondents about their employment situation, educational disruption, food and housing security and health. The Census releases the data on the national level, for all 50 states and the District of Columbia, as well as for the 15 largest metropolitan areas.
So far, the Census Bureau has released data for three weeks, with the most recent survey conducted from May 14-19, which garnered approximately 133,000 responses. The previous two surveys were conducted from April 23-May 5 and May 7-12, respectively. This effort is useful for the public and policymakers alike, as both try to understand and measure the impacts the COVID-19 outbreak has had on the country.
The results show how widespread the stresses stemming from the pandemic are on American households—and especially renter households—as they struggle with uncertainty around basic needs. Much of the data also underscore the need for a widespread federal renter assistance payment program to provide relief to affected households and help stabilize the housing and financial systems.
Employment Income
In the most recent iteration of the survey, 48.5 percent of all respondents reported that either they or another adult in their household had lost employment income since March 13, which marks the onset of widespread closures related to the COVID-19 outbreak. This compares to 47.0 percent and 47.5 percent reporting the same measure in the first and second rounds of the survey, respectively.
However, when excluding those respondents age 65 or older, the share of those who have experienced loss of employment income jumps to 54.3 percent in this week's survey. The loss of employment income by age is exhibited in the figure below.
Survey respondents were also asked about their expected employment income over the next month. In this week's results, 36.3 percent of respondents expected that they or a household member will lose employment income in the next four weeks, down slightly from 37.0 in week 2 and 38.8 in week 1.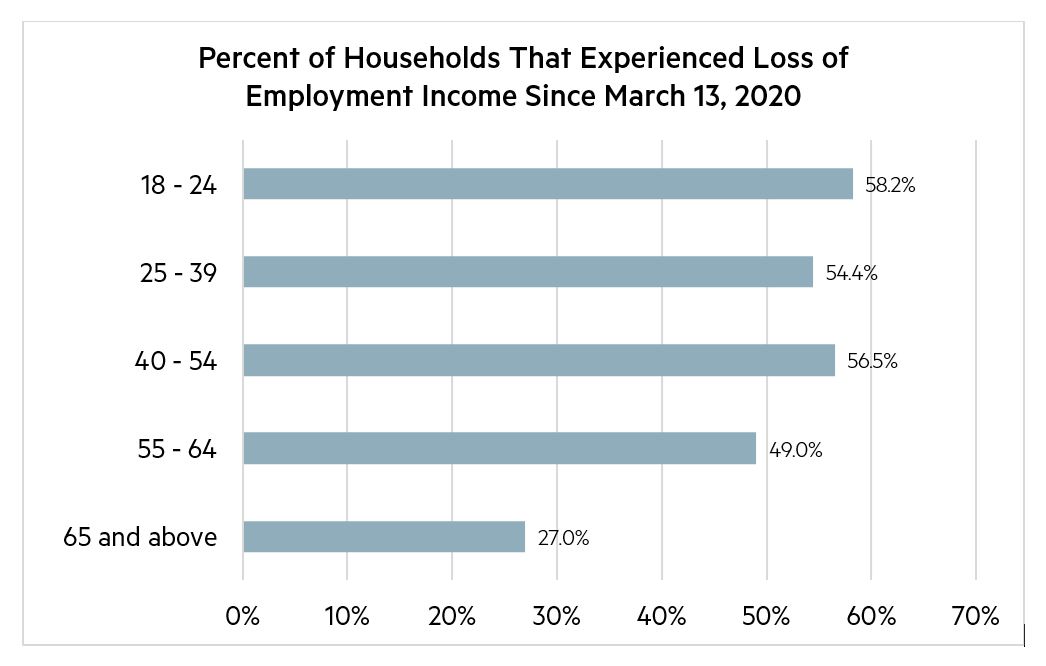 Last Month's Rent Payment
The survey found that 19.4 percent of all renters either were not able to pay their rent on time or deferred their rent last month. (Note this is not an overall monthly rent payment measure.) This is down slightly from the 19.7 percent of renter respondents that indicated the same during last week's survey, but both are higher than the 17.3 percent in the first survey. Part of the first week's survey was conducted in April and may be capturing March rent payments rather than only April's.
Respondents who indicated being unemployed or experiencing a loss of employment income in their household also expressed higher rates of being unable to pay their rent on time or deferring payment. Of those renters who reported being unemployed in this week's survey, 24.4 percent of them were unable to pay their rent on time or deferred payment. More than one in four (27.8 percent) renter respondents did not pay their rent on time or deferred payment where there had also been a loss of employment income in the household.
Confidence in Next Month's Rent Payment
The Household Pulse Survey included some forward-looking questions in addition to those about household experiences during the current pandemic, including questions about future financial obligations.
More than one-third (34.2 percent) of renter respondents have no or only slight confidence in their ability to make next month's rent payment. This is an increase of 4 percentage pointst from the first week's survey, where 30.2 percent of renters reported the same thing. When looking at renter households where there has been a loss of employment income, nearly half (46.0 percent) of those respondents have no or slight confidence in their ability to pay next month's rent. This all certainly lends itself to the need for a widespread renter assistance payment from the government.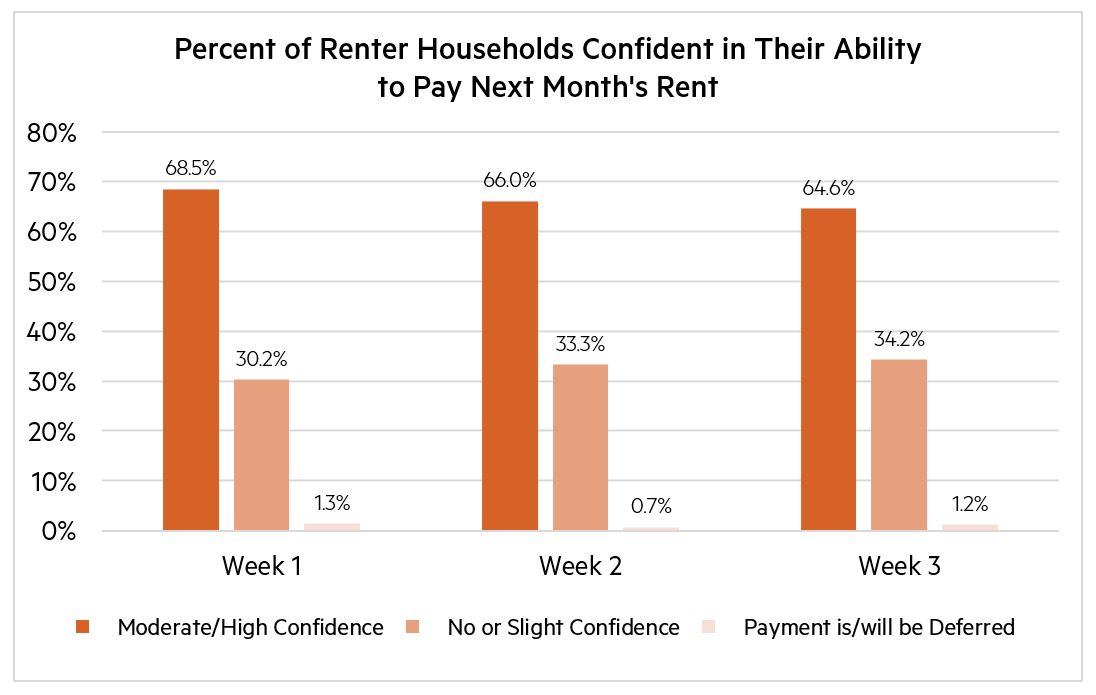 ---