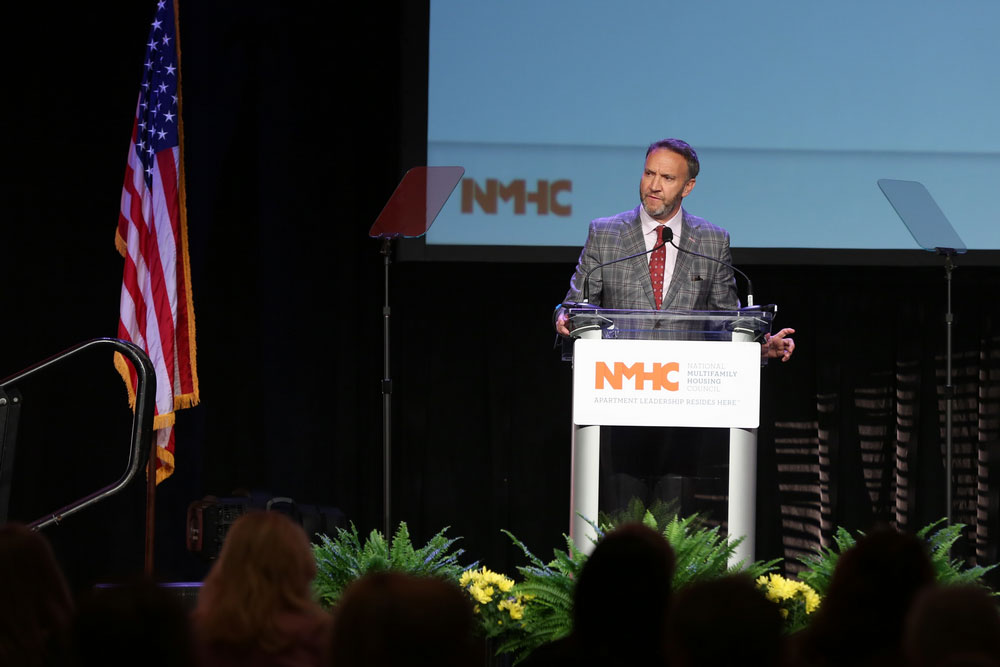 The 2020 NMHC Annual Meeting marked the close of former NMHC Chair Sue Ansel's term, with the council electing David Schwartz of Waterton as its next chair, serving through 2021. In formally accepting the position, Schwartz outlined his priorities for his tenure. He stressed that the industry is facing great potential for disruption across six key issue areas: Sustainability and Resiliency, Diversity and Inclusion, Government Regulation, Housing Finance Reform, Innovation and Housing Affordability.
Here are his remarks in full:
As I considered what I think the top priorities are for our industry, one common theme emerged — disruption. Of course, this includes new technologies, but it's broader than that. With that in mind, I have six key areas where I see the greatest potential for disruption and where I will focus my attention as Chair.

1. The Regulatory Environment

Government has always had the potential to be the most disruptive force of all. At a time when the multifamily industry is facing increasing pressure to meet booming demand for apartments across all income levels, an overly bu rdensome regulatory infrastructure is forcing owners, operators and capital providers to manage numerous compliance hurdles and rising costs.

NMHC has led and will continue to lead the charge, urging policymakers to reject quick-fix solutions such as rent stabilization and rent control or costly regulatory mandates and onerous inclusionary zoning requirements, that only serve to make the problem worse. As an industry we will continue to advocate for real solutions that help to address the skyrocketing cost of regulation, labor and materials and provide assistance for families and individuals in need.

2. Housing Finance Reform

The success of our industry starts and stops with our ability to access capital. For that reason, GSE reform will remain a focus of my tenure as Chair. I have already spent time with FHFA Director Mark Calabria, including on stage last fall at the NMHC meeting when he announced our much-welcomed 2020 multifamily lending cap figures, and I believe we will have a constructive relationship with him going forward.

We must remain vigilant as broad GSE reform proposals surface in the Administration and Congress, but also to more nuanced changes being considered. Even the smallest changes in policy related to Fannie and Freddie can dramatically impact all of us.

3. Sustainability and Resiliency

We have met the challenge of improving the sustainability quotient of our properties by making smart decisions about building locations, materials and systems. However, the discussion around sustainability has catapulted into a larger conversation about resiliency.

We are seeing the forces of climate disruption in the form of increasingly frequent severe storms and fires. I want to challenge each member to do something to lower our collective carbon footprint while NMHC advances policies to strengthen communities through infrastructure planning and development, building technology, tax policy and financing tools to assist property owners in adapting to future challenges. We are a $3 trillion-dollar industry. Imagine the impact it could make if every apartment owner took some sustainability initiative!

4. Diversity and Inclusion

D & I are integral to the bottom line, and an increasingly important part of ESG and corporate social responsibility. There is no doubt that the future prosperity of our industry depends on our ability to attract and grow talented leaders with diverse backgrounds and experiences.

We've had incredible successes under Sue's watch that we will continue to expand. On Monday more than 450 attended NMHC's second Women's event, and in April we will once again hold our annual Leadership Forum on Diversity and Inclusion.

We are also strengthening our partnerships with like-minded organizations, such as CREW Network—Commercial Real Estate Women, the Real Estate Executive Council, which has 20 members at this meeting and Fannie Mae's Future Housing Leaders program.

5. Innovation

During my term as Chair, NMHC will continue to champion innovation. Billions have been poured into new real estate technology and are causing us to rethink our business models.

NMHC is uniquely positioned to understand the complexity of this challenge and provide a path forward and will do so through our OPTECH Conference, our newly formed Innovation Committee and Tech and Telecom committees.

We remain the voice of the industry with the Congress and federal agencies, including the FCC as they consider regulations with potentially serious implications for us.

From artificial intelligence, to smart home automation, data privacy, electric and autonomous cars, new flexible leasing business models, and potentially game-changing digital connectivity offerings, like 5G, this is an exciting and challenging time for the industry.

6. Housing Affordability

Our industry has become disrupted because of our success. The booming demand for rental housing and the ever escalating cost to build it has created a shortage of quality affordable apartments. Housing affordability has reached crisis mode and for the first time in my career Presidential Candidates are talking about it. Furthermore, in todays' politic, housing is being characterized as a fundamental right of every American.

It is imperative that our industry and NMHC continue the conversation about solving housing affordability. NMHC will take the lead in researching the causes of the affordability crisis and we will create a roadmap of core principals to solve it in practical and productive ways that is sensitive to all stakeholders.

I look forward to working with all of you over the next two years and welcome your feedback and thoughts as to how NMHC can best serve the industry.

Thank you.
---