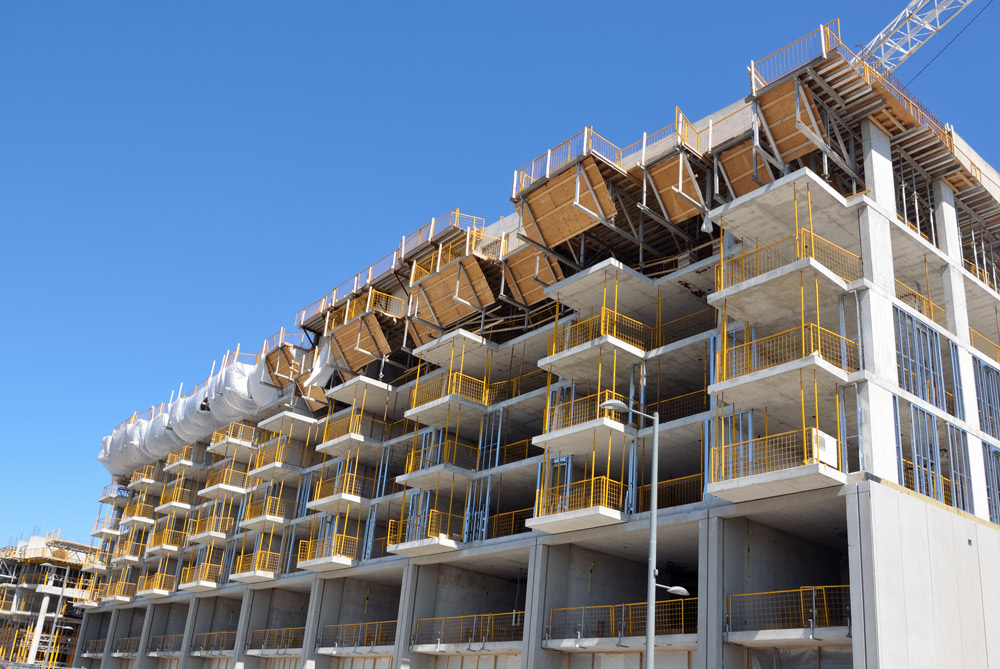 Industry survey asked multifamily construction firms how the spread of COVID-19 is affecting construction permitting, starts and completions as well as materials and labor.
This is NMHC's fourth installment in a series of surveys aimed to help the industry stay on top of changing construction market conditions during the COVID-19 pandemic. The survey was conducted from July 6-15, 2020 and received 61 responses from leading multifamily construction firms. Results will be compared with the first survey, which was conducted March 27-April 1, 2020 and received 135 responses, the second survey, which was conducted April 9-14, 2020 and received 84 responses, and the third survey, which was conducted May 11-20, 2020 and received 78 responses.
Here are the major takeaways. (View full survey results.)
More than half of respondents are experiencing construction delays
More than half (57 percent) of respondents said that they are currently experiencing construction delays in jurisdictions where they operate, consistent with the what's been said throughout the survey; 55 percent reported delays in round one, 56 percent in round two, and 53 percent in round three. Of this group, 83 percent reported experiencing delays in permitting, virtually unchanged from the 85 percent experiencing permitting delays in the last round, but up from the 77 percent indicating such in round two and 76 percent in round one. Seventy-one percent of those experiencing construction delays are experiencing delays in starts, down slightly from 78 percent that reported the same delays in round three, but an increase from the 70 percent indicating delays in starts in round two and 59 percent in round one.
Respondents weigh in on delays in starts due to COVID-19
We asked several new questions in this round of the survey to understand how the ongoing pandemic is impacting starts in construction. Those reporting delays in starts were asked what they see as the cause of delays at this point, and over half (56 percent) indicated the cause to be permitting, entitlement, and professional services. Economic uncertainty was the second-most common response at 52 percent, followed by availability of construction financing (48 percent), health and safety concerns (28 percent), projects that are not economically feasible at this time (16 percent), and other specific delays (8 percent). The other delays indicated by respondents include delays in materials and crewmembers testing positive for the virus. When asked to estimate the length of their delays in starts, nearly every respondent reported a year or less, with 52 percent indicating less than 6 months and 44 percent saying 6 to 12 months.
Only one-third of respondents have not paused or canceled projects due to COVID
The majority of respondents reported pausing at least one construction project since mid-March - 23 percent reported that they've paused projects but will definitely resume, 18 percent have paused projects with uncertainty around resuming, and an additional 18 percent paused operations earlier in the pandemic but have since resumed. Only 2 percent of respondents have cancelled projects entirely, and over one-third (36 percent) indicated they have not paused or canceled operation at this point. Moreover, over half (51 percent) of respondents indicated that the recent spike in Coronavirus cases has affected their operations in some way.
Respondents report on the COVID-19 impacts on deal prices and financing
Fifteen percent of respondents reported experiencing deals being priced down 5 percent or more during the Coronavirus pandemic, 11 percent are seeing deals priced down 3 to 4 percent and, 15 percent of respondents, down 1 to 2 percent. On the other hand, nearly one-third (31 percent) have not seen deals being repriced at all, while other respondents have even seen prices rise - 8 percent reported deals being priced up 1-2 percent, and 3 percent of respondents are seeing deals going for 3 to 4 percent higher.
Survey respondents also reported widespread issues in obtaining financing or construction loans since mid-March. Thirty-six percent of respondents indicated facing some delays in obtaining financing but have been otherwise fine, 21 percent were unable to obtain financing at their desired price point, and 2 percent were unable to obtain financing at all. Still, 13 percent of respondents say they have been able to obtain financing without issue during the pandemic.
More than one-third of respondents are affected by a lack of materials
Over a third (36 percent) of respondents reported a lack of materials impacting their construction operations, the highest share recorded since we began conducting the survey in late March (compared to 29 percent in round three, 28 percent in round two, and 24 percent in round one).
When those respondents affected by a lack of materials were asked to cite specific areas of issue, the top responses were appliances (41 percent), cabinets and countertops (36 percent), electrical components (23 percent), fixtures (23 percent), tile/wall finishes (14 percent) and AC/condenser units (14 percent). Nearly one in five (18 percent) said there have been issues with closed facilities or international sourcing, which has led some to attempt to procure more local materials.
Some respondents continue to see increases in the price of materials
Eighteen percent of respondents indicated seeing price increases in construction materials. While only a handful of respondents reported price increases in the first two iterations of this survey (5 percent and 4 percent, respectively), the third round saw that share jump to 17 percent of respondents, and it has since remained around this elevated level.
When asked to cite the specific materials where price increases have occurred, the majority of respondents indicated lumber (55 percent, similar to the 54 percent citing lumber in the previous round) and other structural materials (18 percent) such as concrete, steel, or trusses.
Respondents seeing increased stress on labor availability
While the majority of respondents have not been impacted by availability of labor, the share of respondents that indicated they are still facing labor constraints increased 14 percentage points during this round of the survey, from 25 percent to 39 percent. However, this is on par with the share reporting labor constraints in the first two rounds of the survey (41 percent in round one and 44 percent in round two).
Many (38 percent) of the operators currently facing labor constraints said that employees were not working right now either because the workers were infected or concerned about getting infected, they needed childcare, or because they simply did not want to return to work. Other constraints cited during this round of surveying include restrictions that limit crew sizes or when crews can work (25 percent) and general delays caused by the labor shortages and schedule extensions (17 percent). One respondent indicated, however, that they have actually seen less competition for labor, which has priced it down.
Many firms are implementing new strategies to deal with current hurdles
Over half of respondents (52 percent) indicated they have implemented new strategies to deal with the hurdles formed by the virus's continued presence – down from 59 percent in the last round, 75 percent in the second round and 73 percent in the first round – with many of those firms indicating they have implemented more than one strategy.
The most popular strategies implemented by respondents include sourcing materials from alternative locations (56 percent this round/50 percent round 3/48 percent in round 2/43 percent in round 1), staggering shifts to reduce on-site exposure (59 percent/54 percent/58 percent/52 percent) and using technology to replace in-person transactions like inspections and approvals (47 percent/59 percent/63 percent/67 percent).
Other strategies reported include sourcing alternative building materials (28 percent this round/24 percent in round 3/19 percent in round 2/16 percent in round 1) or offering workforce incentives or other benefits (22 percent/24 percent/16 percent/14 percent). Several operators cited additional safety measures such as temperature checks and questionnaires to enter the job site in an effort to maintain the safest work environment possible.
---