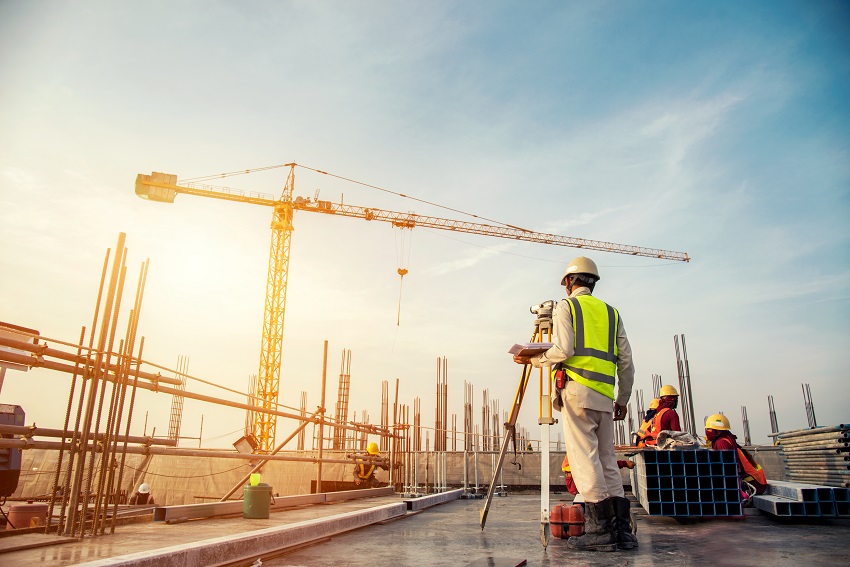 Firms Continue to Face Price Increases and Availability Constraints to Materials
This is NMHC's seventh installment in a series of surveys aimed to help the industry stay on top of changing construction market conditions during the COVID-19 pandemic. Here are the major takeaways. (Click here to view full survey results. )
Respondents Experiencing Construction Delays Reached Highest Level Yet
During the most recent iteration of the survey, 83 percent of respondents reported experiencing construction delays in jurisdictions where they operate, an increase from the results reported in each of the prior six rounds. The previous record was set during the last round of the survey – conducted from February 10 to March 5, 2021 – where 75 percent of respondents reported delays.
Of the group that cited overall construction delays, 80 percent reported experiencing delays in permitting, up slightly from the 77 percent in round six and comparable to the results seen in the earlier rounds. Similarly, 80 percent of those who faced construction delays were experiencing delays in starts. This level was the highest reported over the entire course of the survey, although it has hovered between 70 and 80 percent since the second round. Similar to the previous round, permitting, entitlement and professional services (70 percent) was the most cited cause of delays in starts, followed by concerns about the economic feasibility of projects (56 percent).
Vast Majority of Respondents Are Affected by a Lack of Materials
Eighty-six percent of respondents reported a lack of materials impacting their construction operations, setting another record high for the survey (compared to 83 percent in round six, 80 percent in round five, 36 percent in round four, 29 percent in round three, 28 percent in round two and 24 percent in round one).
When those respondents affected by a lack of materials were asked to cite specific areas of issue, the top three responses were lumber (84 percent in this round/53 percent in round six/49 percent in round five), appliances (53 percent in this round/71 percent in round six/60 percent in round five), and metal components such as steel or copper (24 percent in this round/8 percent in round six/12 percent in round five). Several other materials specifically cited include drywall/insulation (19 percent), doors and windows (17 percent), cabinets and countertops (16 percent), fixtures (13 percent), polyvinyl chloride or PVC (12 percent) and roofing and siding (12 percent). A wider variety of materials were cited during this round of the survey, highlighting the continued strain felt in sourcing construction inputs.
All Respondents Reported Price Increases for Materials, Most Severely for Lumber
In this round of the survey, 100 percent of respondents indicated seeing price increases in construction materials, the highest level reported since the survey's inception, and up from 93 percent in round six and 82 percent in round five.
When asked to cite the specific materials where price increases have occurred, the overwhelming majority of respondents indicated lumber once again (78 percent this round, 81 percent in round six, 86 percent in round five). Respondents also noted increases in metal components such as steel and copper (47 percent), drywall/insulation (21 percent), PVC (16 percent) and electrical components (12 percent). Nearly one-quarter (22 percent) of respondents simply stated they've experienced price increases for all materials.
Of respondents who indicated price increases for materials, the average firm reported a 38 percent price increase over the past 12 months for its most impacted materials, excluding lumber. Also over the past year, the average firm in this group reported a steep 201 percent increase in the price of lumber. In response to this increasing price of lumber, responding construction firms adapted by repricing projects (62 percent of respondents), continuing projects while making price-saving modifications or eliminations to other materials and fixtures (49 percent), delaying start of projects (39 percent), using alternative materials (35 percent) and changing lumber buying practices, such as new or increased use of lumber brokers (35 percent).
In this round of the survey, 69 percent of respondents reported deals being priced up 5% or more, which is a drastic increase from the 14 percent indicating the same in round six.
Respondents Seeing Increased Stress on Labor Availability
Forty-seven percent of respondents reported impacts to labor availability — an increase of 11 percentage points from the previous round and up from the 20 percent seen in round five. This is the highest share to report labor constraints over the entire course of the survey, and the first time fewer than half (49 percent) of respondents have reported no issues with labor availability. When asked to expand upon their issues of labor availability, three-quarters (74 percent) reported a general scarcity of laborers. Other obstacles cited include issues with scheduling (12 percent) where the shortage of workers is creating project delays, as well as the cost of labor (12 percent) due to increased competition for available workers.
Background
This survey was conducted from May 17 to June 1, 2021 and received 109 responses from leading multifamily construction firms. Results will be compared with each of the six previous surveys, the first of which was conducted March 27-April 1, 2020, and the most recent from February 10 – March 5, 2021.
---