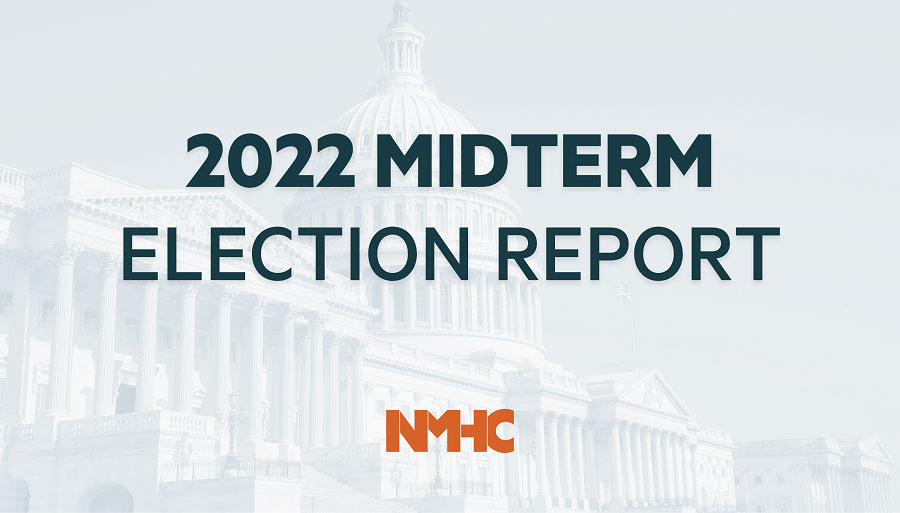 The dust is still settling from the midterm elections. But with election results finally in focus, the apartment industry should take note of various changes that are coming to Congress, governorships and state legislatures—many of which will have a direct impact on our industry.
Housing policy was again on the ballot in many key races with rent control cropping up across the U.S. In addition, as committee makeup in the now-divided Congress shapes up, it's sure to have a direct impact on potential housing related legislative efforts.
More to Come: Look for more resources from the NMHC advocacy team in the coming months on how potential committee appointments will impact the legislative agenda as it relates to housing—check out NMHC's current policy priorities document for a snapshot of what we've been tracking this Congress.
Explore the following for a brief snapshot of the election results and their potential impacts on the apartment industry, including detailed results on the various rent control initiatives that were on the ballot.
Please note that election results are continuously evolving. The below information is current as of November 17, 2022.
Congress
Republicans Take Back U.S. House of Representatives
According to a November 17 AP report, the Republicans have reclaimed the majority in the House. However, their margin will likely be much slimmer than some originally projected.
Familiar faces will return to the GOP leadership slate next Congress—including Rep. Kevin McCarthy (R-Calif.) as House Speaker, Rep. Steve Scalise (R-La.) as Majority Leader and Rep. Elise Stefanik (R-N.Y.) as Conference Chair. Lastly, Tom Emmer (R-Minn.) won-out a hotly contested nomination to claim to the House Republican Conference Chair position. Richard Hudson (R-NC) will also helm the NRCC Chair.
In a suprising turn for Democrats, two long-time leadership staples announced they are stepping down to make way for a younger generation of leaders. Current Speaker of the House Nancy Pelosi (D-Calif.) and Minority Leader Steny Hoyer (D-Md.) are passing the batton to Rep. Hakeem Jeffries (D-N.Y.), Rep. Kathering Clark (D-Mass.) and Rep Pete Aguilar (D-Calif.) who are expected to take on the roles of Minority Leader, Minority Whip and caucus chair, respectively.
Democrats Win Control of U.S. Senate Ahead of Georgia Runoff
Many on Election Night predicted the Georgia runoff would determine control of the Senate, but Senator Cortez Masto's Nevada victory clenched Democratic control on November 12—per an AP call.
Republican leaders in the Senate will include Sen. Mitch McConnell (R-KY) as Minority Leader, Sen. John Thune (R-SD) as Minority Whip, Sen. John Barrasso (R-WY) as Republican Conference Chair, Sen. Joni Ernst (R-IA) as Republican Policy Committee Chair, Sen. Shelley Moore Capito (R-WV) as Conference Vice Chair and Sen. Steve Dains (R-MT) as National Republican Senatorial Committee Chair.
Senate Democrats are scheduled to select their leadership the week after Thanksgiving.
Buckle Up for a Divided Congress
Although Republicans had hoped to sweep both the House and Senate, the balance of power will be split down the middle for the 118th Congress.
Republican leadership previously signaled a potentially aggressive policy agenda in the months and weeks leading up to the election—including measures to combat the debt ceiling, oversight of the Administration and investigations relating to immigration, COVID-19 and Afghanistan. Although Democrats would quash these efforts in the Senate, an attempt to carryout this agenda is still expected in the House, but may be impacted by a more narrow majority. Similarily, any efforts by Senate Democrats to continue their work of the 117th Congress to carry out President Biden's agenda would likely be rejected in the House.
In the States
Thirty-six governorships and a large number of state legislators were also up for election. Additionally, a number of rent control ballot measures were considered at the local level.
Notable Gubernatorial Races… Maryland, Massachusetts and More
At the gubernatorial level, Maryland and Massachusetts flipped from Republican to Democrat at the top of the state government. Whereas Nevada flipped from Democrat to Republican.
In Maryland, Democrat Wes Moore will replace Republican Governor Larry Hogan, who was term-limited. Housing policy was not a major theme of his campaign. The state does not preempt localities from implementing rent control. Montgomery County, the most populated county in the state, is currently considering a rent control measure.
In Massachusetts, Democrat Maura Healey, the current Attorney General, coasted to victory over former state lawmaker Geoff Diehl. Healey replaces Republican Governor Charlie Baker, who opted not to seek re-election. Though the state legislature failed to pass legislation overturning local rent control preemption, Baker was considered a veto backstop if the measure did reach his desk. Governor-elect Healey supports policies to incentivize communities to build multifamily developments around mass transit stations. However, she also backs giving municipalities the ability to implement rent control.
Of the races too close to call on Election Night, Nevada was the most relevant to the housing industry. In what may prove critical for the future of rent control in the state, Republican Clark County Sherriff Joe Lombardo ended up winning out over the Democratic incumbent, Governor Steve Sisolak. If Sisolak would've proved victorious, there most certainly would have been a 2023 rent control fight in Nevada. Sisolak has been supportive of rent control efforts and recently stated that a statewide rent control effort was 2023 legislative priority.
Few State Legislatures Change Control (And What This Means for Future Rent Control Provisions)
State legislative seats were up for grabs in nearly all states. While the status quo in chamber control won out in most states, there will be changes in Michigan and Minnesota.
In Michigan, Democrats will take full control the state legislature. It will mark the first time in four decades that Democrats control the governor's office and the Michigan Legislature.
Michigan currently preempts localities from implementing rent control. However, with housing affordability challenges in Detroit and elsewhere, it now is a state to closely watch.
The Minnesota legislature was one of only two states that had divided control of the legislature (Virginia, which did not hold state legislative elections this year, is the other state). Now, though, Democrats will maintain control of the state House and flip the Senate.
Like Michigan, Minnesota maintains statewide rent control preemption. In 2020, St. Paul voters notably leveraged exemptions to implement rent control and Minneapolis voters gave the City Council the ability to adopt the flawed policy. With Democrats controlling the full legislature, statewide activity is possible.
Local Ballot Initiatives Translate to Rent Control Repercussions
Earlier Efforts to place rent control on the ballot failed to move forward in South Las Vegas, St. Petersburg and Tampa. However, voters in Portland, Maine, Orange County, Florida, and three municipalities in California did weigh in.
Maine
In Portland, Maine, a "tenants' rights" measure was approved by voters by a margin of 54 percent to 45 percent. The referendum further limits annual rent increases to 70 percent of the increase in the Consumer Price Index. It also includes a 90-day notice for any lease termination, a restriction of security deposits to amounts equal to one month's rent and a prohibition on fees for applications, credit reports and background checks. The full text of the measure can be found here.
California
In California, voters in Pasadena, Richmond and Santa Monica considered various forms of rent control.
In Pasadena, 52% of voters approved measure H as of the evening of November 15. The approved measure limits rent increases to 75 percent of the annual increase in the Consumer Price Index, establish a Pasadena Rental Housing Board and provide guidelines around "just cause" evictions (full text here).


In Richmond, 56 percent of voters approved a measure further limiting rent increases to 3 percent. The full text of the measure can be found here.


In Santa Monica, 58 percent of voters supported a measure lowering annual rent increase limits from 6 percent to 3 percent. A second measure disallows rent increases during a state of emergency declared at the federal, state or local level. The full text of these measures can be found here and here.
Florida
Lastly, voters in Orange County, Florida, which encompasses the Orlando region, approved a disputed rent control measure with nearly 60 percent in favor. Like over half of the country, Florida preempts rent control at the local level. The ordinance would limit rent increases to 9.8 percent over the next year. However, a State Circuit Judge previously ordered election officials not to certify the results of the vote, declaring the ballot summary to be misleading. Following that order, the Orange County commissioners voted on November 17 to appeal the court's decision, so the measure remains up in the air as the appeals process unfolds.
NMHC Has the Industry's Back on Capitol Hill and Beyond
Whether it was a referendum or part of candidates' platforms, housing affordability was once again on the ballot in 2022.
With new Congressional and State sessions set to kick off in the New Year, elected leaders – new and old – will soon turn their attention to lawmaking. And we're certain numerous apartment industry priorities will face legislative action in 2023.
To help members better undesrtand the state-by-state outlook on rent control, NMHC will soon release its 2023 Rent Control Outlook memo. As we know, too many lawmakers see rent control as an easy response. Outside of costs to administer rent control, the flawed policy does not weigh heavily on a state or local budget. And while intentions may be good, we know that rent control has a perverse impact. It only serves to jeopardize the stability of our nation's housing stock, exacerbating the housing shortages at the root of our housing affordability challenges.
The apartment industry must be prepared to aggressively fight rent control measures wherever they emerge. To that end, NMHC will once again convene its members in states where we anticipate immediate action, mobilize other allies and lead the charge against these existential threats to our industry.
In addition, as Congressional committee leadership firms up, NMHC will release supplemental resources on potential impacts related to their specific legislative agendas. NMHC will also release a new policy priorities document in early 2023 that will guide our advocacy efforts for the new Congress. Our current policy priorities document can be accessed here.
NMHC will be laser-focused on key, overarching issues such as housing affordability and regulatory reform next year. Pursuing various advocacy efforts around these issues will ensure the overall viability of the industry and our members' ability to continue effectively operating their businesses and serving our nation's nearly 40 million apartment residents.
---