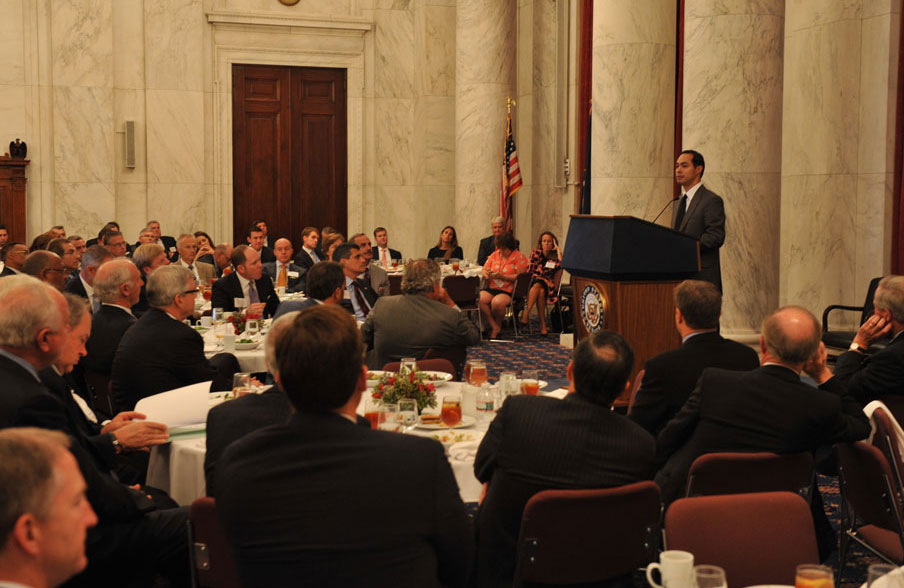 WASHINGTON, D.C. - The multifamily industry was featured prominently in Washington this week, as key Members of Congress and White House officials met with senior apartment executives during the National Multifamily Housing Council (NMHC) Fall Board of Directors Meeting. More than 300 apartment industry leaders attended the three-day event in D.C.
U.S. Department of Housing and Urban Development Secretary Julian Castro; Senators Mark Begich, Mike Crapo, Rob Portman, and Charles E. Schumer; as well as House Majority Leader Kevin McCarthy and Congressman Aaron Schock engaged industry leaders on a variety of policy issues - ranging from comprehensive tax reform to creating more affordable apartment homes.
"Everything that happens in Washington affects our industry and the 36 million residents who call an apartment home," said NMHC Chairman Daryl Carter, CEO of Avanath Capital Management. "We're pleased with the response from everyone we've met and their understanding of the role apartments play in developing strong communities nationwide."
Discussions revolved around several key policy priorities for the apartment industry, including House reauthorization of the Terrorism Risk Insurance Act (TRIA) and Senate action on the Environmental Protection Agency's "Waters of the U.S." rule.
"We held really productive meetings with Members of Congress, and hope that we'll see some progress on key issues like Terrorism Insurance and EPA's "Waters of the U.S." rule before the elections," said NMHC Senior Vice President of Government Affairs Cindy Chetti.
If TRIA is allowed to expire, multifamily owners will most likely face significant cost increases and development will slow triggering severe economic instability. Under the EPA's rule, permitting requirements and associated costs for multifamily owners and developers would significantly increase.
---