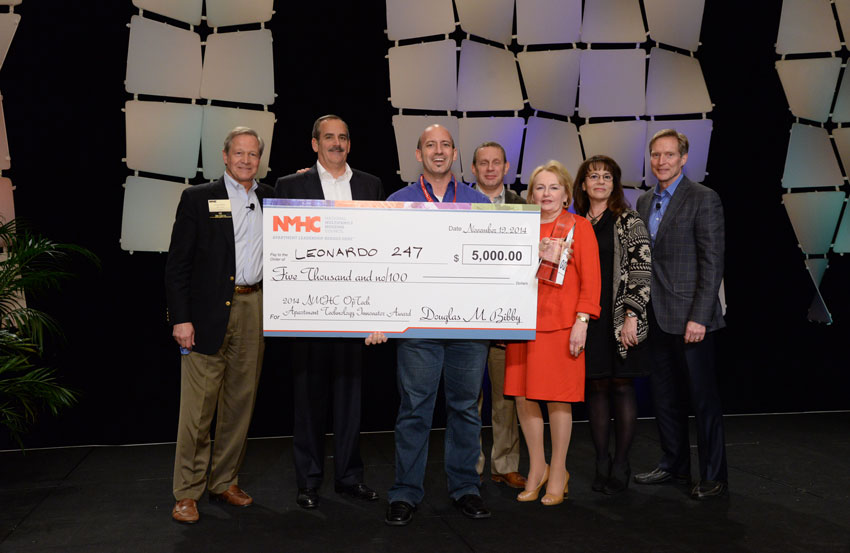 The cloud-based property operations software company. Leonardo247 won the National Multifamily Housing Council's (NMHC) 2014 Launch Pad competition. The award recognizes the apartment industry's top technology start-up, with four finalists pitching their products to a team of top industry executives at the NMHC OpTech Conference & Exposition. The winner receives a $5,000 cash prize and a one-year, complimentary membership to NMHC.
"With so many fantastic companies in the competition, we're thrilled to just be a finalist, let alone winning NMHC Launch Pad," said Leonardo247 Founder Daniel Cunningham. "Consistent application of best practices in property operations and risk management is typically a struggle across all sizes of portfolios. It's exciting to see the recognition for our solution in the industry."
Leonardo247 edged out other finalists Package Concierge, remotely and SlopeJet - selected from a record number of applicants. As a testament to the effect of winning Launch Pad, last year's winner, InfoTycoon, is now working with five of the top ten apartment firms.
"Whether it's managing multimillion dollar buildings or multibillion dollar portfolios, technology plays such an important role for the apartment industry across all levels of operations and management," said Rick Haughey, NMHC Vice President of Industry Technology Initiatives. "NMHC Launch Pad is part of the Council's efforts to help companies like Leonardo247 bring new technologies and innovations into the marketplace."
Leonardo247's proprietary database of real estate best practices and methodologies allows multifamily firms to develop and digitally distribute operations policies and procedures, as well as create customizable task lists for on-site staffers. This ensures that key actions involving risk management, preventative maintenance or basic day-to-day operations aren't ignored or forgotten. Through Leonardo247's software, apartment firms can maintain consistent standards in their operations while increasing support and accountability for on-site staff. In addition, property owners and managers gain visibility into progress at the community level.
The 2014 Launch Pad judges were Rick Graf, President and CEO of Pinnacle; Alexandra Jackiw, President of Milhaus Management, LLC; Greg Lozinak, Executive Vice President and COO of Waterton Residential; Greg O'Berry, Chief Operating Officer of JVM Realty Corporation; and Lori Reeves, Vice President, Strategic Business Services of Forest City Residential Management, Inc.
Read about all of the finalists here.
---