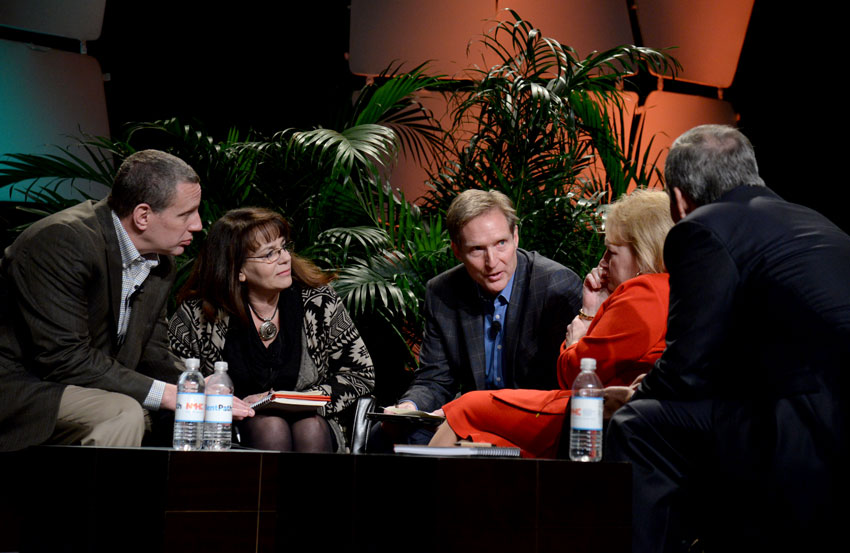 Now in its third year, the NMHC Launch Pad competition recognizes start up technologies targeting the apartment industry. The 2014 competition attracted a record number of submissions from a wide variety of technology firms that have been in business for fewer than five years. Four finalists were identified and invited to pitch their technology solutions to a panel of industry executives at the closing session of the 2014 NMHC OpTech Conference & Exposition.
In the end, the judges selected Leonardo247 as the competition winner, awarding the operations and risk management software provider a $5,000 cash prize and a complimentary one-year membership to NMHC.
However, the competition was stiff. Here's a brief overview of all four finalists' technology solutions.
The session ended by catching up with last year's winner, InfoTycoon.  A clear Launch Pad success story, the company is now working with five of the top 10 apartment firms and is doing well enough to upgrade from its one-year complimentary membership to a Board of Directors level membership.
2014 Launch Pad Winner
COMPANY: Leonardo247
WEBSITE: www.leonardo247.com
PROBLEM: Apartments struggle to ensure operations and risk management policies and procedures are implemented consistently across a large portfolio, especially when the industry has a high employee turnover rate on site.
SOLUTION: A cloud-based software solution that helps apartment firms digitally develop and distribute best practices policies, creating customizable task lists for on-site staffers so key actions aren't ignored or forgotten. The software system allows apartment firms to maintain consistent standards in their operations but also increases accountability for on-site staff and visibility into community-level.
PRICING: $0.50 per unit
JUDGES' TAKEAWAYS: Judges liked the idea of having a proactive solution for managing common maintenance and operations tasks that could reduce risk and result in insurance savings. They also liked the flexibility of the system and the mobile application. However, they were skeptical as to whether the solution would tempt regional managers to monitor the activities from their offices rather than getting out to their communities to ensure the tasks were actually completed.
2014 Launch Pad Finalists
COMPANY: Package Concierge
WEBSITE: www.packageconcierge.com
PROBLEM: Residents continue to order more items online, resulting in large numbers of packages delivered to apartment communities daily. With apartment communities taking between four to six steps to handle every package, apartment firms are devoting more resources to manage the influx of packages.


SOLUTION: A modular and customizable system of secure package lockers that comes with software that automates delivery, notification and retrieval of packages on site. System offers residents package security and convenience with 24-hour access and remote support while removing on site staff from the package management chain.
PRICING: Approximately $18,000 for a 7'x7' bank of lockers plus a monthly software fee of up to $2 per unit a month
JUDGES' TAKEAWAYS: Judges liked that the locker system could free up staff hours, as well as that the fact they were manufactured by the same company producing mailboxes for the U.S. Postal Service, so the product would integrate well aesthetically. Another plus was that all carriers were on board to deliver to the lockers and there was some potential for ancillary revenue by charging residents a system registration fee at move in. However, judges questioned whether the recommended locker-to-unit ratio could adequately handle holiday and oversized package volumes and whether updating resident manifests in the system would be more difficult than anticipated because of a lack of software integration
COMPANY: remotely
WEBSITE: www.remotely.com
PROBLEM: Smart home automation products are gaining in popularity, but they have largely been developed for a single-family home installation. Moreover, most product technologies aren't compatible with each other, forcing users to download multiple applications rather than being able to run all products from a single application.
SOLUTION: An all-in-one home automation hub that apartment residents can operate from a single application on their mobile phone. System also allows property operators access to the units for convenience and emergency situations.
PRICING: $600 per unit for basic hardware installation ($35 to $40 for additional sensors) plus a $9.95 per unit monthly service fee
JUDGES' TAKEAWAYS: Judges recognized that consumers are increasingly interested in home automation for a number of reasons, including security and energy savings. Moreover, they liked the idea of being able to program limited access to the units for maintenance staff. However, they had some cyber security concerns because the system is web based and also felt unsure that they could get enough of a rent premium for units with the technology to be able to offset some of the costs.
COMPANY: SlopeJet
WEBSITE: www.slopejet.com
PROBLEM: Many apartment firms struggle with managing multiple lead generation avenues, leading to inaccurate and/or inconsistent data.
SOLUTION: A cloud-based software solution that combines marketing, advertising and sales data in a single dashboard and uses analytical methods akin to revenue management systems to measure and predict lead performance.
PRICING: $249 per month per community ($199 per month per community with a 12-month contract; additional surcharge of $0.50 per unit for properties with more than 250 units)
JUDGES' TAKEAWAYS: Judges were intrigued by the possibility of incorporating some predictive analytics in lead analysis and liked the dashboard interface and mobile application. However, they struggled to completely grasp how the software was able to provide more accurate and reliable data from the same sources from which their existing lead management software providers were currently culling information.
---