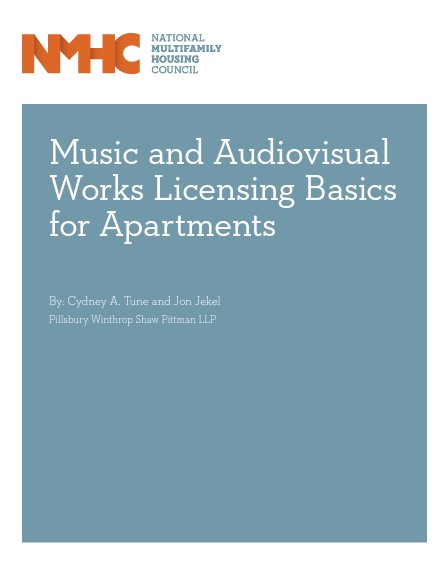 Copyright law that guides music, movie and other audiovisual content licensing carries serious legal and financial implications for multifamily operations.
To help NMHC members navigate the music, movie and audiovisual licensing legal landscape, NMHC has partnered with Pillsbury Winthrop Shaw Pittman LLP on this exclusive member resource.
What This Resource Covers
There is no one-size-fits-all solution to navigate its complexities—the appropriate approach depends on each apartment community's practices, as well as a company's individual business objectives and risk management strategy.
This white paper offers a review of the music, movie and other audiovisual content licensing landscape, provides relevant background information and explores a series of important Questions and Answers that are frequently on the minds of owners and operators of apartment communities. Specifically, this resource delves into what you need to know as it relates to:
public and semi-public spaces,
sources of music, movie or audiovisual content, and
equipment and devices for audio-only and audiovisual use.
The information provided herein is general in nature and is not intended to be legal advice. It is designed to assist our members in understanding this issue area, but it is not intended to address specific circumstances or business situations. For specific legal advice, consult your attorney.
---
This document is a resource for NMHC members. NMHC Members – please log in to access this resource.
If you would like to learn more about NMHC membership please visit our Membership page or contact our membership team at membership@nmhc.org
Video Preview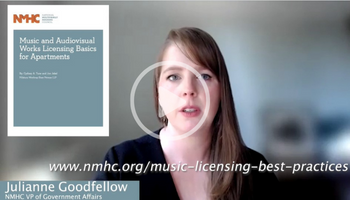 Members and non-members can join NMHC staff expert Julianne Goodfellow as she provides a video snapshot of what's included in this white paper.