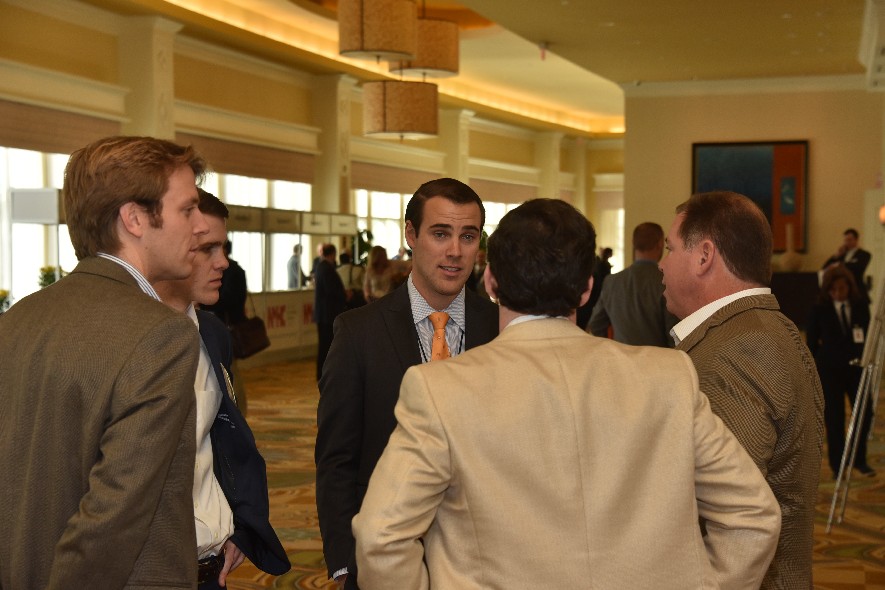 Back by popular demand, and almost standing room only, the first day of the
NMHC Annual Meeting
ended with the fifth annual "Young Guns Pitch to Senior Leaders" session, where three, under-40
Emerging Leaders
presented their best investment deals to a mock investment committee of senior executives.
This year's competitors included Andy Green of Tri-Bridge Residential, who presented a value add deal in an affluent section of Atlanta; Cliff Chandler with Greystar, who presented an alternative value add project in Kirkland, WA; and John Gray with Lennar, who presented a new construction opportunity in Chicago's Loop/Fulton Market submarket. Get the real numbers from these deals
here
.
Green's deal featured a 221-unit, 1960s townhome-like living environment with large floor plans and parking available in a high barrier to entry market. The property was partially upgraded in 2005, but not to its full potential. It also presented an opportunity to profit from additional land entitlements included with the parcel.
Chandler's pitch also featured a value add deal, for a 496-unit garden property in an affluent Seattle submarket. The seller was bringing the property to market for the first time since it was developed by in 1988 in a thinly traded market. With the intended upgrades, the property would be uniquely positioned as the best garden‐property alternative to newer podium and mid‐rise product in Kirkland.
Going up the risk continuum, Gray sought the win with a 17-story high rise adjacent to a Whole Foods in Chicago's West Loop. The property is well situated within a burgeoning employment and transit friendly neighborhood. Not only does it offer unobstructed views of downtown, it also provided an extraordinarily efficient floorplate due to site size and parking requirements. The smaller project made for quick construction turnaround, with the first units coming to market 13 months after construction started.
The investment committee, which included, Ziv Cohen of Resmark, Clyde Holland of Holland Partner Group and Steven Shores of Pollack Shores, asked some tough questions.
The judges praised all the pitches and said that given allocation allotments, they would likely find capital for each one. But when pressed to pick an ultimate winner, they broke with last year's investment committee, which thought the ground up development had too.
---