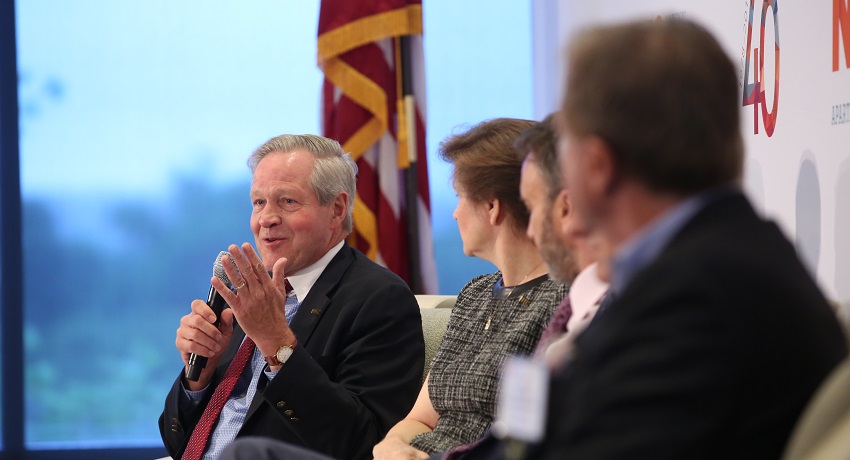 With the upcoming midterm elections and a California ballot initiative that threatens to rewrite the record on rent control coming up in November, much of the discussion during the 2018 NMHC Fall Meeting was focused on politics and policy. NMHC's program of work on behalf of members covers a broad array of issues. Here are a few highlights from staff reports during the fall meeting.
Technology and Innovation
NMHC has formed a new committee focused on innovation in the multifamily industry. The group was formed to help the apartment industry ride the next wave of innovation that will be powered by artificial intelligence (AI), virtual reality, blockchain and the Internet of Things (IoT). The committee has initially focused on transportation and parking; business intelligence and analytics; and smart home technology. They have also launched their first Innovation Challenge, a competition to fuel new solutions to some of the industry's most vexing problems. This year's competition focuses on noise reduction in apartments.
In addition, NMHC recently partnered with Gate15 to release a new IoT white paper. The paper explores the opportunities of IoT for the industry and how to safely implement the technology in our communities and businesses. NMHC is hosting an IoT webinar on September 20. A replay will be available for those who miss it.
Research and Market Trends
Research continues to be a big part of what NMHC does on behalf of members. NMHC reminds members that new industry data is available all the time through three research publications: Market Trends, Research Notes and Quarterly Survey.
NMHC is hosting an Apartment Strategies webinar on September 24. NMHC's Mark Obrinsky and Marcus & Millichap's Jay Lybik will present overall apartment market conditions, as well as the effects from the broader US economy. Following that discussion, NMHC's Doug Bibby, HFF's Matthew Lawton and Trammell Crow Residential's Ken Valach will discuss the implications of these economic trends on their business. Registration is also open for NMHC's Apartment Strategies Conference, being held in January in conjunction with the Annual Meeting.
Diversity and Inclusion
Mark your calendar to attend the NMHC Women's Event featuring Arianna Huffington, founder and CEO of Thrive Global, a corporate and consumer well-being and productivity platform, and co-founder and former editor-in-chief of the Pulitzer-winning Huffington Post.
Whether you're an industry executive with an expansive network or newer to the industry and establishing relationships, this is an opportunity to network with women leading the rental apartment industry to the future.
Open to women registered to attend the 2019 NMHC Apartment Strategies Outlook Conference or the 2019 NMHC Annual Meeting. Women registered for a 2019 NMHC Annual Meeting Networking Pass may also attend. Separate registration is required for each event.
Development and Construction
New apartment development continues to be hindered by an ever-growing list of regulations. To attempt to quantify the cost of these regulations, NMHC partnered with the National Association of Home Builders to conduct the first cost of regulations survey for the multifamily industry. The research showed that regulations account for 32 percent of total development costs.

This type of data has been an important tool during our discussions with policymakers on affordable housing. Most recently, NMHC Chairwoman Sue Ansel and NMHC Secretary Jim Schloemer referenced this research in their testimonies at a Housing and Insurance Subcommittee hearing.
NMHC also remains very engaged with the building code process. We're currently nearing the end of phase one of the 2021 round of updates. We had success in the last round of hearings and were able to hold back some costly changes, such as restrictions on wood-framed construction and onerous fire sprinkler requirements, so we are optimistic that we can continue to do so. However, these are all ongoing conversations.
Student Housing
NMHC will be releasing some new student housing research in October at the NMHC Student Housing Conference, which will take place October 3 through 5 in Huntington Beach. The research looks at the comparative costs of off-campus versus on-campus student housing.
Fair Housing
NMHC has been working on multiple Fair Housing issues including criminal screening, accessibility, issues related to the Americans with Disabilities Act and emotional support animals.
Most recently, HUD is willing to work with us and reopen and reexamine the Disparate Impact Rule. The industry generated over 1,000 comments to HUD during the comment period that closed in August — and that sent a great message.
Talent and Leadership Development
NMHC's Emerging Leaders program continues to be the go-to place for young multifamily professionals to network and take advantage of leadership opportunities. The group is hosting five events this fall in Seattle; Huntington Beach, Calif.; Houston; Denver; and Atlanta. Please send your best and brightest.
But beyond cultivating the talent already in our mix, NMHC recently partnered with 25 other real estate groups to create an interactive website that encourages students to discover careers in real estate. Called Careers Building Communities, the website provides an overview of the multifaceted real estate industry and includes a quiz to help visitors explore the many different career paths. Read Doug Bibby's blog on the project.
---