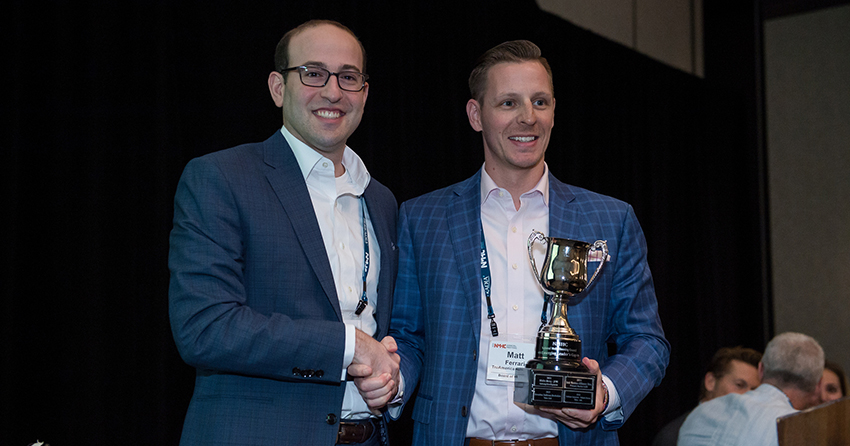 More than 250 young, rising professionals brought fresh talent and energy to the 2019 NMHC Annual Meeting, using the special Emerging Leaders registration option that gives their firm a "plus one" to their registration caps for an under-40 rising star.
During the event, three Emerging Leaders also went head to head in our version of Shark Tank at the "Young Guns Pitch Senior Executives" session.
Matt Ferrari of TruAmerica, Julie Heigel of Waterton and Brendan Whalen of Pollack Shores presented their best value add investment deals to a mock investment committee of senior executives that included Allina Boohoff, Managing Director, JP Morgan; John Lamb, Managing Director, BlackRock Realty and Douglas Tymins, President & CEO, AIG Global Real Estate. NMHC Emerging Leader Committee Vice Chair Ari Abramson moderated the session.
Heigel presented a four-property portfolio of quality workforce housing with low average rents, moderate value-add opportunity and operational upside in Raleigh/Charlotte, N.C.
Whalen pitched a largely unrenovated 1998 800-unit garden property in Alpharetta, Ga., a high-barriers to entry market with above average incomes.
Ferrari sought (and secured) the win with a late 1980s, 368-unit deal in the desirable Winter Park submarket of Orlando. The off-market deal had a 10-year history of non-institutional ownership with deferred maintenance and an above market interest rate loan to be assumed.
In addition to the "Young Guns" panel, the Emerging Leaders hosted a special opening night reception so attendees could have an opportunity to meet each other before the full slate of activities began. There was also an Emerging Leaders lunch, giving attendees another opportunity to network with peers.
At their committee meeting, the group determined the tentative slate of regional Speaker Series events for 2019, which will include:
To learn more about these and other future events, sign up to be added to the NMHC Emerging Leaders database.
---