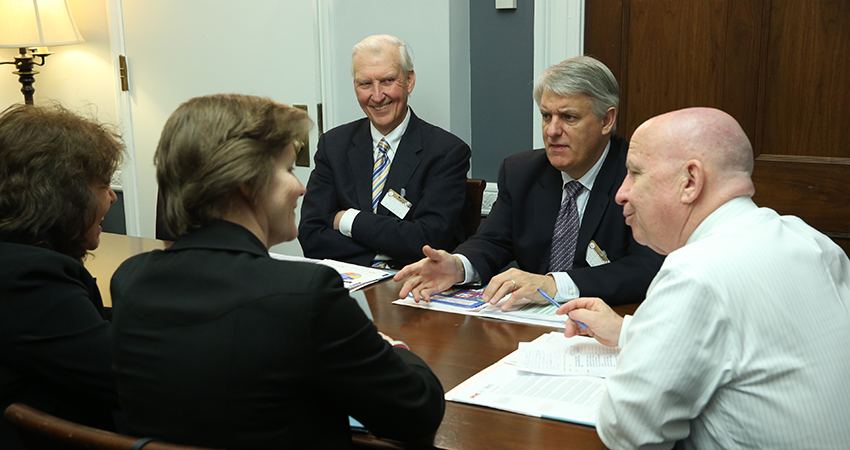 In mid-March NMHC members and officers visited Washington, D.C. for a series of important meetings with key policymakers on both sides of the aisle and both ends of Pennsylvania Avenue to discuss the nuances of tax reform with members and the economic significance of the apartment industry.
Robert DeWitt, Sue Ansel, David Schwartz, Ken Valach, Jim Schloemer, Alan Pollack and Tom Moran met with Senate leadership and Senate Finance Committee members including, Senators Ron Wyden (D-OR.), Mark Warner (D-VA), Dean Heller (R-NV), John Barrasso (R-WY) and Debbie Stabenow (D-MD).   On the House side, NMHC members had substantive meetings with House Majority Leader Kevin McCarthy, Chairman Kevin Brady (R-TX) and a host of other members who serve on the House Ways and Means Committee to emphasize the industry's key priorities as they consider crafting a tax reform bill.
For the first time in 30 years, comprehensive reform of the tax code is a real possibility. An overhaul of the tax code is hugely significant to the multifamily industry, presenting opportunities as well as serious risks. To that end, NMHC is aggressively working with lawmakers to emphasize the importance of the apartment industry to the economy and highlighting key parts of the tax code that are critical to our business. One of the top points that NMHC members stressed to lawmakers was that the industry being able to analyze the final package and to take part in the drafting of transition rules. What's more, we've outlined the following core principles to guide our advocacy throughout the tax reform process:
Protect flow-through entities;
Maintain like-kind exchanges;
Retain the deduction for business interest;
Ensure depreciation rules that avoid harming real estate; and,
Protect the Low-Income Housing Tax Credit (LIHTC).
NMHC also took part in a full-court press to get our message out to policymakers and the broader public. Leading up to the meetings, Doug authored an op-ed in the Capitol Hill newspaper, The Hill, outlining the industry's key priorities when it comes to tax reform. Officers Bob DeWitt and David  Schwartz further spread the  message with interviews with CNBC.
The tax reform process won't be quick or easy. We are working together with our real estate partners to garner additional information and analysis on the proposals being considered by commissioning the assistance of outside accounting firm, PWC.  In addition, we will be scheduling additional fly-ins and in-district meetings with Members of Congress to remain at the forefront of the conversation and continue to make the case for reform that protects the multifamily industry while encouraging growth and job creation. 
---