Congress Must Provide Rental Assistance to Help Keep Families in their Homes
The economic fallout from COVID-19 has hollowed out America's workforce and led to the highest unemployment rate nationwide since the Great Depression, nearly a century ago. Since mid-March, over 65 (65.0) million unemployment insurance claims have been filed.
Renters Disproportionately Affected, Least Able to Weather the Crisis
The country's 107 million renters have been disproportionately affected by the pandemic because they are more likely to work in industries where the layoffs were the largest.
Before the pandemic, 1 in 4 renters (25%) already spent over half their income on housing, leaving many renters less prepared to weather this downturn. Often, they also have lower incomes than homeowners, smaller or no financial reserves and less access to credit.
State and federal unemployment assistance benefits have helped many renters make their rent, but without that supplemental assistance or another financial lifeline from the federal government, many renters could be left unable to meet their obligations.
According to the Census Bureau, 16 million people have little or no confidence in their ability to pay next month's rent.. That includes about 42% of people in Black households and 37% in Hispanic or Latino households.
For those who are current on their rent payments, one in five (20 percent) renters (those in all types of housing) reported in the most recent Household Pulse Survey that they had borrowed money from friends or family to meet their spending needs (all spending, not just rent) in the past seven days; 32 percent had used money from their savings or selling assets; and 33 percent had used credit cards.
Renter Assistance Required to Keep Renters Housed
Renters impacted by the pandemic need federal rental assistance to continue meeting their financial obligations and to avoid a deeper housing crisis at a time when shelter is health.
An extension of existing federal unemployment benefit support in conjunction with direct rental assistance for those not able to access those funds is necessary to protect the housing stability of millions of Americans. The amount of back rent residents will likely accrue is too great to ever be repaid and housing providers will continue to suffer losses that strain their ability to continue operations. According to Moody's Analytics, there will be a $70-75 billion backlog in rent owed by January.
Without Rental Assistance, Our Economic System Is At Risk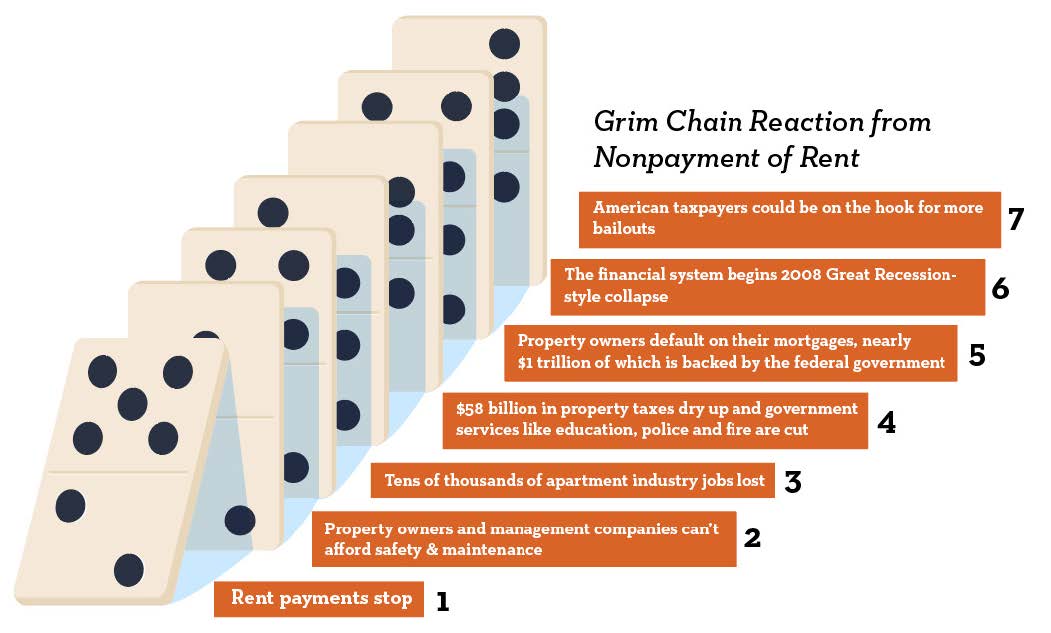 By taking meaningful action now, Congress can keep roofs over families' heads, save small businesses and pull the country back from an emerging housing crisis.
---