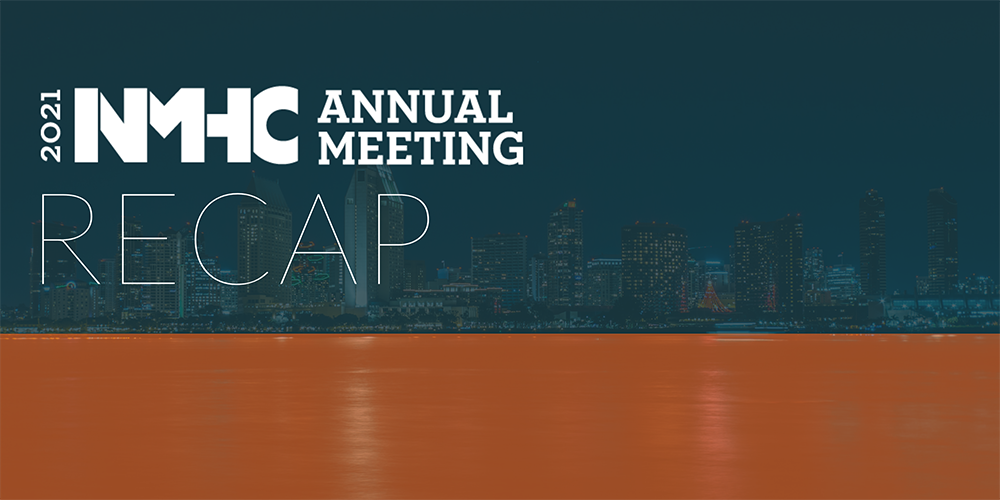 We did it! NMHC has long been known for its leadership. Last week we added trailblazer to our brand by being the first to bring the commercial real estate industry back together—in person—after nearly 18 months of pandemic isolation.
NMHC has always understood that our industry is one based on relationships, but the three days we came together in San Diego reinforced how important it was for us to make this meeting happen. More importantly, we hope it reinforced our role as your strategic partner—helping you to reconnect, and also sharing important content to help you navigate the post-COVID world.
We tackled the most pressing issues facing our members in the next year—escalating construction costs, skyrocketing insurance, accessing myriad rental assistance programs, strategies to deploy capital in a sellers' market, and meaningfully advancing diversity, equity and inclusion. Recordings of all our general sessions are available to NMHC members here.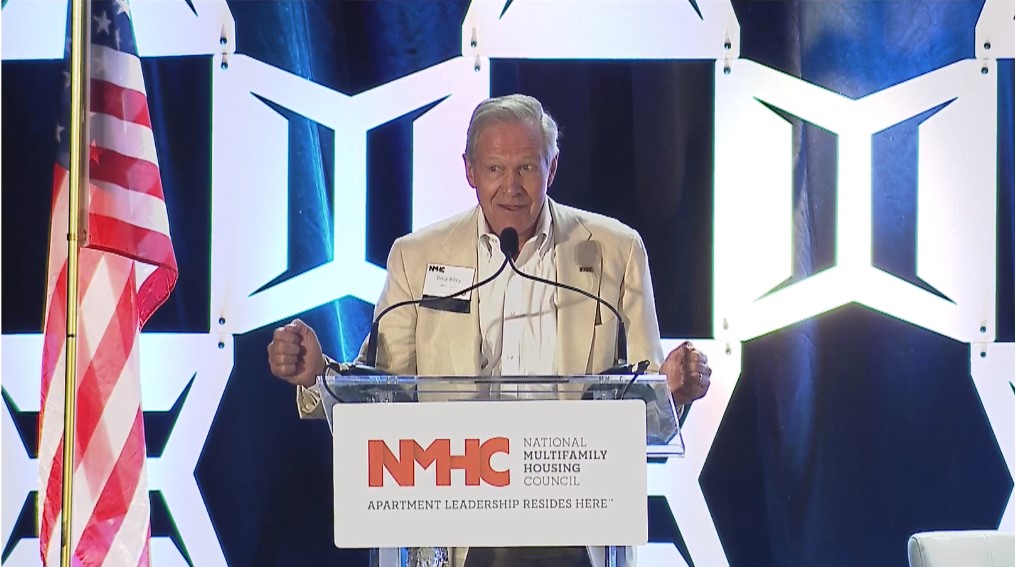 ---
NMHC Women's Event Equips Attendees with Leadership Tools for Resilience
This year's Women's Event was a special opportunity for women in the industry to reflect on their experiences and fortify themselves as leaders. An expert team of senior executive coaches from pLink Leadership guided attendees through a workshop that provided insight and practical strategies for resilience—individual, team and organizational; acknowledging and validating strengths, triumphs, and challenges; and creating connection between participants. This event is a part of NMHC's long-standing commitment to Diversity, Equity and Inclusion (DEI). If you attended NMHC's Women's Event, please provide your feedback on the workshop and program facilitators here.
Click here to learn more about our DEI initiative.
---
Navigating Rental Assistance, Securing Funds and Tools for Communicating with Residents
Securing emergency rental assistance was one of NMHC's top legislative priorities during the pandemic. The nearly $50 billion Congress appropriated for housing support is unprecedented. This session brought industry leaders together to explore how they are navigating the myriad state and local rental assistance programs. They also shared how protracted federal and state eviction moratoriums have affected them and what steps they have taken to mitigate their financial and legal exposure.
---
Strengthening the Multifamily Sector Through Economic Inclusion
Maximizing industry growth relies on broadening our marketplace to include more partners. Apartment firms are growing by expanding and diversifying their investor, borrower, supplier and resident bases. At this session our panelists highlighted a range of specific strategies they are taking to extend their reach including programs that support supplier diversity, access to capital and credit for minority-owned firms, and more.
---
Rethinking Multifamily Risk Post-COVID
COVID has taught us that risk mitigation is more than just insurance—it's the ability to run a business under adverse and unpredictable conditions, to honestly evaluate threats and conditions, and to shift gears quickly. Leading industry CEOs discussed what steps they are taking to adapt to the changing risk environment and how to mitigate the tremendous financial exposure faced by the industry.
---
NMHC PAC Recognizes Top Supporters Throughout the Week
The NMHC PAC was thrilled to connect with our supporters in person last week! After more than a year of virtual fundraising, NMHC PAC took the opportunity to thank our loyal supporters via prominent signage displayed throughout the hotel. In addition, supporters were invited to attend the exclusive NMHC PAC Insiders Breakfast. During the breakfast, NMHC PAC Chair Ken Valach provided an update on NMHC's advocacy work and the PAC's efforts this year. Two-time Pulitzer Prize nominated political analyst Ron Brownstein also shared a political update.
---
What a Long, Strange Trip It's Been: From the Pandemic to Recovery and Beyond
As the pandemic seems to be giving way to a strong economic rebound, there are still a number of questions around what the pandemic's hangover effect will be on the apartment market longer term. After wrapping the final NMHC Rent Payment Tracker webinar, market analysts from leading property management firms took the stage to share their views on the state of the market and where the opportunities are beginning to show.
---
BTR/SFR – Is This the Asset Diversification Move for Portfolio Resilience?
Apartment communities were not the only product-type to demonstrate resilience during 2020. Single-family Rental (SFR) and Build-To-Rent (BTR) are quickly changing market segments that have gained the attention of institutional investors and housing owners and operators. In the meeting's closing session, members working in this business model discussed the demand drivers and characteristics of this product-type and why they anticipate more capital expenditures to flow into this segment of the housing stock, and more.
---
NMHC Focused on Rent Assistance, Tax Policy and Housing Affordability
NMHC staff provided attendees at the Board of Directors breakfast with a number of legislative and regulatory updates. Specifically, NMHC highlighted the COVID and non-COVID legislative and regulatory wins over the last year, and provided insights on the current state of play as it relates to housing affordability, evictions and infrastructure. The team also explained NMHC's months-long advocacy efforts to push for the enaction and efficient implementation of the emergency rental assistance program. Lastly, NMHC discussed the potentially negative impacts of the President's proposed tax plan and how NMHC will work to guard against such policies.
Click through to learn more about NMHC's top policy priorities.
---
If you were able to join us in San Diego, THANK YOU! If you weren't, we look forward to seeing you in January in Orlando and we THANK YOU for your support of NMHC during this crisis as we continue to be your advocates.
Mark your calendar for the 2022 NMHC Annual Meeting set for January 18 - 20, 2022 at the Hilton Orlando Bonnet Creek/Waldorf Astoria in Orlando, FL. Registration for the 2022 Annual Meeting opens Thursday, July 22.
---