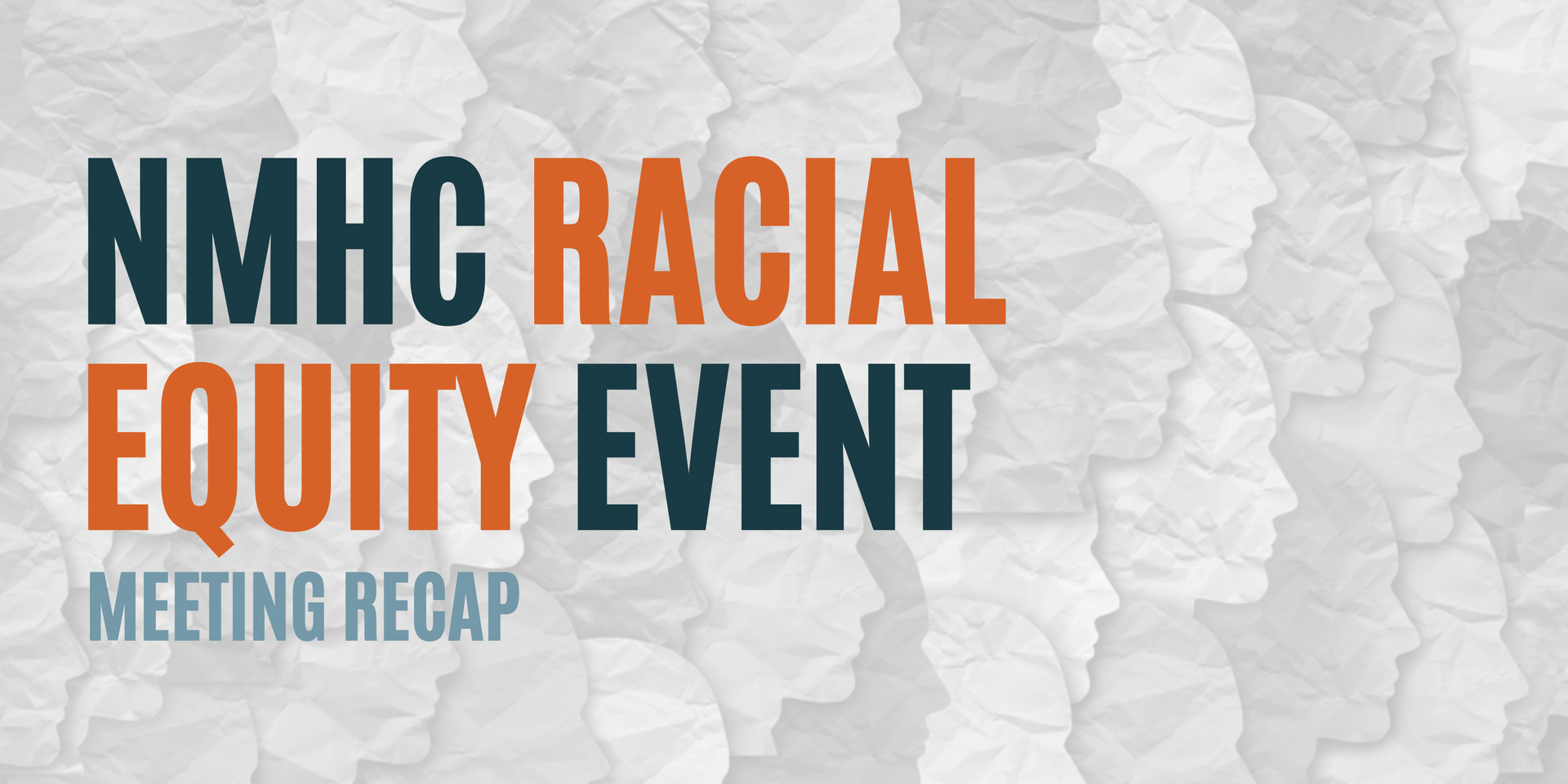 NMHC Hosts Racial Equity Event, Unveils Expanded DEI Program
On February 25, NMHC hosted the apartment industry's first-ever Racial Equity Event. The event featured Dr. Andre M. Perry, a senior fellow with the Brookings Institution, and highlighted the expansion of NMHC's more than decade-long commitment to DEI. Over 2.5 hours, industry leaders discussed the apartment industry's role in creating diverse, equitable and inclusive organizations where talent and the communities they build will thrive. NMHC continues its DEI leadership and unveiled a series of bold efforts to advance racial equity within the industry.
Read on for the top takeaways from the event. To access the event recording on-demand, click here.
NMHC Announces New Membership Opportunity for Minority-Owned and Gender Diverse Firms
Kenny Emson, NMHC's Chief Operating Officer, announced a new membership opportunity that demonstrates NMHC's commitment to broadening industry access. NMHC will immediately begin to offer a two-year complimentary Advisory Committee level membership to self-identified gender diverse and minority-owned apartment firms and industry suppliers and, in the case of certain 501(c)(3) nonprofits, those which represent or prioritize the interests of those underrepresented groups. For those firms that are currently Advisory Committee level members, NMHC will offer a Board of Directors level membership discounted by the price of an Advisory Committee level membership. For more information, please contact NMHC's Betsy Feigin Befus (bfbefus@nmhc.org) or Kenny Emson (kemson@nmhc.org).
Now more than ever, NMHC strives to be indispensable to the businesses and careers of current and future multifamily leaders. A more diverse membership will create a more productive multifamily marketplace, better inform NMHC's work on behalf of the industry, and advance economic inclusion.
NMHC's Diversity, Equity and Inclusion Initiative is a long-term commitment to promote diversity, equity and inclusion as a business imperative key to innovation and success. NMHC highlights best practices, provides resources and leverages strategic alliances to help our members create diverse, equitable and inclusive organizations. We understand that change will not happen overnight, but progress can be made with goal setting and accountability.
Our Industry Has a Role to Play in Addressing Inequity in Minority Communities
The event featured an impactful keynote presentation by Dr. Andre M. Perry moderated by Julie Smith, Bozzuto Group's Chief Administrative Officer and NMHC Secretary, which presented Dr. Perry's research connecting harm to Black communities and America's relative overall economic strength with devaluing Black people and their property. Perry highlighted the historic wealth extraction from Black communities, pointing to lower appraisal values for Black-owned homes even when all other factors are accounted for. Perry estimates the cumulative loss in equity is $156 billion.
The spillover impact of undervaluation is significant. For example, since most small entrepreneurs tap into their home equity to start their businesses, lower appraised house values have contributed, in part, to the fact that Black-owned businesses only represent 2% of the nation's businesses that employ more than one employee even though Black people make up 12% of our population.
Similarly, Dr. Perry argues the overall devaluing of Black communities discourages external investment because firms are using the wrong metrics to determine the potential return. If Black businesses were to reach parity comparable to their population base, the U.S would have 800,000 more businesses. Equalizing spending and job creation and the U.S. economy would generate $6.76 billion in total revenue and 1.6 million jobs.
Perry laid out three approaches to achieving equitable communities:
Invest in People: Provide direct capital to minority-owned businesses and homes and remove unnecessary bureaucratic barriers to ownership.


Invest in Places: Make targeted infrastructure investments in Black neighborhoods, and partner with businesses and developers to incentivize renovation and provide commercial spaces to those in the community.


Divest from Racism: Remove polices that extract wealth from Black communities, and install anti-racist policies that encourage economic inclusion.
NMHC Racial Equity Framework Unveiled; Awareness and Intentionality Are Key
Recognizing that our sector has a role to play in addressing systemic racism, NMHC's Racial Equity Taskforce produced an Industry Framework for Racial Equity and Economic Inclusion, which will be core to NMHC's DEI Initiative efforts going forward. The Task Force recommends measurement and accountability to meaningfully advance economic inclusion for commercial real estate professionals of color. Specifically, the Industry Framework identifies three pillars:
Access to Capital and Credit
Supplier Diversity in Discretionary Spending
Talent Ecosystem
Betsy Feigin Befus, NMHC's General Counsel and Senior Vice President for Strategic Initiatives, moderated a discussion with four members of the Racial Equity Task Force on how the three pillars are foundational to economic inclusion and wealth building.
Antonio Marquez, Managing Partner at Comunidad Partners, shared his experience as the son of an immigrant with a fifth-grade education, noting that just one buyer's decision made the difference in his father's business and his family's prosperity. In other words, when you think about supplier diversity, intentionality matters.
Stephanie Williams, President of Bozzuto Management Company, backed up that point by noting that her firm spends $200 million a year operating their portfolio of properties. Even a 10% allocation to minority firms can make a great difference. Her firm has started a pilot program to expand intentional purchasing decisions. Importantly, Williams pointed out that supplier diversity is a way to engage site employees, many of whom are eager to make a difference in this area.
Jeff Brodsky, Vice Chairman of Related, identified some of the many barriers that minority-owned firms face as they try to scale. His firm is working to identify and address barriers, establish a baseline, and set goals for the future spending.
Tammy Jones, CEO of Basis Investment Group, emphasized the importance of building out a diversity business plan as companies do for all priorities. Accountability is essential and should be individualized to each organization. Jones emphasized intentionality in choosing a direction and setting goals for the long term.
The speakers also addressed the importance of a comprehensive approach to applying DEI to the talent ecosystem and highlighted that meaningful progress requires inclusion. Antonio Marquez emphasized that "Diversity has to be an imperative, an embedded part of your culture. It cannot be another initiative. But at the end of the day, the things we are trying to do as organizations—be a good fiduciary to your stakeholders, but also to your people—is supported by your firm's success in this area based on all the available research."
Forthcoming NMHC Toolkits to Provide Best Practices and Actionable Resources
To further support organizational DEI efforts, NMHC will release a DEI Toolkit covering the talent ecosystem and supplier diversity. NMHC has engaged The Cee Suite to create this new Toolkit, which will provide an actionable guide and best practices to help integrate diversity, equity and inclusion into all facets of organizational culture and operations. The Cee Suite's Founder and CEO, Cindy Joseph, spoke during the event about how organizations will benefit from an investment in promoting an inclusive organizational culture. Joseph specifically pointed to four dimensions that are key areas of workplace DEI: Organizational Commitment, Accountability & Measurement, Talent Practices and Business Governance.
Recognizing that apartment firms are at varying stages of their DEI efforts, NMHC recently undertook an industry survey to measure the industry's needs. The survey found that:
The DEI journey is fairly consistent across the industry. Firms establish an initial DEI commitment but may not have aligned this commitment with talent practices.
The top DEI needs were not meaningfully different for firms based on their corporate structure or line of business in the industry.
The industry's top need is for DEI tools and resources. NMHC is producing this DEI Toolkit in response to member requests for best practices around DEI.
Firms will benefit from a careful examination of their current challenges around the four DEI dimensions to identify immediate and longer-term needs.
Additionally, NMHC's Housing Equity Toolkit developed with Enterprise Community Partners, will identify practices the apartment industry can implement to advance housing and racial equity in development, construction and property operations. It will also provide guidance on how to improve economic inclusion in communities across the country.
Anne Griffith, Enterprise's Director for National Initiatives and Rachel Bogardus Drew, Enterprise's Research Director of Public Policy, defined what housing equity means and why addressing racial equity is central to the work that needs to be done to improve economic inclusion and mobility. Both described how the Toolkit will:
Articulate the role multifamily investors, developers and operators can play in creating equity and resiliency in historically underinvested areas.
Support NMHC members in addressing equity both internally (i.e., in their own work and practices) and externally (i.e., in the communities where they operate).
Ensure the apartment communities they develop, own and manage better serve residents of all incomes in all types of neighborhoods.
Demonstrate through case studies examples of housing providers who have successfully incorporated equity into their operations.
Provide materials on federal, state, and local policies that can be utilized to advance equity through housing.
Griffith and Bogardus Drew emphasized that racial equity is housing equity, but housing equity alone does not necessarily lead to racial equity. They further documented the five interconnected housing goals that support upward mobility. Work on the toolkit, including focus groups of NMHC members, is already underway with a goal of issuing the toolkit this summer.
Strategic Partnerships Essential to Advancing Industry DEI Goals
NMHC recognizes the importance of creating strategic partnerships with organization that have similarly aligned missions to enhance the impact of our common goals. To that end, NMHC announced that we recently signed on as a $100,000  Founding Diversity Partner – CRE Association with the Real Estate Executive Council  (REEC). REEC is the leading professional trade association formed to promote the interests of minority executives doing business in the commercial real estate industry.
REEC CEO Ken McIntyre explained that many industry DEI efforts have been siloed so best practices aren't shared and companies are operating on their own. "There is no quick fix and this will take time. But REEC's Diversity Partners Program is based on intentionality and accountability."
---
Event Sponsors
Thank you to our DEI Founder, Investor, and Supporter Sponsors!