NMHC's 2022 Spring Board of Directors Meeting brought together 300+ multifamily executives for the most exclusive NMHC event of the year. This year's event tackled an array of emerging and existing trends—including evaluating the tech risk landscape, tracking apartment demand and developing environmental, social and governance (ESG) strategies.
Additionally, the meeting featured keynote speaker, Geopolitical Strategist Peter Zeihan for a discussion on world politics and economics. Supply chain shortages and data security have long been on the apartment industry's radar, but Zeihan provided leaders a global scope that connects demographics, geography, energy and trade by navigating the audience through the history of Russia and Ukraine and how they have become juxtaposed to the present war. Zeihan boiled down that the multifamily industry faces shortfalls exacerbated by the Russia-Ukraine war. From aluminum to copper to many other non-renewable resources, the pause of production from both countries continue to prevent U.S. properties from moving toward greener operations and solutions.
The meeting was packed-full of can't miss content—read on for an overview of four key takeaways

Whether you are an investor or an owner, documenting your environmental, social and governance (ESG) endeavors has become an increasingly important part of your corporate story-and it was a key theme of this year's NMHC Spring Board of Directors Meeting.
As part of Thursday's programming, Gables Residential CEO Sue Ansel moderated a panel with GID Head of ESG & Corporate Programs Philip Carmody, Avanath Capital Management Founder, Chair & CEO Daryl Carter and Clarion Partners SVP, Head of ESG Karen Mahrous on their organizations' path through ESG reporting and the challenges they see ahead.
Conversation Highlights: The conversation focused on the rich opportunity landscape within the ESG universe. Panelists discussed where each of their organizations' ESG strategies parallel—and differ.

"ESG is probably the only thing in our industry that is changing as much—and as dramatically—as technology," Ansel explained. "It's an ever-evolving field." The panel discussed this changing landscape and detailed how each is tackling sustainability and social initiatives at both the property level and within their organizations and workforces.

As new technology—and data around it—continue to emerge, industry leaders are working to stay ahead of the curve. And because these trending topics are top-of-mind, NMHC brought Spring Board of Directors Meeting attendees several sessions of programming packed with tech and innovation food for thought.
What the Audience Took Back to Their Teams: Hindsight is 20/20 and there is no magic crystal ball for what is still yet to come, so what is the best way to better prepare your firm for change? It's all about understanding the landscape of cost surrounding your business plan and knowing which area to prioritize in. During a session moderated by SVP, Chief Digital Officer of UDR, Scott Wesson, panelists—Cara Athmann, Chief Technology Officer, Cardinal Group; Joe Fracchia, EVP, Chief Technology & Innovation Officer, MAA; and Ray Thornton, Senior Director, One-11 Advisors—left all the buzz words and TLAs (that's three-lettered-acronyms) at the door, giving attendees nothing but key data points from the latest NMHC/One11 Advisors Apartment Industry Technology Benchmarking Report.
Day two of the meeting included a two-part panel of industry leaders exploring technology in a shifting multifamily risk landscape. As the multifamily industry continues to invest in smart home technology and other tech-driven solutions, the evolution of the industry is leading to millions of connected devices in our buildings, costly broadband infrastructure deployments and a shift to always-on and open networks running our properties and the double-edged sword of opportunity and risk. Part one of the panel was moderated by NMHC VP of Government Affairs, Technology and Strategic Initiatives Kevin Donnelly and featured LMC's VP of Community Technology Services Chris Acker and Camden Property Trust VP of Business Services Linda Willey for a discussion centered on opportunity and risks associated with smart tech and connectivity investments.

As the sector faces the market challenges before us—from labor shortages, supply chain issues, volatile commodity prices, zoning, and NIMBYism—it can seem that developers are going down a water slide without water.
Conversation Highlights: The Quadrillion President Dr. Debbie Phillips and panel experts Trammell Crow Company SVP Yewande Fapohunda, Continental Properties Chief Development Officer Kimberly Grimm, 360 Residential VP of Development Taylor Hawke and RangeWater Real Estate Development Manager Mia McKinney proved there is a multitude of solutions when it comes to these challenges. Preparing for success requires commitments to inclusivity in order to mentor incoming talent and entry-level roles.
The past two years have brought on a lot of uncertainty in CRE retail and office spaces. ULI Senior Visiting Fellow Michael Spotts and panelists Foutch Brothers CEO Steve Foutch and Lowe SVP Liz Godesky expound on findings of new research by NMHC and ULI designed to help developers understand the potential risks and returns based on their own portfolios. And with the increasing need for affordable housing in the U.S., panelists look at the benefits of converting abundant vacant office and retail spaces into residential communities.

Increasing apartment demand has been outstripping new supply for at least a decade. While household formation has slowed considerably – and even stopped during the pandemic, some apartment markets continued to rein in new demand. During Friday's programming, Eigen 10 Advisors Managing Principal Paige Mueller provided a sneak peek of a newly updated NMHC and NAA study looking at apartment demand that will be released in the upcoming months.
The Bottom Line: The last iteration of this study found that the U.S. will need to build 328,000 apartments each year through 2030 to keep up with demand. The forthcoming update will map out demand through 2035—stay tuned to NMHC emails for the upcoming release.
ICYMI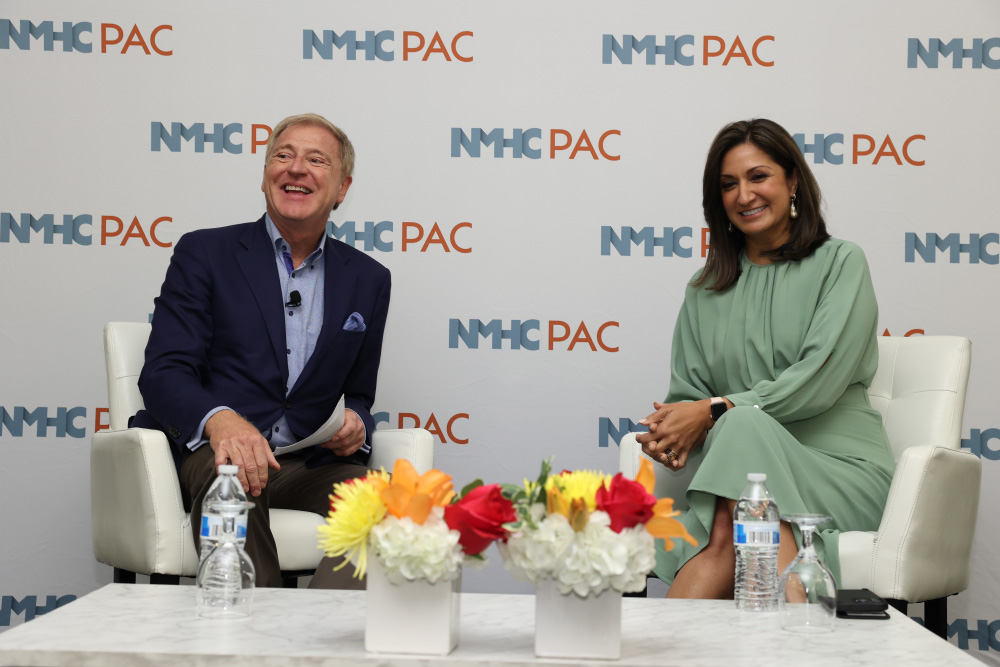 NMHC PAC Key Focus During 2022 NMHC Spring Board of Directors

The NMHC PAC is a critical tool that helps elevate the industry's voice when key discussions take place on Capitol Hill—but we wouldn't have a seat at the table without your support. If you weren't able to attend the NMHC PAC committee meeting or exclusive supporters-only dinner while on-site, click through for a rundown of what you missed.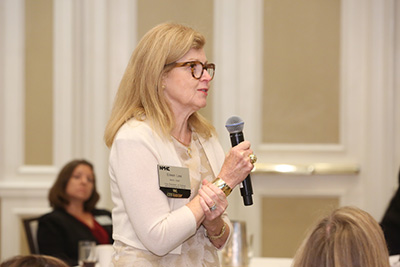 NMHC Recognizes Eileen Lee During Meeting
Longtime NMHC staff expert, Eileen Lee, was recognized during the meeting for her 25+ year commitment to NMHC and the multifamily industry. As Eileen steps away from NMHC to enjoy retirement, we thank her for her years-long work in the environmental policy space! Click through to watch her commemoration video.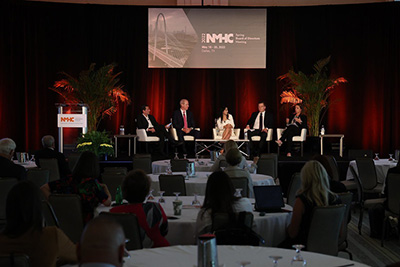 ---