Thanks for Joining us in Las Vegas!
A record-breaking turnout of more than 8,500 industry professionals attended NMHC's four-day combined Women's Event, Apartment Strategies Conference and Annual Meeting at the ARIA Resort, marking the events' first-ever gathering in exciting Las Vegas a huge success.
Leading and up and coming industry executives, financial institutions and brokers enjoyed a packed and varied lineup of special speakers from the multifamily and business worlds, with a variety of perspectives on the outlook for multifamily real estate.
Weren't able to attend all three events this year? Make sure to save the date for each event next year in San Diego! Separate registrations are required for the 2024 NMHC Women's Event, Apartment Strategies Conference and Annual Meeting.
Sharon Wilson Géno Takes Helm at NMHC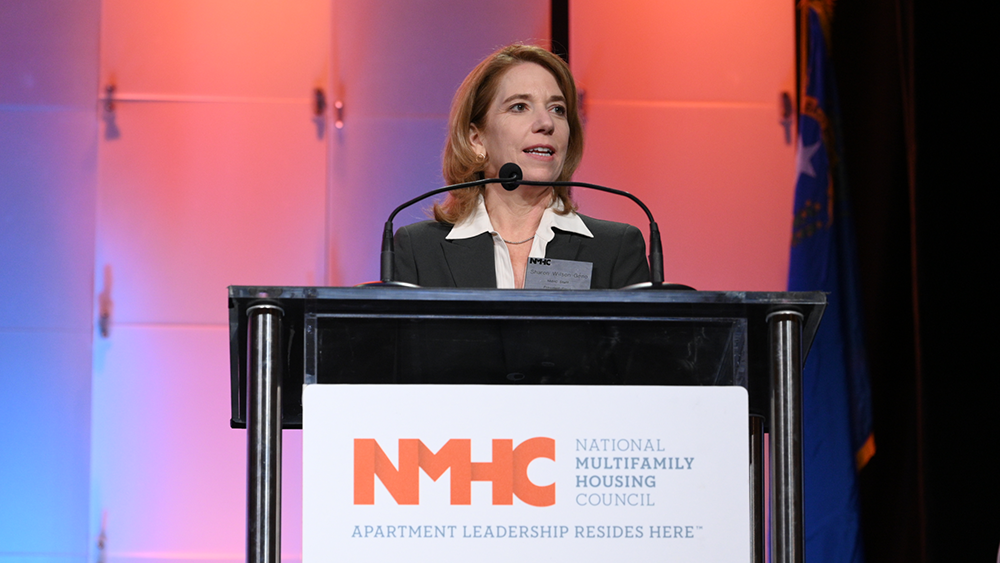 Taking the main stage for the first time as NMHC President, Sharon Wilson Géno shared her housing leadership background and vision to lead NMHC in the years to come as the industry continues its work addressing the housing supply shortage and a range of legislative, regulatory and business issues.
"Times of challenges are times of opportunities, and we have the chance to bring some new things to the table, especially in regard to our end users—the residents—and elevate their voices," she said. Hear more about Wilson Géno in this video.
2023 NMHC Women's Event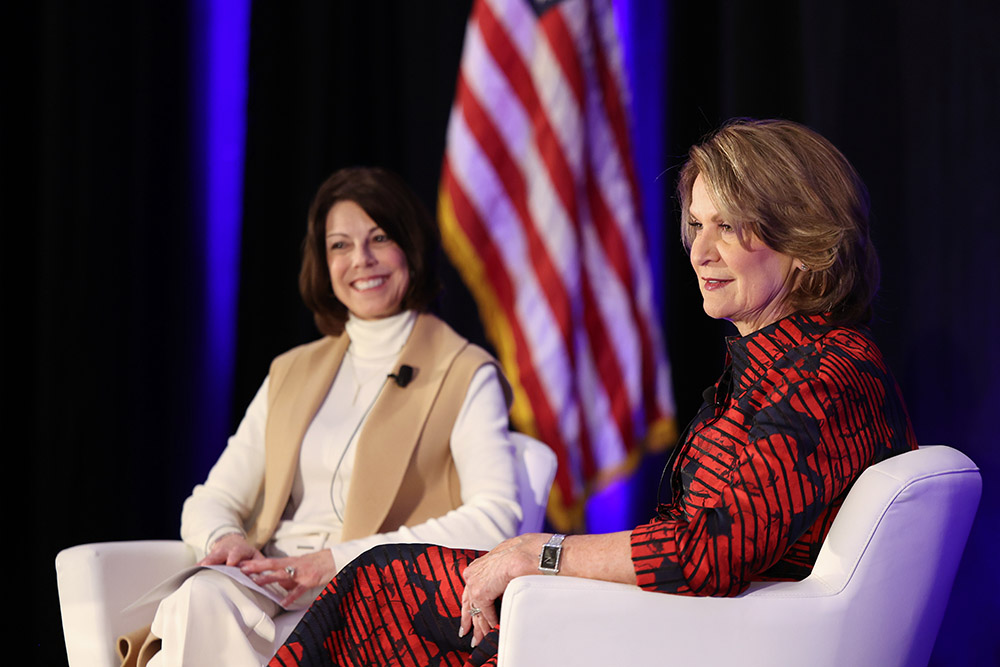 Camden Executive Vice President & Chief Operating Officer Laurie Baker interviewed keynote Marillyn Hewson, former Chief Executive Officer of Lockheed Martin, during the 2023 NMHC Women's Event. Hewson described how women can effectively serve in leading positions at top companies, sharing her experiences from stepping into male-dominated positions at powerful global companies and forging valuable relationships along the way.


The half-day event also included sessions with both established and rising multifamily leaders who discussed strategies to maximize productivity and advancement, as well as programs that their companies offer to inform, motivate, develop and retain their workforces.
2023 NMHC Apartment Strategies Conference

Diane Swonk, Chief Economist with KPMG and CEO of DS Economics, spoke of today's volatile economic landscape, including her thoughts on the Federal Reserve, inflation, housing and the job market and the ultimate effects on the multifamily industry and greater U.S. economy. Conference registrants and NMHC members can click through to log in and watch her full remarks.
2023 NMHC Annual Meeting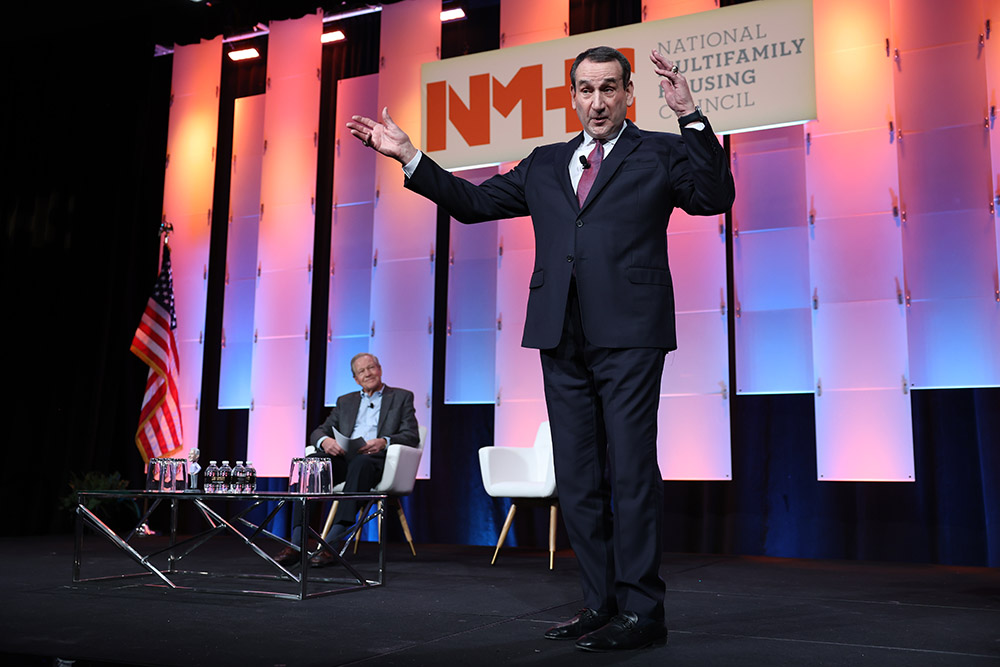 In a conversation with NMHC Former President Doug Bibby, the renowned and recently retired college basketball coach Mike Krzyzewski ("Coach K") offered timely advice on how to enjoy retirement while sharing stories from his amazing coaching career at Duke University and with the U.S. Olympic team as well as the life lessons he learned while attending and coaching at West Point.


NMHC Chair Ken Valach led the farewell to Former President Doug Bibby, honoring and thanking him for 20+ years of service to the industry. Watch this video for an overview of Bibby's many accomplishments, many of which helped the industry navigate significant crises.
Three Key Takeaways From Last Week

Tougher to Get Deals Done , But Opportunity Remains
Throughout the week, speakers agreed that it will be a "bumpy road" for financing and investment over the next 18 months as monetary policy, shifts in capital markets and changes in market fundamentals create uncertainty.
During a panel discussion on development trends at the Apartment Strategies Conference, Dan Hull, President of Construction for The NRP Group, spoke about disruptions to development deal flow. "Through Thanksgiving, anything that needed to get closed, got closed. It's only now that things are slowing," Hull said. "For example, we had a Dec. 20 close, but on Dec. 17, they called to say that capital was on pause until April 1." Adding to the challenges are availability of gap financing, waning rent growth and a snarled supply chain.
Despite the headwinds, some executives still talked about opportunities. During a session on the multifamily investment outlook at the Apartment Strategies Conference, GID's SVP of Research and Strategy Suzanne Mulvee said this is a good year to be an investor. "The desire to invest is strong, and the ability is hamstrung, but it won't be impossible," she said. "Even while Fed was hiking rates, we just had the second-best year for transaction volume ever. … You'll see a little bit more transactions this year than you might think, and the investors will be the winners."

Both Tailwinds and Headwinds Lie Ahead For Industry Performance
Despite some positive metrics around jobs, incomes and home prices, apartment demand is showing signs of softening. Household formations are running behind, leading to lower leasing velocity and absorptions and slower rent growth. However, more recent data show signs of some moderation of worrisome trends.
The changes in multifamily market fundamentals are having disparate effects on geographic markets. Investors and developers are weighing market performance against what's in the pipeline as a result. The apartment markets panel at the Apartment Strategies Conference pointed to Spokane, Wash., Nashville, Tenn., San Antonio, Tex., and Boston as some of the markets most likely to face rent growth headwinds. On the flipside, they saw markets like New York City, Miami, Orlando and Albuquerque, N.M., getting a little boost.

Housing Affordability & Rent Stabilization Will Continue To Be Challenges At All Levels Of Government
Inflation, wage growth, rent control and public rhetoric are dealing blows to housing affordability. This narrative was a common thread through the week's events.
Kicking off the week, NMHC's new President Sharon Wilson Géno focused on housing affordability in her remarks during the NMHC Women's Event. Citing her passion for housing as motivation to take on the job, she said, "It's truly an honor to be taking on this role and represent the people who build, operate and finance apartment communities so that so many people from every walk of life can experience the joy of home. I've spent almost the entirety of my 30-year career in the multifamily industry, largely in the affordable space, but also looking at other types of housing, as well and understanding that what we need in this country is really more housing at more price points, so every community can create options, so every family can flourish."
Apartment Strategies Conference panelists continued the conversation during their sessions with robust discussions on how financing can play a role in affordability, what the current market volatility means in terms of rent and how developers are navigating rising costs.
To close the events of the week, NMHC's Jim Lapides moderated a panel discussion on rent control and housing affordability challenges nationwide. Throughout this session, panelists shared stories of rent control challenges playing out in their communities and what that means for our sector and its residents.
More Highlights
Camden Leadership Talks Opportunity During DEI Committee Event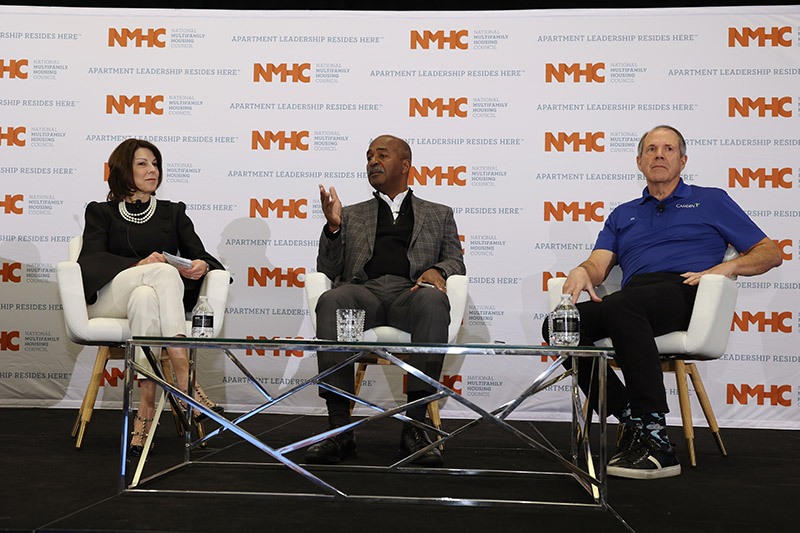 During a DEI Committee lunch event, attendees enjoyed a special conversation moderated by Camden COO Laurie Baker with Camden CEO Ric Campo and KRW Advisors' Kelvin Westbrook, Camden's long-time lead independent director. The trio discussed the importance and value of seizing opportunities for action in creating a diverse organization.
---
NMHC PAC Thanks Supporters with an Exclusive Reception and Hosts Political Outlook Breakfast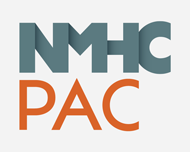 NMHC PAC raised a record $2,247,457 in funds last year, with Marcus & Millichap repeating as the top fundraiser with $207,158 contributed. Other leading contributors were Cushman & Wakefield, Greystone and Newmark. All contributors joined the NMHC PAC team for a special evening reception to celebrate a successful year.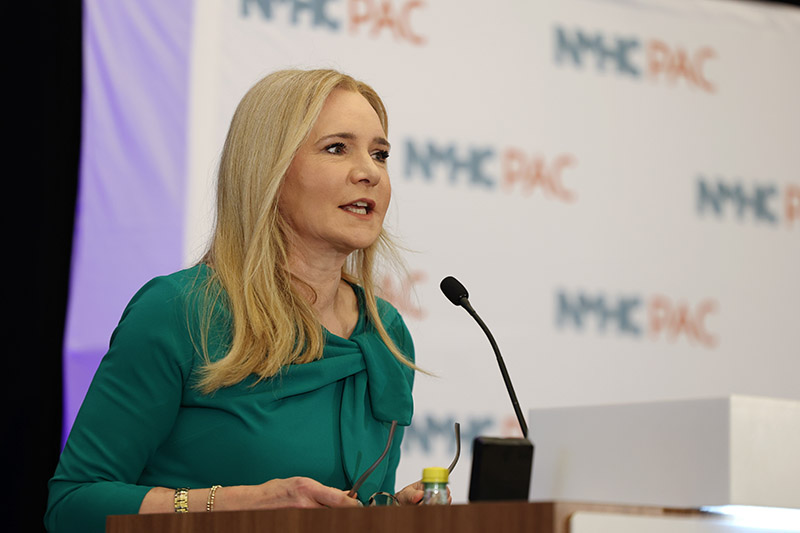 In addition, the NMHC PAC hosted a breakfast that featured RealClearPolitics associate editor and columnist A.B. Stoddard. As part of her remarks, she provided an analysis of the November 2022 mid-term elections, a preview of President Biden's State of the Union address, described the goals of the current GOP-led Congress and detailed how the 2024 Presidential election is shaping up.
---
Eastdil Secured Wins "Young Guns" Competition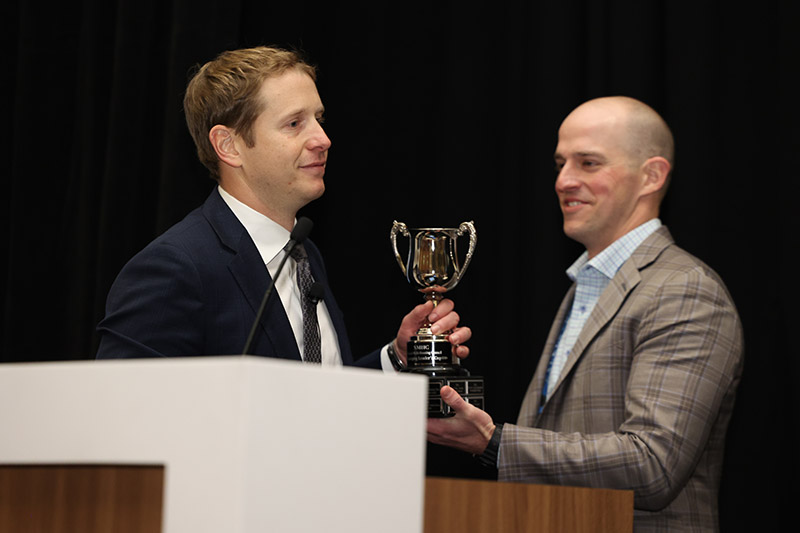 Walker & Dunlop's Chris Goldsmith hosted NMHC Emerging Leaders' annual mock investment committee competition, where three rising star dealmakers present investment opportunities to a set of industry judges who ultimately pick the broker in which they'd invest. This year, Jonathan Merhaut, SVP with Eastdil Secured, took home the coveted Young Guns trophy. Also competing were Alexandra Caniglia, senior director of investment sales with Walker & Dunlop, and Kalli R. Knight, senior associate with Colliers. NMHC thanks judges, all from Bell Partners: Lili Dunn, CEO & President; John Tomlinson, CFO; and Nickolay Bochilo, EVP, Investments.
---
More Highlights
Watch Apartment Strategies Conference Sessions On Demand
NMHC members and Apartment Strategies Conference attendees can view the event's panel recordings on demand with log in to the website. In addition, several Annual Meeting presentations are also available to members. Catch up on everything you may have missed!
Re-Live the Week through Event Photos
Feed your FOMO by checking out all the photos from each event. You'll never believe who all was there!
---