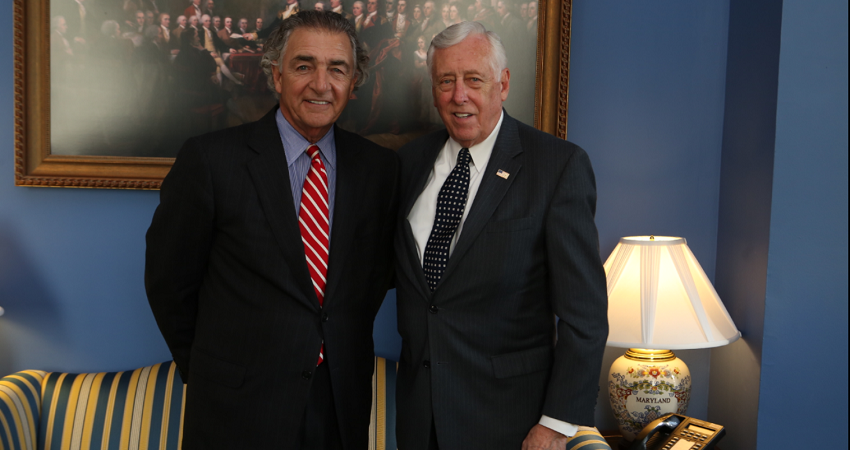 The Bozzuto Group's Tom Bozzuto, Chairman, and Daniel Murphy, CFO, accompanied by NMHC staff, met with Congressional leaders last week to discuss tax reform. During a series of meetings with Senators Chris Van Hollen (D-MD) and Ben Cardin (D-MD) and House Minority Whip Steny Hoyer (D-MD), the group discussed the importance of tax reform to the multifamily industry and how the Tax Reform Act of 1986, the last major overhaul of the system, so severely affected the multifamily business.
With Republican control of Congress as well as the White House, there is a better chance for tax reform than any time in decades. Changes in the tax code presents opportunities as well as serious challenges for the apartment industry and, therefore, NMHC and members are proactively working with champions on Capitol Hill to make the case about how some parts of the code are fundamental to the multifamily industry's business processes. During the recent meetings with Congressional and administration leaders, NMHC staff and members have focused on our core principles regarding tax reform, including:
Protect flow-through entities
Maintain like-kind exchanges
Retain the deduction for business interest
Ensure depreciation rules that avoid harming real estate
Preserve current-law tax treatment of carried interest as a capital gain
Protect the Low-Income Housing Tax Credit (LIHTC)
The failure to pass healthcare legislation has upended the legislative priorities of the Trump administration and has focused more attention on successfully passing tax reform. However, as complex as healthcare policy is, comprehensive tax reform could be even more difficult. White House officials continue to predict that tax reform will be achieved by summer, but that timeline is increasingly unlikely. As the tax reform process continues, NMHC will continue to work with lawmakers and help shape the tax reform package that promotes economic growth and supports the multifamily industry.
More information on NMHC's recent tax reform meetings can be found here. 
---