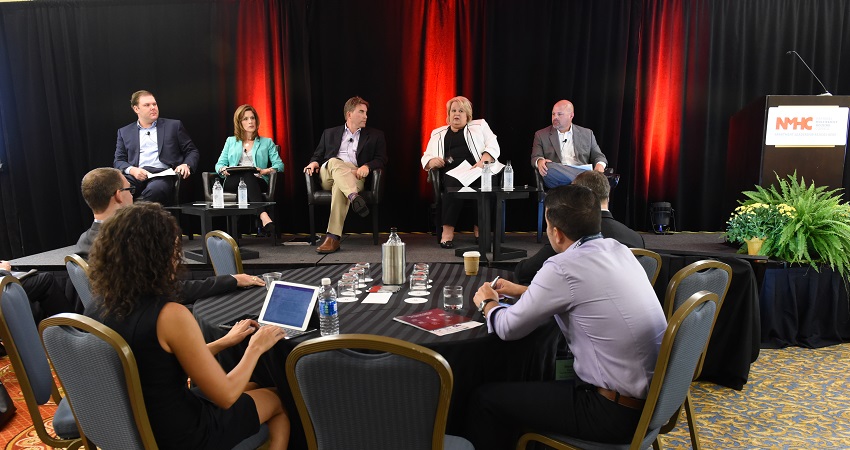 Improving property performance is a careful balance of growing revenue while cutting expenses. During a session focused on driving net operating income (NOI) during the 2017 NMHC Student Housing Conference & Exposition, top student housing managers shared their strategies for both.
On the expense side of the ledger, top student housing managers said they are remaining laser focused on cost improvements and controls. This means not only renegotiating contracts for better pricing but also looking carefully at utility costs, including electric, water and internet/cable. Some property managers are moving away from all-inclusive utilities in favor of utility bill backs as a way to better control operating costs.
However, managing utility billing to residents is an added lift for management companies, so some are turning to third-party vendors for that task. Julie Bonnin, COO of Asset Campus Housing, said an outside utility management firm has also offered some piece of mind. "Different states have different requirements, so if you get in trouble, it's a nightmare. There have been massive lawsuits in a number of states. And it's just not worth it."
However, other companies still handle utility billing on their own. "We've been successful at keeping our utility billing in house," said Adam Byrey, COO of The Preiss Company. "There are some really good third-party utility billing processors. But if residents are going to pay an extra $5 a month [to cover the service], I'd rather it go to us than a vendor. But one issue that the third parties do really well is the compliance issues."
But "many of us have probably cut expenses as much as we can," said Bonnin, making revenue growth a little bigger priority in moving the needle on NOI.
"The focus for us is on the top line primarily," said Jennifer Cassidy, senior vice president of asset management for Campus Advantage. "That's where the big money is. We've got a number of properties that we've bought that we're turning around, so we're going to be primarily focused on revenue over expenses."
Many managers are finding new sources of ancillary revenue through green community fees, community maintenance fees, tenant liability programs, premium parking spots and more. Pet fees are also becoming a good source of revenue, as students appear willing to pay for pets, even as much as a $300 deposit and $250 a month in rent, said one executive.
To that effect, Byrey said The Preiss Company went ahead and made the company's entire portfolio pet friendly. "They [students] are doing it anyway with companion animals," he said.
However, there is a limit to what the market will bear. "Fees are market driven," said Jim Sholders, COO of Campus Life & Style. "So, if you're struggling to lease, it's counterintuitive to start charging more fees."
Some firms like Campus Advantage also are beginning to work with revenue management systems, something that has become common place in traditional multifamily but is in the early phases of adoption in student housing. Early results show companies using the dynamic pricing systems are achieving higher rent growth than many of their peers, although there is a learning curve that some firms find frustrating.
"We've seen tremendous results," said Cassidy. "Growing up in the business and starting out as a leasing manager, using a revenue management tool forces you to be on top of supply and demand on a weekly basis in ways we weren't before."
---