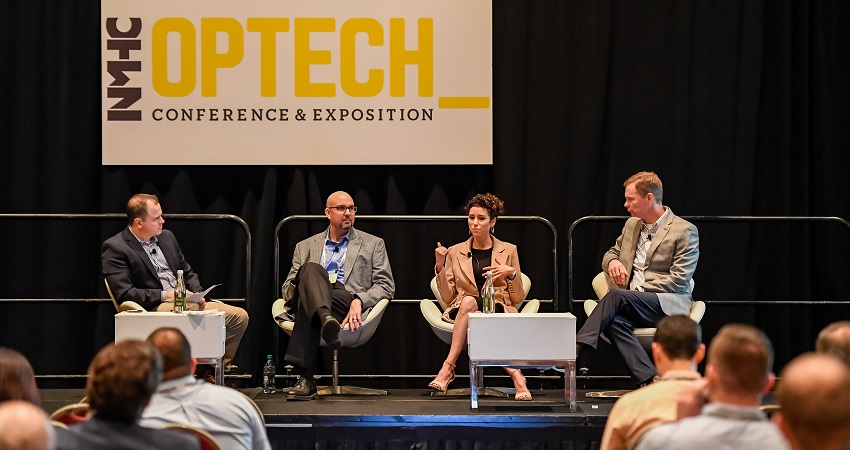 With new technologies and applications, the apartment industry is generating volumes of data. For most multifamily firms, trying to sort through the data is like drinking from a fire hose, making it difficult to identify and operationalize key insights.
"There's so much garbage data," explained Berkadia's Darren Wesemann during a panel discussion on machine learning and the future of multifamily business intelligence at the 2018 NMHC OPTECH. The panel also included Bridge Property Management's Tim Reardon, Yardi's Michael Gaeta and Pillar Properties' Diana Norbury.
To be able to convert data into actionable intelligence, executives said companies first need to identify the problem they are trying to solve. Is it efficiencies in a certain area? Or better customer experience? Once they have identified the problem they want to solve for, then they need to hone in on a discrete set of key performance indicators (KPIs), which will help measure and benchmark progress toward those goals.
Looking to the future, executives discussed whether machine learning and artificial intelligence (AI) could help apartment firms better mine and manage their data. While most agreed that the industry wasn't there yet with these types of solutions, they said they were watching the developments closely and looking at specific business areas where intelligent solutions could prove helpful.
The short list included:
Cost efficiencies
Productivity and performance
Auditability and accountability
Quality and reliability
Employee satisfaction and innovation
Scalability
But before considering how best to use all this new data, another panel of industry executives discussed the need to build a solid data management program. Companies should evaluate what data they collect and store, what needs to be archived, preserved and protected (and alternatively deleted) and what holds valuable business information.
Of course, data breach was also a topic of discussion for the panel, which included Greystar's Tom Bumpass, Holland & Knight's Kaylee Cox, UDR's Josh Gampp, Alliance Residential's Brent Schackman and Nascentis Group's John Sims.
"Everyone accepts that data breach is going to happen," explained Cox. "It's about how you deal with it. If you act like you don't care, that's when you get in trouble with regulators."
For more information and resources on data security and breach notification, please check out NMHC's resource page here.
---