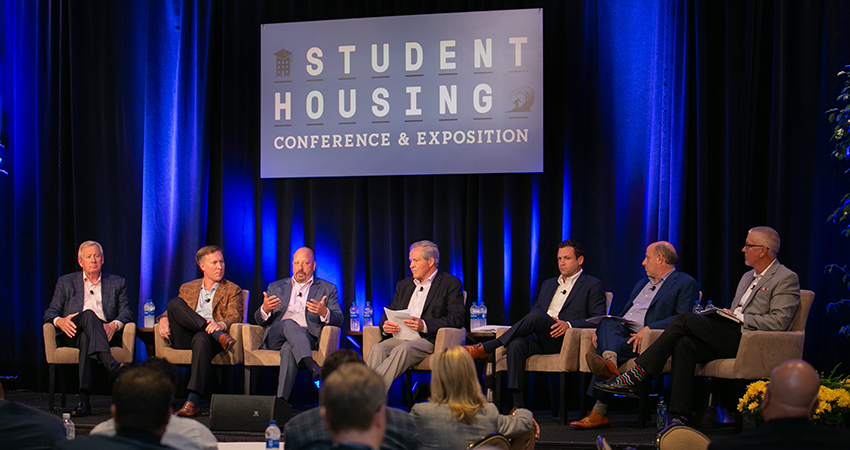 Industry watchers only have to look at Greystar's $4.6 billion play for EdR to get a sense of investors' confidence in the student housing market's performance, as the sector continues to attract capital from myriad of sources both domestic and foreign. The mega deal, along with shifting market fundamentals, was a hot topic of conversation among industry executives during a panel discussion at the 2018 NMHC Student Housing Conference & Exposition.
NMHC's Doug Bibby moderated the executive insights panel, which featured American Campus Communities' (ACC) Bill Bayless, Greystar's Randy Churchey, Peak Campus' Bob Clark, The Dinerstein Companies' Brian Dinerstein, Institutional Property Advisors' Peter Katz and Landmark Properties' J. Wesley Rogers.
Churchey, the former CEO of EdR, shared some additional details of the Greystar deal. "First, it was a great outcome for our shareholders," he said. "[But] I admit it was a bittersweet transaction. I thought we built a really good team. But the more we looked down the horizon, we found that more and more private assets were being acquired. We just felt like this was the right way to go at this particular time. We're extremely excited to join the platform and think that it's going to be great."
IPA's Katz added, "The fact that Greystar has stepped into the sector in a bigger way, and is great for the student housing sector."
Despite the market's robust performance, executives noted some warning signs ahead. Rising construction costs and an acute labor shortage continue to worry executives as they look to deliver new projects in the coming 12 to 18 months. However, the labor issue appears to be more widespread as executives also noted difficulties in finding quality talent at the corporate level down to the property level.
"There is not enough talent across the country, unless you're growing from within," explained Peak Campus' Clark. "At the end of the day, we are in the people business. Investing in people's future is a no-brainer." Landmark's Rogers agreed. "We found that it's very challenging to find really seasoned talent, particularly at the senior levels," he said. "We've made the strategic decision to hire and promote from within. We've brought in a lot of mid-level people … and we teach them the Landmark way and invest in their future."
NMHC's Bibby noted that a shallow talent pool is something he hears about across all real estate sectors. For that reason, NMHC joined 28 other real estate organizations to develop a new resource for young people looking to explore careers in real estate. Careers Building Communities outlines the various career tracks in real estate and includes an online quiz that helps visitors identify tracks of interest.
While executives noted that they don't have major concerns over the possibility of a coming recession or rising interest rates, they said they were paying closer attention. Similarly, executives were not troubled over a slight turn down in enrollment trends.
"There are more than 4,000 higher education institutes across America," said ACC's Bayless. "Of those 4,000 schools, there's maybe 1,000 that will be affected."
---