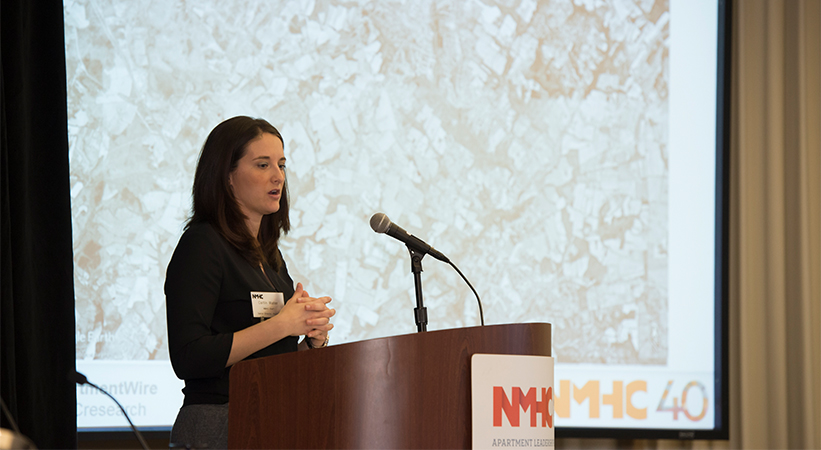 The 2018 NMHC Research Forum kicked off with a presentation by Caitlin Walter, NMHC's senior director of research. Walter's presentation focused on the blurring line between cities and suburbs, a topic at the center of her recently accepted doctoral dissertation.
Locations within metropolitan areas have traditionally been divided into cities and suburbs. For many, the idea of suburbs recalls the image of a detached single-family house with at least one person commuting into the central city for work by car. In contrast, cities were largely downtown business areas, dominated by office buildings and government agencies and with limited residential housing options. While this delineation may have been clear in the mid-20th century, the lines between cities and suburbs have blurred as the picture of today's metropolitan areas has grown much more complicated.
Building on previous research to more clearly delineate suburbs using alternative frameworks, Walter found that the traditional city-versus-suburb approach can be limiting, while accounting for density can provide more nuanced housing intelligence. Recognizing these subtleties are important for long-term planning and policy.
The traditional approach to standard metropolitan statistical areas (MSAs) draws rather arbitrary lines using overly simplistic categorizations to lump together disparate geographies. This framework provides a one-dimensional view of an area's characteristics.
Take the composition of the housing stock in areas considered cities versus suburbs, for example. Through the city-suburban lens, the multifamily share of housing units in Census-defined city tracts is 40 percent compared with 18 percent for suburban tracts. On the surface that may seem reasonable, but the reality is that, with new development patterns and styles such as transit-oriented or town center development, many geographies now possess some combination of both urban and suburban characteristics, which is why we need more refined measures of our urban and suburban areas.
To better reflect these changing development patterns, density analysis offers a logical alternative to this binary city-suburban classification. When examining the composition of the housing stock using the number of housing units per acre as a measure of density, a more nuanced relationship between the share of multifamily and single-family units emerges. As density increases, the average multifamily share gradually increases, while the opposite relationship occurs for single-family—as density decreases, the average single-family share gradually increases.
While cities have traditionally been higher density areas, with more multifamily units than in areas traditionally known as suburbs, the term "city" is not necessarily interchangeable with "high density." In fact, today, the multifamily share of housing is increasing in many suburban areas that are also higher density.
The upshot is that clear differences in the composition of the housing stock and resident characteristics emerge when viewed through the lens of density that would otherwise go unnoticed when using traditional city or suburban designations. As development continues to change the landscape of our metro areas and more areas qualify as "cities," density may prove a more reliable indicator of housing trends.
Walter's full presentation can be found here.
---