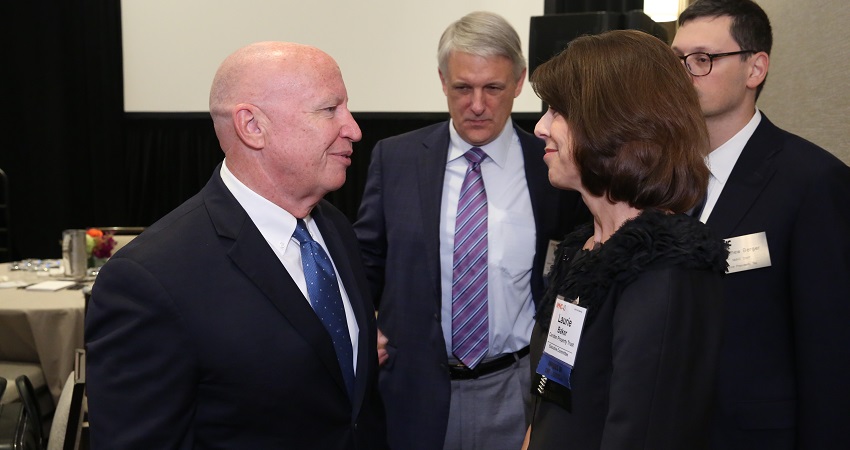 Policymakers from both parties, as well as Congress and the administration, met with multifamily leaders last week during the 2018 NMHC Fall Meeting. They discussed issues such as regulatory reform, the cost of regulations, data security, the implementation of tax reform, and housing affordability.
Current administration officals, Secretaries Ben Carson and Elaine Chao and the former National Economic Council Chairman, Gary Cohn explained their varying efforts to encourage economic growth and reform regulations.
Ricardo Revas, Principal and Chief Executive Officer of Allied Orion Group, introduced House Ways and Means Chairman Kevin Brady (R-Texas). Brady was the first lawmaker to meet with members and noted the important role NMHC had played in the shaping of the Tax Cuts and Jobs Act of 2017 and announced that he is currently working to advance technical corrections. He also discussed his plan for tax reform 2.0, which would make individual tax cuts permanent and incentivize businesses to offer retirement and savings plans.

Jim Schloemer, Chief Executive Officer of Continental Properties Company, Inc., introduced Senator John Thune (R-S.D.). Thune was crucial to the development and passage of the recent tax reform legislation and spoke briefly about his efforts related to potential tax reform 2.0 legislation. As the Chair of the Senate Commerce, Science and Transportation Committee, he began his remarks by noting the broad jurisdiction his committee has over several issues of importance to the multifamily industry. His remarks focused on his efforts to make sure that the U.S. wins in the race to get to 5G broadband, and how we need more available spectrum. He also noted that, when it comes to cyber security, he would support a federal preemption that would codify current regulations.

Toby Bozzuto, President & Chief Executive Officer of The Bozzuto Group, introduced Maryland's senior senator, Senator Ben Cardin (D-Md.). Cardin focused on the Low-Income Housing Tax Credit (LIHTC), noting that efforts to preserve the credit during the tax reform process were bipartisan. He emphasized the important role LIHTC plays in the development of housing that is affordable and called for new and strengthened tools similar to LIHTC that will further expand the ability of industry to develop affordable housing.

Paul Thrift, Chief Executive Officer of Thompson Thrift Development, introduced Senator Todd Young (R-Ind.). Young focused almost entirely on housing affordability during his remarks. He noted that the "housing affordability crisis doesn't just affect people of modest means, it affects people in multiple income ranges," and, given the amount of income that American households use on housing, it merits greater attention from elected officials. Over the summer Young, along with a bipartisan group of senators, introduced the Task Force on the Impact of the Affordable Housing Crisis Act, which seeks to better understand and respond to America's affordable housing crisis by creating a bipartisan affordable housing task force. He said that the Senate needs to come together in a bipartisan fashion, listen to the problems people are facing and work together to solve the affordability challenge.
Chair of the House Republican Conference Cathy McMorris Rodgers (R-Wash.) spoke at NMHC's congressional reception honoring members of congress. During her remarks, she welcomed NMHC members to Washington, D.C., noted her close and positive relationship with NMHC and focused on the importance of housing affordability.

Related Companies' Vice Chairman Jeff Brodsky introduced Congressman Denny Heck (D-Wash.) and kicked off an affordable housing discussion on the final day of the conference. Heck explained that "it's important to step back and acknowledge that the creation of housing in this country is affected by state, local and also federal rules and regulations." He also agreed with the importance, in urban areas, of density, saying, "we have to build up."

Representative Heck is also a co-chair of the New Democratic Coalition Housing Task Force, which released a report that reviewed preliminary findings about housing challenges in America and the "struggles of constituents, the frustrations voiced by homebuilders and the concerns expressed by city and county leaders."

John Sebree, First Vice President/National Director of Marcus & Millichap's National Multi Housing Group, introduced Democratic Minority Leader Nancy Pelosi (D-Calif.). She began her remarks by explaining the centrality of affordable housing and low-income housing to children's health and a clean and safe environment. Pelosi highlighted that the multifamily housing sector withstood the extraordinary shock of the housing crash, and that this was a testimony to the industry's strength. She also noted that "low-income housing is very important, but affordable housing for our teachers, fire fighters, first responders is also very important."
---