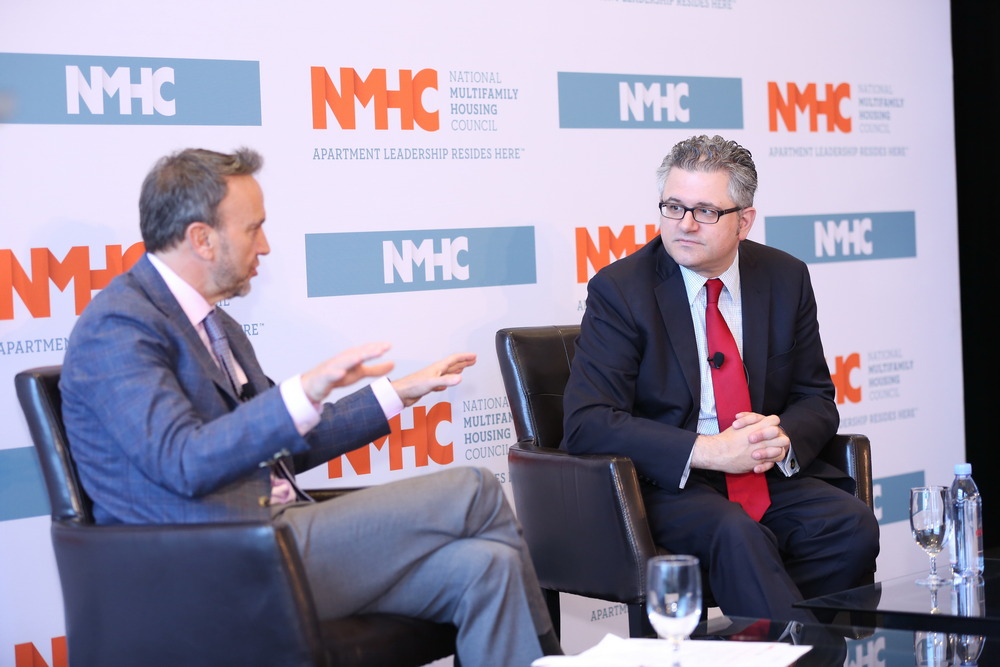 FHFA Director Mark Calabria announced the Federal Housing Finance Agency's (FHFA) plan to revise multifamily loan purchase caps for Fannie Mae and Freddie Mac during a discussion with NMHC Vice Chair David Schwartz at the 2019 NMHC Fall Meeting.
As outlined by Director Calabria, new multifamily loan purchase caps will extend for the five-quarter period beginning October 1, 2019, through 2020. The new caps, allow the Enterprises to purchase up to $100 billion each over that period. The cap applies to all multifamily loan purchased with no exclusions for green or affordable housing loans. To focus the Enterprises on affordability 37.5% of the $100 billion must serve this important market segment.
Calabria said the decision to remove the exclusions is a strategy to "deal with the distortions" in the market resulting from those while further stabilizing Fannie and Freddie in the market, refocusing the entities on their mission and encouraging the participation of a greater variety of capital sources.
That said, Calabria indicated that the agency still recognized the importance of Fannie and Freddie in maintaining liquidity in the multifamily mortgage market in more challenging economic times.
"The intent is to stabilize where they [Fannie and Freddie] are at in multifamily," he said. "Certainly, in a stressed environment, it's appropriate for their market share to expand."
Calabria also commented on the Trump Administration's recently released housing finance reform plan and the affordability crisis more generally. He noted that while he is encouraged that states are taking steps to deal with housing affordability challenges, price control policies like rent control are the wrong approach.
In addition, a variety of lawmakers provided their views on the Treasury's plan during the meeting. Most notably, Senator Mike Crapo (R-ID), chairman of the Senate Banking, Housing and Urban Affairs Committee, stated, "I think that the administration's proposals pretty closely follow the outline I put out. But there was one pretty significant difference—I said it then and I say now—multifamily did not cause the financial crisis. And my approach is that, if it's not broke, don't fix it."
House Financial Services Committee Chairwoman Maxine Waters (D-CA) addressed housing finance reform. While she did not support the administration's proposals, she did make clear that reform of the GSEs is a top priority for her.
---