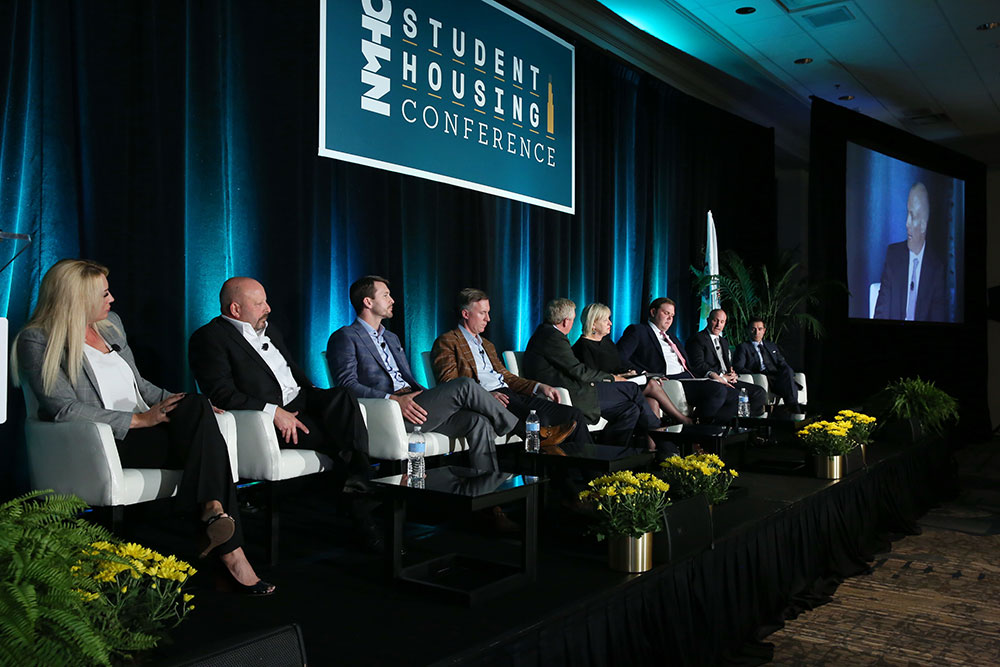 CEOs and COOs from some of the top student housing companies came together at the 2019 NMHC Student Housing Conference to talk about the push and pull relationship necessary to not only operate a successful student housing business, but also to meet strategic goals.
Moderated by industry bastion Randy Churchey, former CEO and chairman of EdR, the panel included Bill Bayless, CEO, American Campus Communities; Jennifer Beece, COO, American Campus Communities; J. Wesley Rogers, CEO, Landmark Properties; James Whitley, COO, Landmark Properties; Donna Preiss, CEO, The Preiss Company; Adam Byrley, COO, The Preiss Company; Rob Bronstein, CEO, The Scion Group; and Mitchell Smith, COO, The Scion Group.
A strong, open and honest relationship between CEO and COO, as well as good rapport between the executive team and the rest of the company, are crucial to success. ACC's Bayless said that he values a "COO willing to challenge me and willing to go to the mat, if necessary."
Beyond someone who can help him make the best decisions, Bayless said he needed someone who could then "rally the troops" around the goal or plan—and said that's exactly what he sees in Beece. Beece, in turn, said the relationship works both ways, explaining that Bayless has a great open-door policy, where she can approach him to discuss whatever is on her mind.
Landmark Properties' Rogers echoed this sentiment, explaining that a successful CEO-COO relationship is built on mutual trust and respect, and a belief that his COO is making the best decisions and will come to him when they need to make decisions together. Whitley added that they both share a common belief in excellence and constant improvement.
Company culture is also an important factor, added Preiss. Aside from having someone who is data driven, Preiss said what she values in Byrley is his ability to connect to people and desire to help them grow, because she cannot do it all on her own. For her, retention and loyalty also are key. She pointed out that Byrley started 17 years ago as a community assistant and worked his way up through the ranks.
Retention and promoting from within is also something that resonated strongly with Byrley. He explained that it is The Preiss Company's policy to never hire from outside until all internal options have been exhausted. "Everyone is talking about how hiring and retaining talent is the hardest thing they can do. And it's true," Byrley said. "So, that's why we're always trying to grow our own talent."
Matching culture and skills are an important part of identifying the right talent fit for your company, explained The Scion Group's Smith. He advised that training should match this—and it all starts with creating an impressionable onboarding experience. To that end, Smith said he is allowing his training team to not only develop training modules, but also to identify company subject matter experts who can be part of the training development.
Helping employees grow is also a good way to maintain stability and improve retention amid a talent war that has companies aggressively luring talent from competitors. "You can't poach your way to success," he said.
When it comes to external decisions, the nature of student housing is also shifting, with a look toward new markets as well as different approaches to old markets. While all see the student housing market remaining strong, each saw some signs of slowing, whether it be weaker tailwinds or projected economic slowing, causing companies to get creative.
One new approach is looking internationally, according to Rob Bronstein, citing major deals that have taken place in Australia and the United Kingdom.
Looking to expand into other domestic markets is another tactic at The Scion Group. Bronstein explained that the firm has identified 110 markets that they think are strong, yet they only have a presence in 57.
Meanwhile, others are taking a narrower approach. Preiss explained that her firm is a net seller of properties outside the top 150. Many others on the panel also echoed that they continue to look at properties through the more traditional Power Five conference and top 150 lens.
Preiss, however, is still willing to take some chances. While walkability is important, she is not afraid to look three to five miles away from campus, as she has seen high occupancy and rent growth in these types of properties.
Technology can also play a role in making student housing a more cost-effective endeavor. Smith explained that while maintenance and repair costs are up 10 percent, marketing had gone down 50 percent, thanks in large part to new technology.
All being said, the outlook for the industry looks good. "Student housing is the darling of the investment community," said Bayless.
---