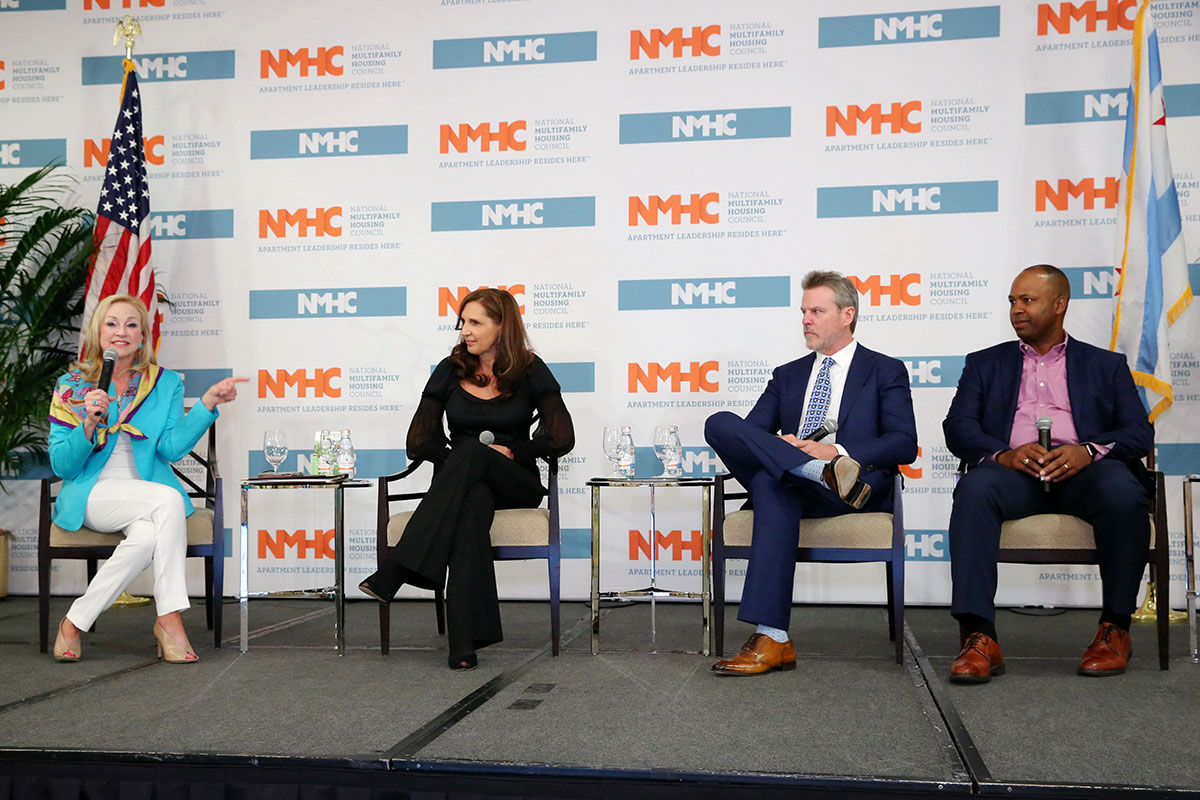 Putting the right people in the right places is key to making your business plan work, but how does one recruit and retain talent in today's tight labor market?
That was the question posed to three of the industry's leading executives during a panel moderated by Dr. Debbie Phillips, principal and president of The Quadrillion, during the 2019 NMHC Board of Directors Meeting in Chicago. Session participants included Tracy Bowers, Pollack Shores' managing director of property management, Rob Presley, Gables Residential's vice president of facilities management, and Vince Toye, head of community lending and investment for Wells Fargo Multifamily Capital.
The most important thing a firm can do to maximize its human capital is to create a strong culture where employees feel engaged, valued and empowered, all four panel participants agreed. "What you put into people is what you get out of them," said Phillips.
According to Presley, Gables invests heavily in multitiered leadership training for all their on-site employees. They learn leadership skills, but also the communications skills that can benefit them in their personal relationships as well.
Bowers said he makes an effort to regularly visit properties so she can get to know the employees on the ground. "Learn their stories so you can genuinely connect with them," she advised. "It can make a world of difference."
Showing a genuine interest in the people who work for you goes a long way, said Toye, who shared that one small thing he does is recognize every one of his team members' birthdays with a personal (and personalized) email on their birthdays. He also encourages them to take their birthdays off and to use the time to connect with family and friends and also to do something special for themselves.
Sourcing Talent
The hiring challenge is one of the hardest things facing most apartment firms. Bowers shared that her firm needs to hire roughly 25 people a month—and that's just on the property management side. Connecting with universities—and not just for job fairs—is an under-utilized tool for finding talent, she said.
Phillips advised executives to actually go to the classrooms and spend a day with the students. Executives will not only make real connections that aren't likely at the typical career fair, but they can also learn what young talent is looking for in their workplace.
"Adopt a teacher and take students into your office for job shadow experiences," she offered.
Similarly, Toye said that he has had great success working directly with athletic programs at universities. Athletes often don't make the radar of hiring teams because they can't use their summers for internships, but they can be tremendous employees.
The panelists encouraged people to always be recruiting. You never know when you are going to find potential employees, but if you are excited and passionate about what you do, when those encounters occur, they are more likely to be successful.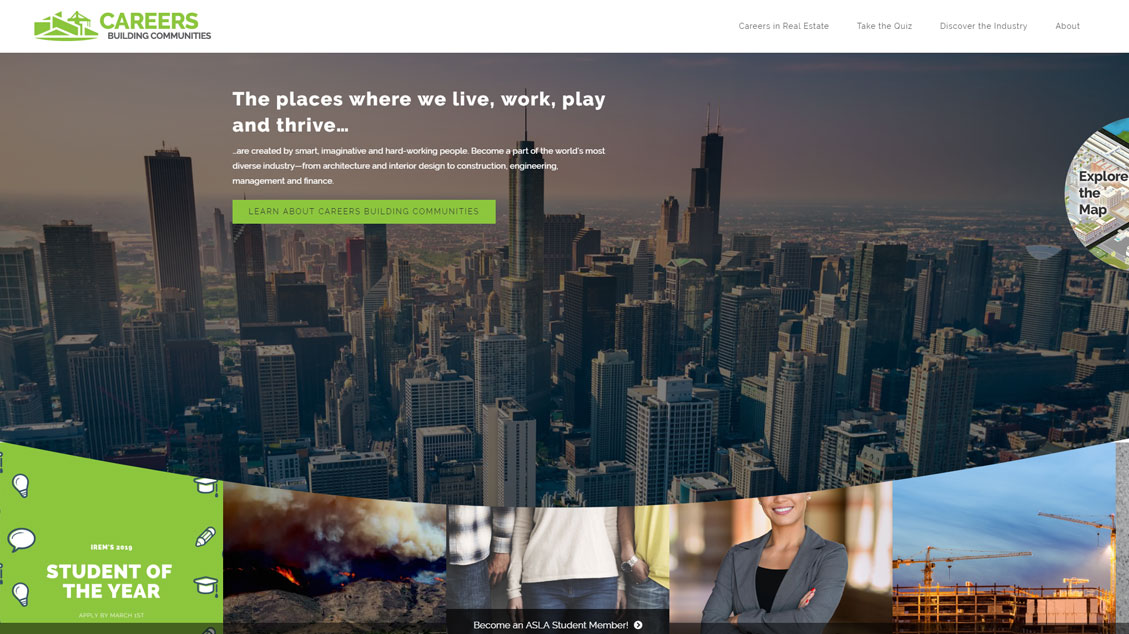 To support these outreach efforts and help generate interest in real estate, NMHC led an effort to create a website—Careers Building Communities—targeting students and career changers to help them understand how commercial real estate can be a rewarding career option.
It features an interactive career explorer map, a quiz to help direct users to the best fit for them and detailed information on all the career paths available—finance, sales, management, development, tech, maintenance and much more.
Retaining Talent
The key to retaining star talent in an era where millennials spend 14 months in a job before looking for their next opportunity is simple: Build trust and respect.
"You need to set expectations but then also set out the potential. Today's young employees are looking for a career path," said Toye. He said he tells young employees to be patient; they need to work hard and find ways to knock it out of the park from day one before the opportunities will present themselves. But he also lets them know that he has their best interests in mind and will always be candid about his thoughts about any internal or external opportunities they get.
The average service manager tenure at Gables is 15 years, and Presley credited the company's culture for 100 percent for that. Presley also said that he company does a good job at showing people that there is a real career path at the firm. "Many of us at Gables started on the property level, so our employees don't just hear about the career path, they can actually see it," explained Presley.
The Skills That Matter
For all the research and recruiting you can do, there is some element of hiring that is a crapshoot; however, executives said emphasizing some key abilities and skills can improve your odds. The ones most valued by our panelists included:
Strong communications skills. Good verbal and written skills are an often-overlooked skill in hiring service technicians. However, after the lease is signed, it's the service team that has the most interaction with customers.
Hunger to learn. This is relevant for everyone, but executives noted that it particularly applied to the service team. Service jobs are much more technical than ever, given today's advanced building systems. And it's not just knowing the systems themselves; it's also figuring out how to use all the data that the building is providing through them.
Good attitude. As they say (and it's true), you can always teach skills so hire people who are likeable and who will respect their coworkers since that trickles down to the respect their direct reports show our residents.
With that last one, we come full circle about the key takeaway—there are a lot of specific strategies and outreach efforts you can take, but ultimately it's about creating a culture that draws people to your firm and makes them want to stay.
---