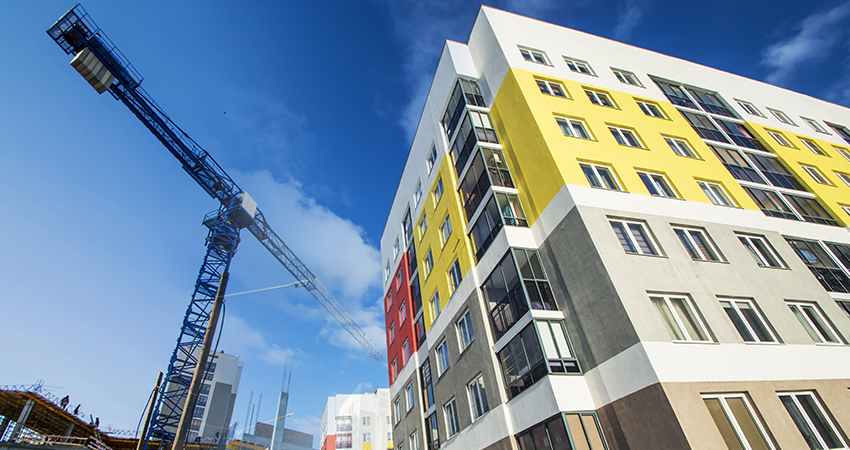 Faced with the threat of significant construction delays or even potential shutdown, development and construction firms are using new tactics to keep projects advancing while maintaining the health and safety of employees and partners.
---
On March 17, Boston marked St. Patrick's Day not with its traditional parades and pub crawls but with a two-week ban on construction activities intended to help stem the spread of COVID-19. That ban, which has now been labeled as indefinite, was the first of its kind, triggering other jurisdictions to follow suit and creating much anxiety for the multifamily development and construction industry.
Faced with the threat of significant construction delays or even potential shutdown, development and construction firms are employing a wide variety of strategies to keep projects advancing despite significant hurdles—all while keeping the health and safety of employees, subcontractors and suppliers paramount.
Housing Construction as an Essential Service
For now, at least, all business closure and shelter-in-place orders that restrict construction activities include an exemption for essential services and critical infrastructure. Initially, apartment construction was broadly allowed to proceed under these essential business exceptions. Now, we're seeing greater fracture among these orders, with a growing number of exceptions tailored to very small or affordable residential construction.
This divided stance is of deep concern for the multifamily industry, which we estimate needs to be producing roughly 328,000 new units annually to keep up with demand. In an effort to solidify protection for the industry under this mantle of essential business, we are now looking for federal guidance to that end.
Many jurisdictions rely on guidance from the Cybersecurity and Infrastructure Security Agency (CISA) to develop these essential business orders. CISA offers nonbinding guidance to states and localities to consider when creating emergency orders. In an effort to assure the industry receives that designation, NMHC recently asked CISA to explicitly include housing construction and property management services as essential. On March 28, CISA provided additional detail to that effect on its "Essential Critical Infrastructure Workforce" advisory list.
Onsite Challenges and Innovations
Even with a multifamily exemption, significant challenges remain for keeping construction job sites up and running. Permitting offices nationwide have shuttered in the wake of shelter-in-place orders. Inspection and building code officials have also been unable to visit job sites, stopping projects from moving forward.
Similarly, subcontractor and labor availability are increasingly uncertain. Confusion and inconsistencies in enforcement of these new orders, as well as questions over the categorization of those businesses and workers supporting construction, has created disruption even where work stops are not warranted. Further, worksites are having to quickly adapt and implement policies to address sick workers on sites, COVID-19 isolation recommendations and return to work rules.
However, we're also seeing positive signs that jurisdictions are open to alternatives. And some firms are getting creative. They're trying things like video inspection, photographic submittals, online permitting and more. However, this is clearly a moment where the industry is learning as we go and there are just an incredible number of adjustments that will have to be made along this process.
Further, assuming that firms can keep their sites open and overcome inspection shutdowns and similar challenges, they also are making significant changes to keep their workforces safe. They are implementing social distancing protocols and doing things like limiting onsite meetings or moving to video- or teleconferencing platforms. They are keeping unnecessary subcontractors or providers off the sites until they need to be there. They are staggering shifts and breaks along with a broad range of other onsite protections, including significant increases in onsite cleaning and hygiene protocols.
Preparing for the Unknown
Nevertheless, we are preparing for the various delays and disruptions that can occur—and even for possible expansions of construction moratoriums. Firms are preparing shutdown checklists for sites far in advance to mitigate unnecessary losses. They are also reviewing force majeure clauses, and many in the industry are broadly putting contract parties on notice that they have a triggering event on site.
Finally, firms are looking at additional, and in some cases alternative ways, to secure those empty worksites. Included in these efforts are new investments and increased use of sensors and remote surveillance-based technologies to provide more security and assurance. This is leading some firms to use technology that, up until now, has only been sort of cursorily experimented with or tested.
It's unclear how long these construction moratoriums will last, whether more jurisdictions will adopt similar measures or whether multifamily will be largely exempted from these orders. But we remain encouraged with the willingness of jurisdictions and construction firms to work together to find alternative solutions during this unprecedented time to keep things moving forward. And we applaud construction firms' precautions to ensure the health and safety of their employees, subcontractors and suppliers and resourcefulness in using technology and innovation to maintain operations.
---