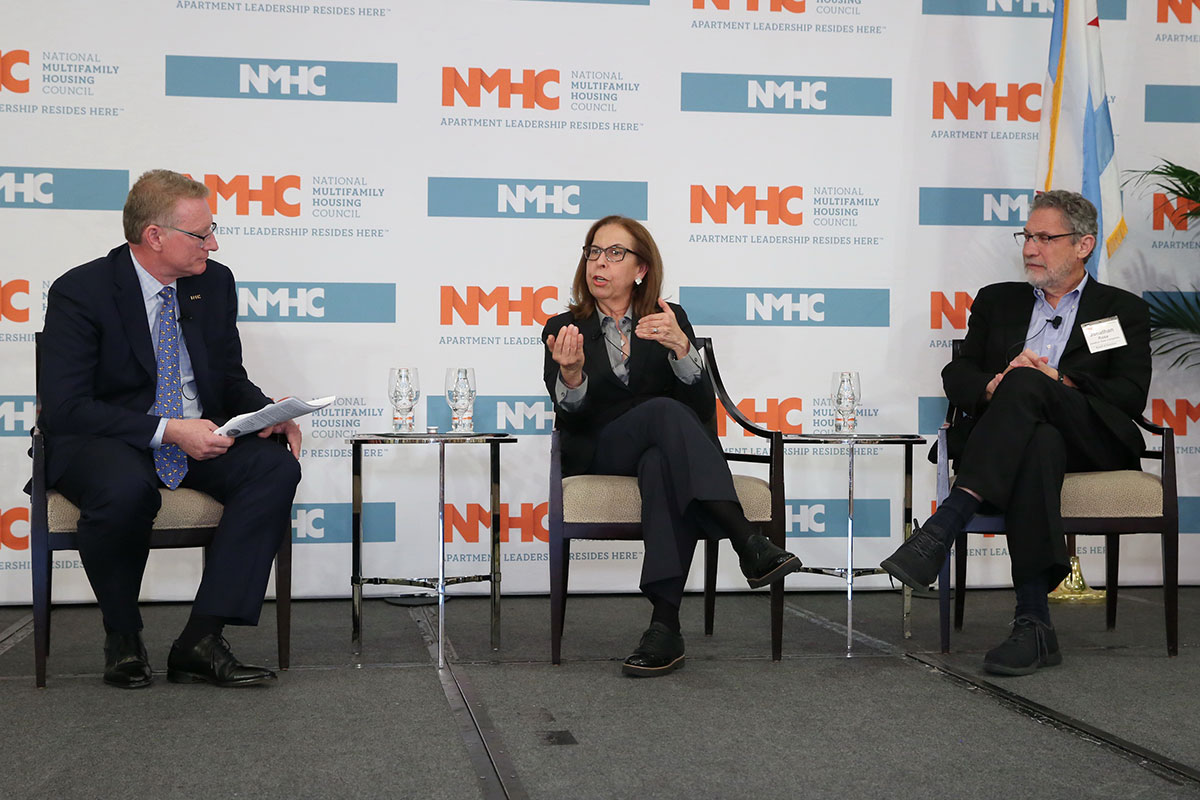 Impact investing, or the movement of capital into enterprises that generate social or environment benefits along with financial returns, is on the rise. According to McKinsey, impact investing could grow to as much as $300 billion by 2020.
With double-bottom-line investing gaining traction, NMHC COO Kenny Emson hosted a panel discussion with some experts as part of the 2019 NMHC Spring Board of Directors Meeting. Panelists included Afsaneh Beschloss, founder and CEO of RockCreek, and Jonathan Rose, president of Jonathan Rose Companies.
Beschloss founded RockCreek Group nearly 20 years ago with a vision of inclusivity and the diversity in the workplace. She discussed the importance of investing in your community, especially through the development of the local talent pool. RockCreek Group uses diverse methods to recruit talent, including participating in programs to recruit students that live in inner-city Washington, D.C., and by forming close, personal relationships with local high schools.
Beschloss stressed that diversity and inclusion initiatives are not only the right thing to do, but they also meaningfully impact a company's bottom line and make them more attractive to investors. Emson highlighted NMHC's Diversity and Inclusion Committee, highlighting the important work the group is doing to raise awareness of the value of diversity and inclusion and the business results that can come out of a diverse workplace.
Rose also highlighted the importance of investing in your local communities. He talked about his company's mission-driven approach to multifamily real estate and explained that providing a variety of useful, proactive services to residents makes good business sense.
As an example, he talked about the value of health services in a community. He referenced a recent study that found that children living in poor-quality housing were 39 percent more likely to visit an emergency room. He argued that providing in-community services like health clinics not only saves the renter money, but it also saves the community money.
---