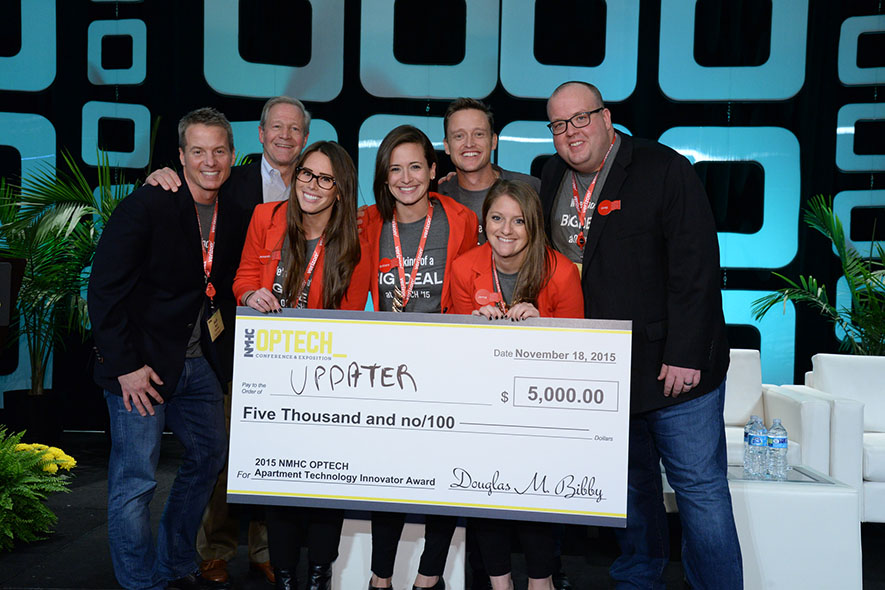 The 2015 NMHC Launch Pad competition, which celebrates original multifamily technology solutions, attracted a record number of entrants. Four finalists were invited to present at the 2015 NMHC OPTECH Conference & Exposition, dealing their fast pitches to a panel of industry experts. The panel included Thomas Bretz, founder of Elmspring Accelerator; Thomas Bumpass, managing director and CIO of Greystar Real Estate Partners; Alexandra Jackiw, president of Milhaus Management; Greg O'Berry, COO of JVM Realty Corporation; and Lori Reeves, vice president of strategic business services for Forest City Residential Management. An audience vote determined the winner.
Online moving concierge service Updater took home the trophy, earning a 47.1 percent of the vote, for its innovative online product. The company received a $5,000 check and a complimentary Advisory Committee membership to NMHC.
Here's a quick look at the four finalists. (You can check out the ten semifinalists here.)
August Smart Lock. The August Smart Lock is a bluetooth device that attaches to the inside of a resident's front door, giving them keyless entry to the property from his or her smartphone. With time-based controls, August gives residents complete control over who has access to their home, and when, from anywhere in the world.
What the judges liked: With an estimated three to five services visits for every unit turnover, judges liked the idea of being able to authenticate all service providers and prevent unauthorized entries through an alert function. Plus, it could solve some on-site package delivery and storage issues, allowing residents to opt for in-unit delivery.

Pricing: $199 per lock; $79 per accessory
Evercharge. Evercharge provides a smart electric vehicle charging solution exclusively for multifamily buildings. By using patented power management technology, EverCharge can increase the charging capacity of most buildings by up to ten times.
What the judges liked: The technology allows apartment firms to scale with the growth of electric vehicles. Firms could also leverage the technology to create premium parking spots, generating ancillary income without a lot of management burden thanks to the company's full service model, which takes care of 24/7 user support, maintenance and more.
Price: $15/month plus electricity usage, which is billed back to residents
ReaLync. ReaLync is a web/mobile platform that enables live virtual tours of properties. This experience enables sales professionals to connect with leads and clients in real time to show them exactly what they want to see, answer their questions and more.
What the judges liked: The real-time video service can be an important tool for apartment firms who have a lot of foreign, out-of-town or relocation prospects. Judges also liked that the video is stored on the cloud, allowing prospects to play-back the video to friends and family. The back-end set up also allows the service to work on lower signal/bandwidth strength.
Price: $10/unit per month
Updater. Updater is a one-stop solution to help residents move in and out smoothly. Technology akin to "Turbo Tax for moving" helps residents save hours on moving-related tasks including forwarding mail, setting up utilities, updating accounts and subscriptions and much more.
What the judges liked: Because the service can be personalized, it's an opportunity for an apartment firm to reinforce/elevate its brand while offering additional value to sales prospects without a lot of legwork. In addition, a multilayer dashboard allows firms to track use of the product.
Price: $29-59/month per property (based on level of customization)
---