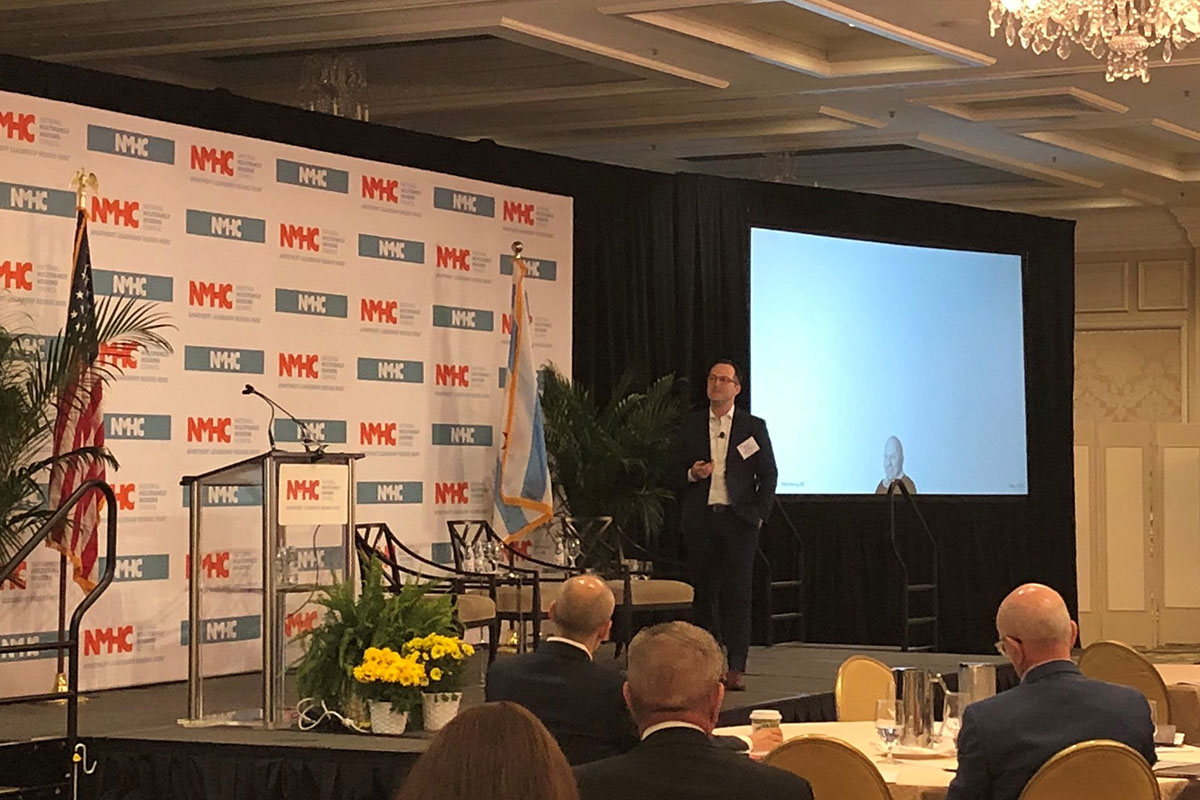 Looking forward to the future? Then it is probably time to re-think your business strategy. Gone are the days when "location, location, location" determined the strategy for maximizing returns from an asset, according to Dror Poleg, founder of Rethinking.RE, during his presentation at the NMHC Board of Directors meeting in Chicago.
Instead, start thinking about what happens to your business when the customer becomes the asset, not the property. It's an inverted world where space becomes a service and your competitors can become your partners.
In the old world, the asset was the most valuable thing and everyone else worked for it and received some small portion of the revenue it generated—think architects, third-party managers, suppliers, etc. As long as you got the location and price point for it right, you could make money.
Fast forward to today and the experience is everything. Operating excellence is challenging the power of location and can, in some cases, create a true competitive advantage. What does that mean? It means apartment firms are using branding and consumer-facing software to create delightful experiences for resident and, ultimately, generate value. In this new world, you truly understand what your resident wants or desires and you figure out how to deliver it. It's just now taking place in the apartment property that you list as an asset on your balance sheet.
As an example, Poleg talked about the difference between what hardware (apartment properties) and software (apps, operating systems) made on the computer revolution, noting that the chip (Intel) and software (Windows) companies were the real winners, not the firms building the computers.
Here are Poleg's seven suggestions to excel in this new world.
Know your customer, personalize the experience and have a tangible and intangible value proposition. Focus on what's missing in people's lives and ask yourself who else is he/she paying to do things I could provide with my asset? That might mean social interaction, sleep quality, package delivery, health and wellness solutions, work/live hybrids or something else. The possibilities are endless but, to avoid chasing the next trend, you really need to understand what your target resident wants, values and will pay for.
Stay nimble and forward looking. Your customers are always evolving in their needs and as the world and technology around them advances. As a space-as-a-service provider, you need to as well. How will drone delivery change residents' needs when things come to them instead of them going to get things? How do autonomous vehicles change the value proposition of your outside-of-the-city property in 10 or 20 years?
Constantly consider your alliances and adversaries. It's a fact that many of the existing real estate uses are blending. A multifamily firm that previously bought Equinox gyms is now adding coworking spaces to them. At 75 Rockefeller Place, RXR is creating a whole new model, combining many uses under one roof. The building boast coworking/flex office space (operated by WeWork), a hotel (operated by Airbnb) on several floors and even a member lounge/conference center (operated by Convene).

In the past, some of those firms would have been seen as competitors to the traditional apartment or office firm, but now more firms than ever are looking for ways to turn those disruptors into partners that accrete to the bottom line and recruit residents/tenants by offering them a one-stop solution to their needs (which they are likely to be willing to pay a premium for).
Leverage your network of properties. Stop thinking about every building as a single asset. Think about whether you can build a platform. Can you create a "membership" among residents of your firm's buildings to give them access to amenities in various locations—a gym near their office, for example? A gym focused on strength training a couple blocks away from one with the highest-end cardio equipment. Instead of spending your limited capital to moderately meet everyone's needs, can you use closely located building to specialize and enhance residents's opportunities.
Embrace density, but also software to add layers of satisfaction. As affordability becomes a more pressing issue, some firms are finding ways to fit more people into the traditional floor plate without reducing satisfaction. They are using software services and technology within the building to enhance their living experience and make them happier
Beware of data. Data is setting the foundation for new kind of real estate managers and operators, but data is also a time bomb introducing you to financial, reputation and political risks. With the rising importance of data privacy, anticipate how your residents will respond if they realize how much and what you are collecting. Also, don't expect your tech company to be prepared for this. You need to be on top of it.
Treat uncertainty as an ally. The future is intimidating because of all the change involved. Just keep this in mind. People will need/expect more from you than they did before, that means you are in a position to capture more value than you could have before.
---