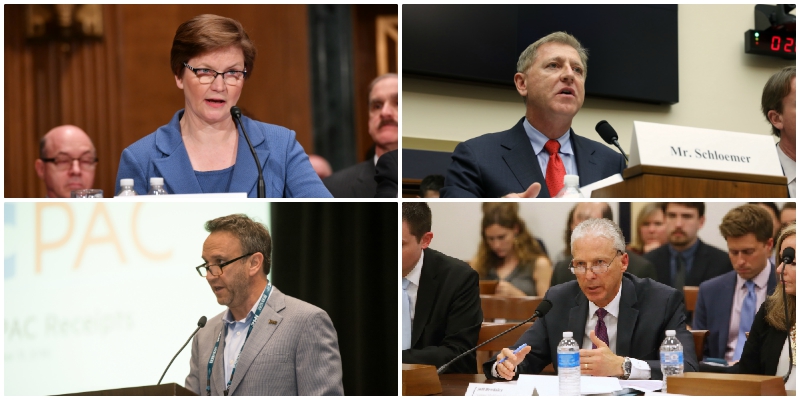 NMHC leadership – Sue Ansel of Gables Residential, Jim Schloemer of Continental Properties, David Schwartz of Waterton, and Jeff Brodsky of Related Companies – participated in Washington advocacy meetings with administration officials, Members of Congress and their staff on key issues important to the industry, including housing finance reform, housing affordability, infrastructure, flood insurance and TRIA.
The member fly-in took place on June 12 and the group visited various offices to discuss these important issues. One such meeting was with the new FHFA Director, Mark Calabria. As Calabria works with Treasury and HUD Administration officials to develop a housing reform proposal that could be released as early as this summer, NMHC officers and members made the case to "do no harm" relative to the multifamily industry. Following the meeting with Director Calabria, the group also met with Special Assistant to the President for Economic Policy at the National Economic Council (NEC) Rebekah Jurata, House Financial Services Committee Chairwoman Maxine Waters' (D-CA) staff and Ranking Member Patrick McHenry (R-NC).
Prior to the June 12 NMHC member fly-in, Brodsky participated in a New Democrat Coalition Housing Task Force program with members of Congress and housing stakeholders on June 5 to discuss America's housing needs. This forum was a preliminary step in the search for solutions to the housing shortfall identified in the Task Force's 2018 report, "Missing Millions of Homes." The event focused on actionable solutions to the "Four L's" of housing construction: land, lumber, labor, and loans.
It is critical that NMHC members and staff continue to meet with policymakers on the critical issues that impact the multifamily industry. NMHC member participation is one of the most effective advocacy tools on behalf of the industry. NMHC is committed to increasing NMHC member participation in our advocacy efforts. If you have existing congressional or administration contacts, we want to hear from you – contact NMHC's SVP of Government Affairs Cindy Chetti to learn more.
Please visit our policy priorities webpage to learn more about the important issues discussed during these meetings.
---