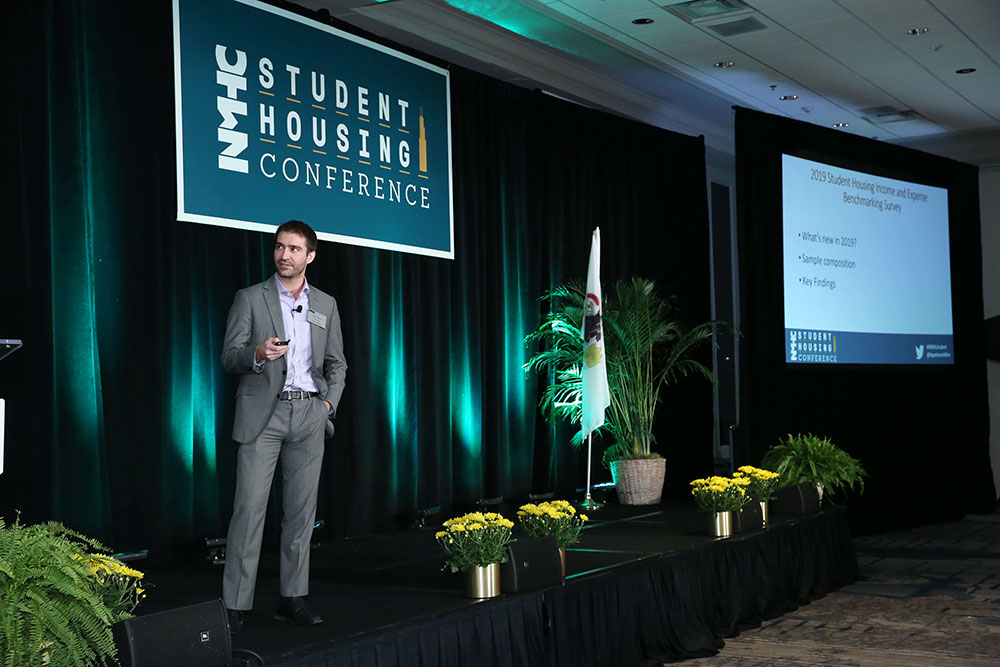 Two research pieces were presented at the 2019 NMHC Student Housing Conference. The National Multifamily Housing Council released the latest Student Housing Income and Expense Benchmarking Survey and Paige Mueller, managing director of Eigen 10 Advisors presented findings from the upcoming report The Growing Student Housing Market: On-Campus, Student Housing and Student Competitive, the first piece funded by the NMHC Student Housing Research Fund.
The newest Income and Expense Survey is a crucial tool for owners, operators, investors and lenders of student housing, as it contains extensive student housing performance benchmarking data for comparison. New this year is all the data is available in Excel format to facilitate the utilization and analysis of the data.
This year's Survey included data from more than 375,000 beds, almost triple the size of the report's first edition in 2010.
"The sheer sample size makes this report a valuable tool for all in student housing," said NMHC Director of Research Chris Bruen, who presented the report and additional analysis at the conference.
The report also includes additional data analysis and insights for the student housing sector. One key finding shows just how important distance from campus is. Analysis indicates that each additional mile away from campus is associated with a 5 percent decrease in net rental per bed.
Analysis also supports evidence that net income is higher for high-rise buildings. Median net income for high-rise buildings was nearly $2,000 more per bed then for mid-rise buildings. High-rise properties also recorded a 56.9 percent rent premium over garden-style apartments. The opposite tended to be true of vacancy costs with garden-style units experiencing the highest levels while conversely requiring the lowest operating costs per bed.
Differences in property age also yielded interesting results. Newer buildings paid significantly more in property taxes across all markets compared to older properties. In addition, properties built after 2010 commanded a net rental premium of 18.8 percent compared to properties built before 2000. This is up from 14.7 percent for properties built between 2006 and 2010.
"This report provides student housing operators and developers with critical financial guideposts to compare both projected and actual performance results," said NMHC Vice President of Research Caitlin Walter.
Paige Mueller, managing director, Eigen 10 Advisors, gave a preview of new research demonstrating the magnitude of the student housing industry in the real estate sector.. The report, The Growing Student Housing Market: On-Campus, Student Housing and Student Competitive, will be released soon and will be the first piece funded by the NMHC Student Housing Research Fund.
With widespread fears of an upcoming recession, the research confirms the belief that student housing maintains steady demand throughout all economic climates. In fact, enrollment tends to rise as the job market weakens.
Demand for student housing is large with about 8.9 million students needing rental housing near campus. The report also finds that 62 percent of students live off campus, not with parents, while 86 percent of graduate students also live off campus, demonstrating a huge potential market in post-undergrad scholars.
Analysis from the report finds several key opportunities for the student housing sector. As the amenity race wages on and the industry attempts to capture top rents, many students, a highly income-constrained population, are getting left behind and vacancy rates in newer units are higher compared to other unit types. Instead, demographics at each university should be carefully looked at when deciding what type of units to build. The answer may be more affordable stock with fewer bells and whistles.
In terms of amenities, the study also finds that students care more about functional amenities than fancy ones. What they want is laundry, furniture and Wi-Fi, not pools and club houses. Additionally, the third highest student expenditure is food. Building mixed use properties with student-oriented food options is another way to major opportunity for the sector.
Aside from these opportunities, the research identifies many more ways for student housing to grow bigger, better and more efficient. The report will be released soon so look out for it on our website.
---