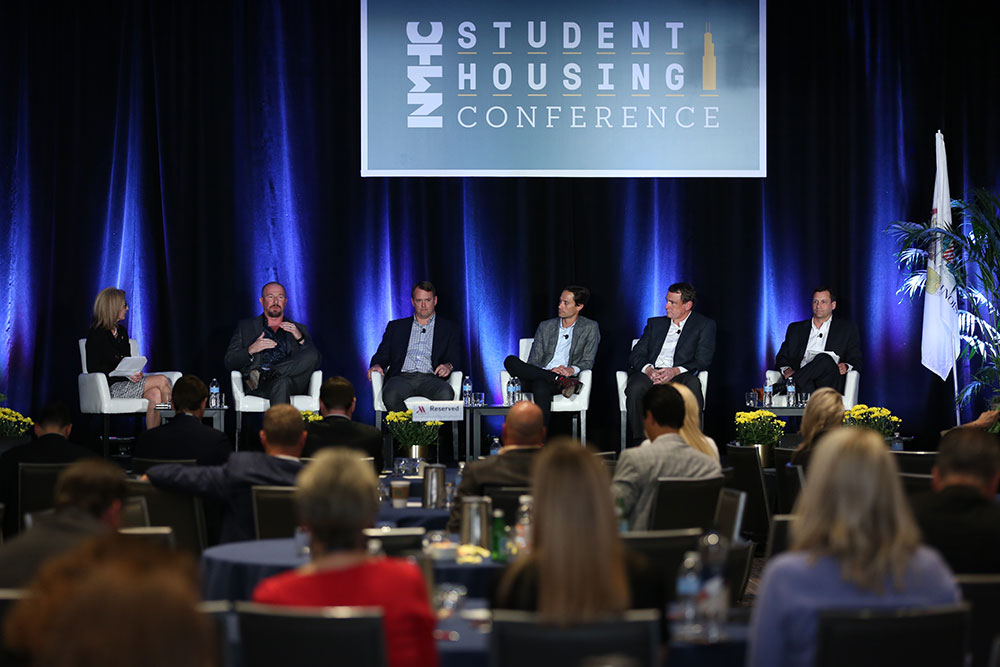 Ground-up development has produced a steady flow of deliveries over the past few years, but market conditions have shifted, leaving developers facing bigger challenges. At the same time that it's getting more complicated and expensive to build, students' housing wants and needs are moving in a new direction.
New investors are joining the competitive fray while rising land, labor and materials costs are making it difficult for projects to stay on schedule and on budget. Developers are having to take on more risk as constantly changing trade policies are rapidly affecting materials pricing and disrupting the supply chain. At the same time, architects and general contractors are looking for alternative sources for key materials and turning to technologies like Building Information Modeling (BIM) to streamline the process and drive efficiencies.
"Look, I could whine," said Loren King, CEO and co-founder of Trinitas Ventures, during a panel discussion on development trends. "We took some hits the last couple of years. Development is a riskier business today. Construction costs are going up. So, why are we doing it? There's a constraint on supply. … And that's why I don't think cap rates are going to go up. It's so hard to develop as there are so many supply constraints that I think we're going to continue to see cap rate compression and then stabilization."
Other panel participants included Susan Folckemer, chief acquisitions and development officer for The Preiss Company; Brian Dinerstein, president of The Dinerstein Companies; Jason Doornbos, EVP of development for Landmark Properties; Andy Hogshead, president of Collier Enterprises; and Chad Matesi, COO, Development for Core Spaces.
As cap rates on development deals have continued to drop, developers noted that the gap between conventional multifamily and student housing has narrowed over the last handful of years. However, there's still one big distinguishing factor between the two sectors.
"The biggest single difference between student housing and conventional is you must deliver on time," explained Colliers' Hogshead. "It's not a staggered lease up. And because of that, a lack of subs will kill you. If you're using a general contractor and they can't source their subs, that will kill you. The cost is more than just the cost of bringing in more subs."
Dinerstein agreed. "The rising costs of raw materials is just a part [of the problem]," he said. "It's all labor, and it's falling apart."
During a separate panel on designing and delivering student housing, Les Juneau, president of Juneau Construction Company, also talked about the labor shortage in the market both in the trades and management ranks. Without reliable labor, on-time delivery of student housing projects has become much more challenging.
"It's rocked our world in a way that will never be the same," he said.
Other panel participants included Andrew Wiedner, chief acquisitions officer for Core Spaces; Greg Faulkner, partner of Humphries & Partners Architects, L.P.; Ben Kasdan, associate principal of KTGY Architecture + Planning; and Mohamed Mohsen, associate principal of Niles Bolton Associates.
The need to find ways to offset rising construction costs is coming while students are more concerned with affordability and value than ever before. As a result, developers are looking to architects, designers and engineers for design efficiencies.
One of the hallmarks of student housing has long been bed-bath parity. But as the need to drive down costs and reach lower price points for students has grown, developers are pushing back on that standard.
Core Spaces' Matesi said that his company has historically had roughly 85 percent to 90 percent of units with bed-bath parity, but they are looking to push that figure down a bit in markets that are particularly cost constrained.
"If we can drive 5 percent to 10 percent of the bathrooms out, we can save so much money," he explained, adding that the company is also right sizing its amenity spaces. "The days of 15,000 or 20,000 square feet of interior space are gone. We're targeting 7,500 square feet."
Niles Bolton Associates' Mohsen also discussed changing the rules on bed-bath parity. "How do we make the numbers work? We need more beds. We have to reconsider the mix. We need larger units and fewer ones and studios." However, he added that not every market is open to that shift, but he is seeing the concept have more traction in the Northeast and Western regions, which often have more price sensitivity.
"Everything is on the table," noted Trinitas Ventures' King. "The goal is to be as efficient as possible. Dial-in every square inch of the project to what the students value." King added that his company is also reevaluating parking with each project, as structured parking is very expensive.
"We're looking at how low can we go, so we're not too underparked but where it adds scarcity," he explained.
Besides affordability, developers and designers say today's students are focused on hyper connectivity, technology, convenience and health. They are also much more into more practical amenities than the resort-style amenities of years past.
"Study spaces are the most sexy spaces in these projects," said KTGY's Kasden. Small conference rooms, cubbies, booths and even so-called study "war rooms" are all the rage as students look for opportunities for connections on an academic level.
---
2023 Student Housing Income & Expense Survey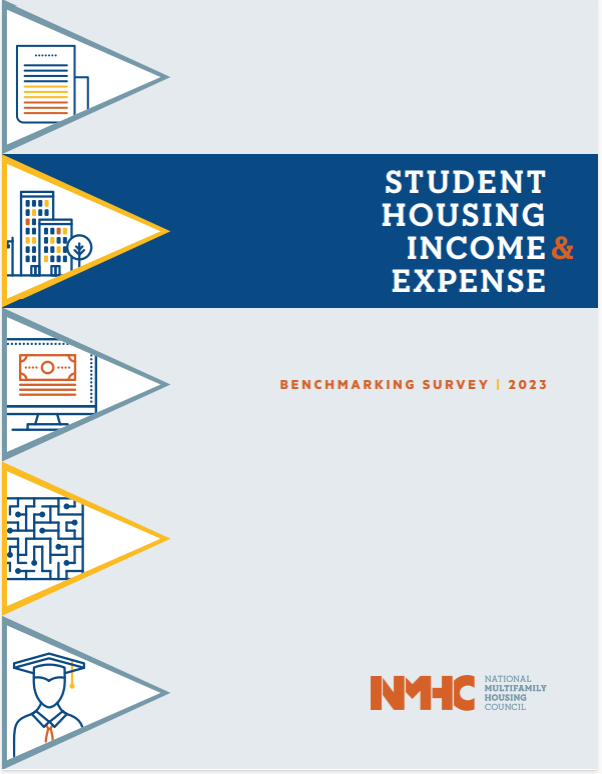 The 2023 edition provides detailed descriptive statistics for the 2022 calendar-year income and expense statements of 1,074 private off-campus student housing properties — 203,249 units and 566,008 beds across 49 states.
Purchase the report to dive into the data!