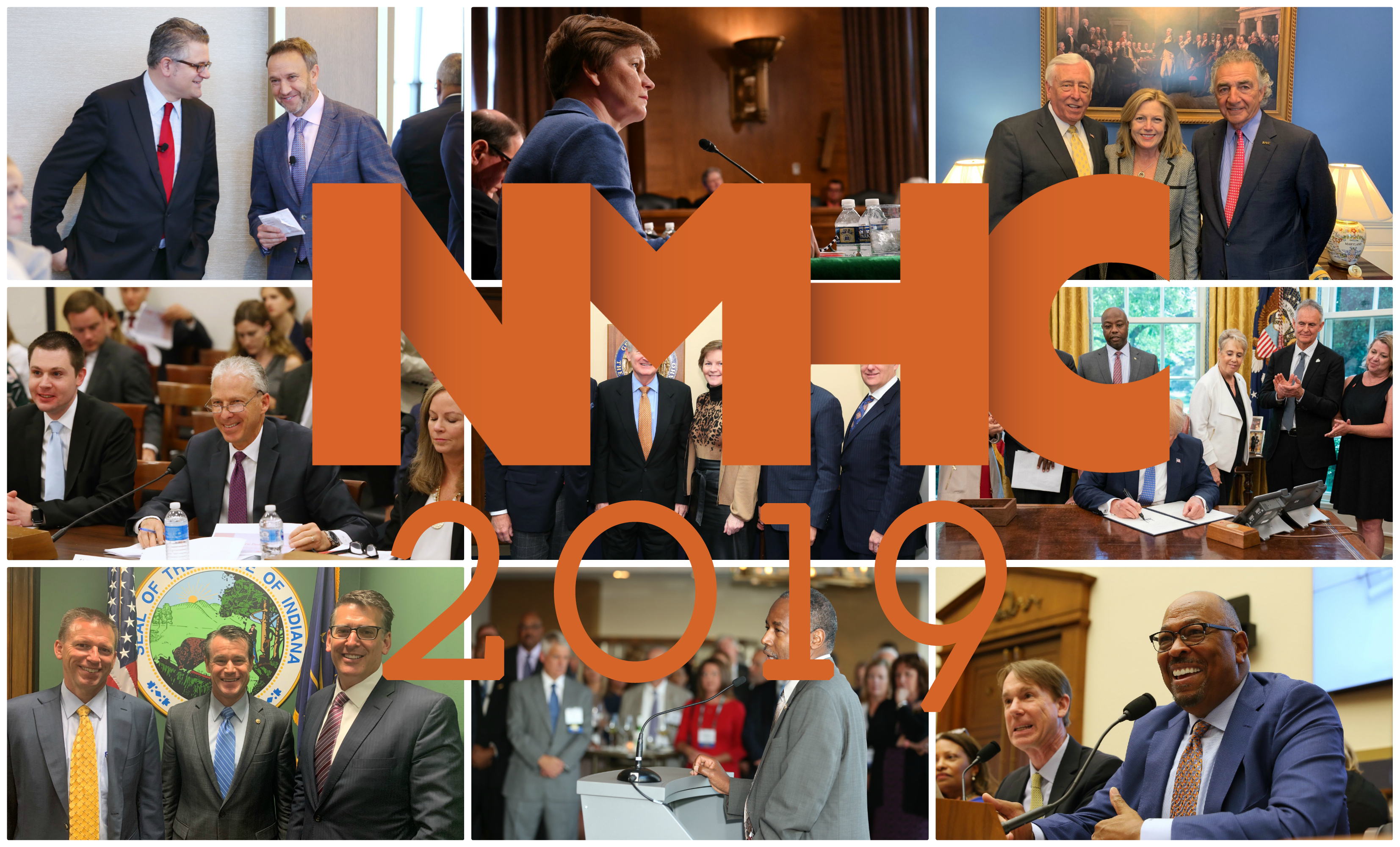 NMHC served as a key resource for the Administration and Congress in their quest for practical housing affordability solutions. NMHC continues to urge policymakers to reject quick-fix solutions – such as rent stabilization, rent control, costly mandates and onerous inclusionary zoning requirements – that will only serve to make the problem worse. NMHC supports real solutions that help address the skyrocketing costs of regulation, labor and materials. To aid in that effort, NMHC either drafted or influenced language in the following proposals impacting housing affordability:
President Trump's Executive Order Establishing a White House Council on Eliminating Regulatory Barriers to Affordable Housing: NMHC contributed critical language and resources to Administration staff that culminated in the Oval Office signing of this Executive Order, which directs Agencies to identify and eliminate burdensome regulations.
Evictions and Criminal Screening: NMHC successfully pushed backonerous provisions in evictions and criminal screening legislation in exchange for workable solutions that provide true resources and assistance for families and individuals in need.
YIMBY (Yes in My Backyard) Act: NMHC worked closely with sponsors, Representatives Denny Heck (D-WA), Trey Hollingsworth (R-IN) and Senator Todd Young (R-IN) on this proposal that urges communities to eliminate discriminatory land use policies and regulatory barriers that prevent needed housing from being built.
Housing is Infrastructure Act of 2019: NMHC worked with House Financial Services Committee Chairwoman Maxine Waters (D-CA) to emphasize the link between housing and infrastructure spending and push for increased funding for critical housing affordability programs.
Housing Affordability on the Campaign Trail: Housing affordability is front and center in the presidential election.Multiple candidates have introduced legislation that includes NMHC-supported language addressing affordability and reducing regulatory barriers. Most notably, Senators Elizabeth Warren (D-MA) and Cory Booker (D-NJ) have proposed legislation including new incentives for local governments to reduce barriers that drive up housing costs.
Section 8 Funding Increase: NMHC helped secure an industry win within the year-end budget to increase 2020 HUD resources to $49.1 billion – an increase of $4.9 billion from 2019. Both the tenant-based Section 8 Voucher Program and the project-based rental assistance program will see increased funding.
Access to capital is fundamental to our business and Fannie Mae and Freddie Mac are vital sources for the multifamily industry. They play a key role in meeting the housing affordability needs of low- and middle- income families. That's why Housing Finance Reform is a top NMHC priority.
NMHC met with Administration officials providing input on key rules and initiatives: NMHC weighed in on purchase caps and the Administration's legislative and administrative housing finance reform planreleased in September. NMHC staff also participated in FHFA quarterly meetings to provide input for FHFA quarterly analysis.
FHFA Director Mark Calabria made a key announcement regarding the multifamily industry at NMHC's Fall Meeting in September: Director Calabria announced the implementation of a five-quarter $100 billion hard purchase cap for each agency, including that green loans would no longer be excluded from the cap and an increase in the agency's affordability goal from 33 percent to 37.5 percent.
NMHC raised significant concerns about the 2018 capital standard regulation at meetings and in a comment letter: NMHC applauded Director Calabria's decision in November to re-propose the capital regulation for Fannie Mae and Freddie Mac in 2020.
Risk management is a key component of protecting the industry's ability to develop and operate housing. NMHC secured key victories with the seven-year reauthorization of the Terrorism Risk Insurance Act (TRIA) and an extension of the National Flood Insurance Program (NFIP) through September 2020, ensuring terrorism and flood insurance coverage is available in all markets and for all property types.
At a time when the multifamily industry is facing increasing pressure to meet booming demand, an overly burdensome regulatory infrastructure is forcing financers, developers and operators to manage numerous compliance hurdles and rising costs.
The industry must balance a wide array of concerns regarding project viability and regulatory costs and compliance at all levels of government. Throughout 2019, NMHC secured regulatory reform victories on the following:
The flawed 2015 Waters of the United States (WOTUS) rule was withdrawn.
A final NFIP rule passed that requires the acceptance of private flood insurance to satisfy the mandatory federal purchase requirement.
A final Department of Labor (DOL) Overtime rule passed that increased the overtime pay threshold level to $35,568, far below the $47,476 adopted by the Obama Administration.
A final High Volatility Commercial Real Estate (HVCRE) rule favorable to the industry was enacted that lowers the borrowing costs of loans for new construction or renovation of existing apartments.
The Department of Energy (DOE) gas furnace rule that would have eliminated noncondensing furnace option was reversed.
The Enviromental Protection Agency (EPA) set achievable and health protective standard for lead in dust on floors and windowsills.
Policymakers at all levels of government are moving to enact strong consumer and data privacy protections that will have a significant impact on the apartment industry's daily and long-term business operations. As such, NMHC educated federal and state policymakers and Agency officials through meetings, comment letters and Congressional testimony – including weighing in with California's Attorney General asking for changes to the new California Consumer Privacy Act (CCPA).
After years of NMHC advocacy, HUD issued a new Proposed Rule that aims to provide certainty for housing providers under the Fair Housing Act. This has long been a priority for NMHC and we applauded HUD's action. NMHC continues to advocate for a final rule that ensures apartment firms can execute necessary business practices without running afoul of fair housing requirements.
NMHC advocated to shield the apartment industry from significant escalations in construction costs during the development of the 2021 National Model Building Codes. Onerous and costly proposals were rejected in phase one, including: a series of items attacking wood-framed construction, unnecessary increases in fire protection and testing requirements, mechanical ventilation requirements and changes to accessibility provisions. Phase two of the code cycle focused on energy efficiency – where NMHC opposed provisions to increase building efficiency requirements that failed to provide realistic energy or cost savings.
NMHC secured key victories on tax issues:
The Internal Revenue Service (IRS) issued NMHC-supported proposed Opportunity Zones regulations that enable taxpayers to engage in cash-out refinances while still preserving Opportunity Zone benefits.
Passage of bipartisan, bicameral legislation (45L) to encourage energy efficient construction in residential properties of three stories or less.
2020 is slated to be one of the most tumultuous elections in recent memory. Already, 41 members of Congress have announced that they will not be running for re-election. This will create a large number of newly elected officials in January 2021. Because of our strong PAC, NMHC will be well positioned to establish relationships with these new policymakers and continue to strengthen existing ones – ensuring that everyone understands the impact that legislative and regulatory proposals have on our industry. Log in to learn more.
---