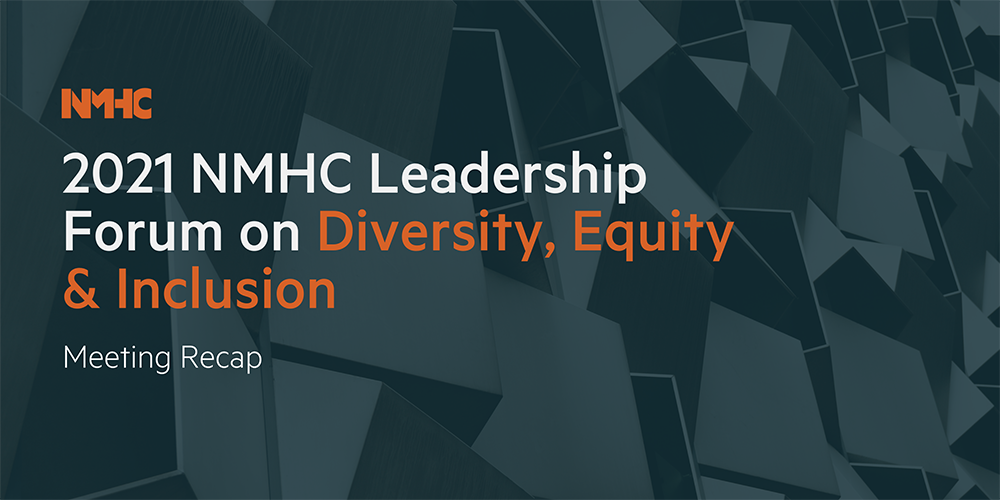 NMHC's annual Leadership Forum on Diversity, Equity and Inclusion (DEI) was held virtually on May 20, 2021. This year's program opened with a Keynote Conversation with Tina Tchen, President and CEO of TIMES UP Now and TIMES UP Foundation, moderated by Julie A. Smith, The Bozzuto Group's Chief Administrative Officer and NMHC's Secretary. Panels focused on the DEI-ESG-CSR connection and inclusive leadership during periods of stress and transition. Read on for key highlights from the event's program. If you weren't able to tune in live, be sure to watch the event recording on-demand (Note: The Keynote Conversation with Tina Tchen will only be available for 30 days until June 24, 2021).
1. Intersectionality should be top-of-mind for inclusive leaders.
Working towards diverse, equitable and inclusive work environments requires a multi-faceted approach and outlook. And President and CEO of TIMES UP Now and TIMES UP Foundation Tina Tchen is no stranger to creating and supporting inclusive spaces. During her keynote conversation with The Bozzuto Group's CAO Julie Smith she highlighted her personal experiences as an Asian American woman, a leader within both the public and private sectors and pioneer in the "Me Too" movement. Her advice for those who strive to be inclusive leaders? "Inclusive leadership is leadership that listens… And [it's someone who] also isn't afraid to venture into uncomfortable spaces and conversations."
2.Investors are looking to DEI as a critical piece of the CSR/ESG puzzle.
Over the past several years, Corporate Social Responsibility (CSR) and Environmental Social Governance (ESG) principles have become increasingly important to multifamily investors. A parallel priority for many companies in recent years has been furthering diversity, equity and inclusion goals. The Forum featured a panel – The Corporate Social Responsibility - Environmental, Social, Governance connection to DEI and its growing importance – to highlight the convergence of these efforts and the increased opportunity for both investors and multifamily firms. One key takeaway: Investors are making note of a firm's "human" investment. As Vincent Toye, Managing Director and Head of Agency & Off Balance Sheet Lending for Commercial Real Estate at JP Morgan put it during the discussion, investors are asking "How does what you do impact other aspects of the community?"
3. Inclusive leadership is critical as we navigate this period of prolonged uncertainty and rapid transition.
The past 12 months have been a catalyst for social change, encouraging long-overdue conversations regarding racial justice, while the ongoing impacts of the pandemic defined our new normal. These dynamics impact everyone from on-site associates to corporate teams and residents, making inclusive leadership more important than ever. Anchoring part of the panel's discussion was a conversation about how "leadership happens everywhere, not just in the C-Suite." Charlotte Flores, Vice President of Human Resources at BH Management Services, LLC commented that there should be "focus on who's in the room." The panel also emphasized the importance of listening to employees and residents for inclusive leadership.
4. NMHC Racial Equity Framework to guide industry DEI business strategy and goals.
NMHC recently released the NMHC Industry Framework for Economic Inclusion and Racial Equity. The Framework, crafted by the NMHC Racial Equity Taskforce including the Real Estate Executive Council, recommends measurement and accountability to meaningfully advance economic inclusion for commercial real estate professionals of color.
---
Agenda & Speakers
A Conversation with Tina Tchen

Tina Tchen
President and CEO
TIME'S UP Foundation

Julie A. Smith
Chief Administrative Officer
The Bozzuto Group
(Moderator)

The Corporate Social Responsibility (CSR) - Environmental, Social, Governance (ESG) connection to DEI and its growing importance

As companies incorporate Diversity, Equity and Inclusion goals across their organizations, there is an increasing level of convergence with the needs of investors focused on supporting Environmental, Social and Governance (ESG) principles. This panel will discuss the growing importance of these ESG principles to multifamily investors and how they are connected to a company's DEI progress.

Bob Simpson
Founder
Simpson Impact Strategies
(Moderator)

Erin Ankin
General Counsel
Waterton



Kathleen Leito
Managing Director, Real Estate
Greystar

Vincent Toye
Managing Director and
Head of Agency & Off Balance Sheet Lending
Commercial Real Estate
JP Morgan

Inclusive Leadership During a Period of Prolonged Uncertainty and Rapid Transition

Inclusive leadership has never been more important. Apartment firms are stepping forward as on-site associates, corporate teams and residents have long-overdue conversations on racial justice and face the ongoing impacts of the pandemic, all in a rapidly evolving tech-fueled work environment. Industry leaders will discuss the importance of DEI in how they are leading during a period of prolonged uncertainty and rapid transition.

Betsy Feigin Befus
Senior Vice President
General Counsel & Strategic Initiatives
NMHC
(Moderator)

Gregory Bates
President & CEO
GID Investment Advisers


Catherine Carraway
Executive Vice President and
Chief Human Resources Officer
Equity Residential

Charlotte Flores
Vice President, Human Resources
BH Management Services, LLC

Jessie Henry
Chief Homemaker
Charger Ventures