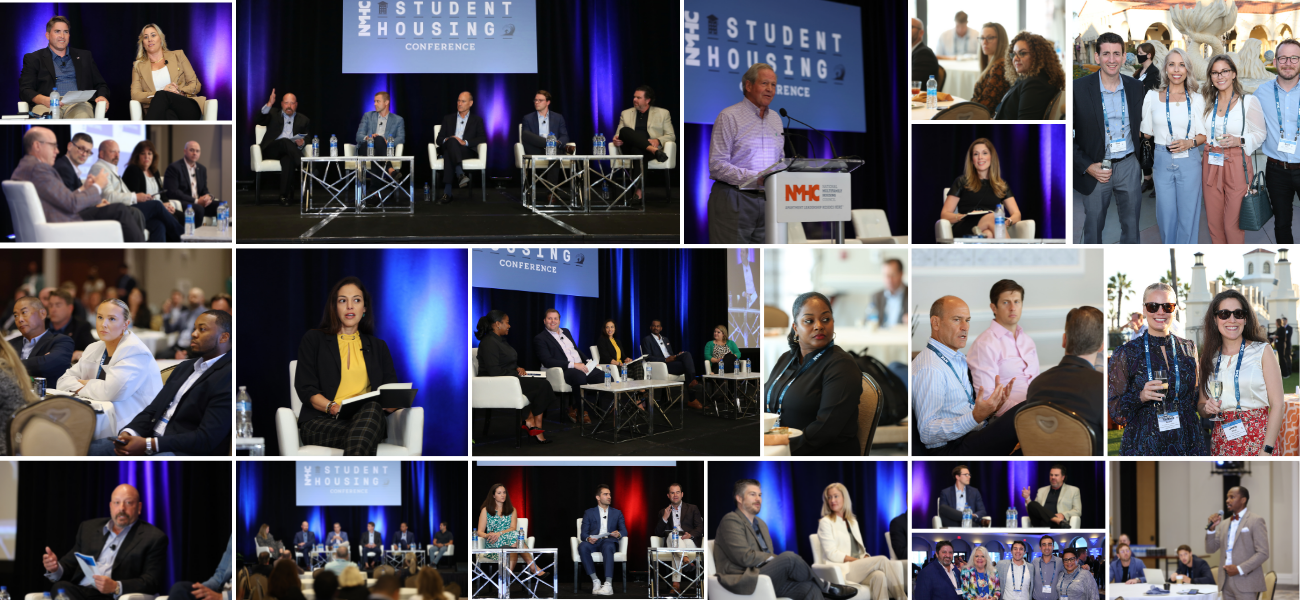 The 2021 NMHC Student Housing Conference took place at a critical time for the industry. After more than a year and a half of unprecedented challenges and uncertainty, the nation's student housing leaders came together to take stock and look forward with deep confidence to a bright future built on strong demographic trends and economic tailwinds.
Student Housing Made It Through COVID, Where Does It Go Now?
American Campus Communities CEO Bill Bayless kicked off the 2021 NMHC Student Housing Conference with two thoughts that seemed to encapsulate where the industry stands heading into 2022, namely, "Everyone should be ecstatic," and "We're still in the early stages of the institutional maturity for the industry."
These industry statements broadly capture the majority of views on the position of the industry after dealing with pandemic-related challenges for 18 months. After serious initial concerns at the beginning of the pandemic, the industry showed its resilience and flexibility, positioning the industry well for a strong 2022. Notably, a number of leading executives credited their 'on-the-ground' teams for working through the depths of the pandemic and admirably supporting their student residents and communities.
Avi Lewittes, Senior Vice President, Chief Investment Officer, The Scion Group and incoming Chair of NMHC's Student Housing Council made the point that this is an exciting time for the industry as there "is both more equity and debt access than arguably ever before" and the industry has "been able to demonstrate to institutional investors that we are a real, mature sector."
Where the Student Housing Industry Stands
The increase of virtual learning and the broader move to working from home at first gave rise to concern about the very premise of in-person classes and higher education. However, what became unmistakable early on was that students prefer to be on campus, with their friends and taking advantage of the college experience rather than learning from home. Additionally, it became evident that the universities with modern, professionally managed communities were able to adapt to the challenges caused by a pandemic far more ably than colleges with traditional housing dating back decades.
The affordability of student housing remains paramount. Accordingly, P3 projects, where the university can take advantage of their access to land and control over local regulatory processes and taxes, will be increasingly important in making deals pencil, keeping stable levels of affordability and even offering new ancillary revenue streams.
Sky-high costs—construction, land, labor, materials—are making new construction deals more and more difficult. The student housing industry, given the unique timelines the student year imposes, is particularly sensitive to delays caused by labor shortages, supply chain issues and/or regulatory setbacks. There was broad agreement that in the current environment, development firms need to undergo comprehensive reviews of their risk profiles with these challenges in mind and determine where there may be opportunities to review practices and processes to see how they can be eliminated or shifted to another entity in the supply chain to minimize risk.
COVID-19: The Operational and Design Response
A broad theme running through conversations at the 2021 NMHC Student Housing Conference was the challenges that faced operational teams since the onset of the pandemic, the resilience and innovative spirit they were met with, and the agreement that there is still more work to be done.
Going forward, it seems that many of the practices put in place during the pandemic such as a move to paperless leasing and payment processes, increased sanitary protocols and maximizing the use of space in communities to allow for students working from home, are here to stay. What's more, while the industry came of age in an 'amenity-heavy' environment, the focus going forward will be on efforts that support the education and the growth of students rather than more entertainment designed amenities. Much of what the industry was considering prior to the pandemic—open air, exterior spaces, ventilation, coworking spaces, flexible design in units, health and wellness—will continue to be significant in the years ahead.
One point that was especially clear was that the challenges posed by the pandemic and its aftereffects are not over. Indeed, there was broad agreement for how difficult Turn 2021 was. Turn 2022 may be even more demanding. Last year onsite teams faced challenges with material delays and shortages and COVID impacts on employees—these difficulties will likely play a role over the coming months. Labor shortages are having a significant impact as maintenance teams are at risk of falling apart and vendors who would be considered as fallbacks aren't able to find labor.
Accordingly, teams are starting their Turn 2022 efforts much earlier by conducting inspections, placing orders for materials significantly ahead of time and looking to see what labor alternatives may be available. Across the industry, teams are already planning ahead for what will be another challenging year. Based on lessons learned over the past 18 months, they are making plans now to meet difficulties related to material delays, labor shortages and more. While property managers largely need to be on-site to do their jobs well, flexibility will be important to employee retention—for instance, firms have implemented flexible office hours and schedules. Further, given the challenges of the current labor market, good communication with property managers is critical to making sure the best staff is retained.
The Legislative and Regulatory Outlook for the Student Housing Industry
At a critical time in Washington, NMHC's Government Affairs team briefed the student housing industry's leading executives on what issues are under consideration that may impact them. Namely, there is significant debate on two hugely important pieces of legislation—an approximately $1 trillion infrastructure package that would fund traditional infrastructure efforts like road, bridge, airport, school and other construction projects, and a larger, more controversial approximately $2 trillion social welfare bill.
A major concern for the multifamily industry is how the more costly "Human Infrastructure" effort will be financed. Proposals being actively considered include increasing the capital gains rate, taxing unrealized capital gains and taxing carried interest at ordinary income tax rates. Like-kind exchange and stepped-up basis have also been identified as possible pay-fors; however, at this point it appears that we have been successful in making the case that these specific proposals should be taken off the table. A comprehensive review of the proposals can be found here.
Housing affordability and related issues were top areas of focus for NMHC members, staff and student housing leaders. Of particular concern this year was the recently ended eviction moratorium and the speed of disbursing rental assistance funds. While the CDC's eviction moratorium finally ended last month, the rental assistance funds—a top industry priority—have been disbursed far too slowly. NMHC has been working with lawmakers in both parties as well as the Administration to identify ways to speed distribution. More on NMHC's rental assistance efforts can be found here.
More information from the NMHC Government Affairs presentation can be found here.
NMHC Releases 2021 Student Housing Income and Expense Survey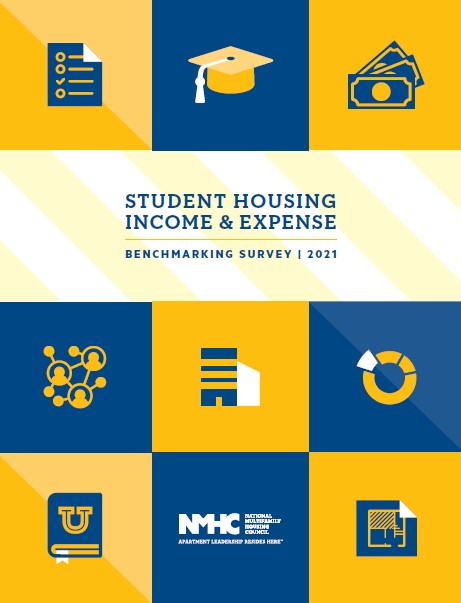 NMHC released the 2021 NMHC Student Housing Income and Expense Survey last week during the 2021 NMHC Student Housing Conference. This survey provides detailed, descriptive statistics for the 2020 calendar year income and expense statements of 953 private off-campus student housing properties, encompassing nearly 185,000 units and 529,000 beds across 47 states. This year's report also provides statistics on two-year growth rates (2018-2020) among a set of 479 same-store properties.
The survey found that COVID-19 led to higher vacancy costs and increased concessions. A majority (61.5 percent) of properties recorded an increase in vacancy costs over the two-year period. Similarly, nearly half (44.0 percent) of properties increased concession offerings.
This report is available for purchase:
NMHC Member Price: $500
Non-member Price: $1,000
Learn more about the report or download an Executive Summary.
NMHC and Entrata Partner to Release Student Housing Benchmarks
NMHC and Entrata announced a new partnership to release key benchmarks on the student housing industry. National and regional (Midwest, Northeast, South, Southeast, West) data will be updated on a monthly basis with the regional data restricted to NMHC members only. The data will be 90 days in arrears to comply with federal antitrust guidelines other than pre-lease data which is as of the last day of the previous month.
"This effort will provide student housing owners, operators, developers and analysts with key metrics to compare both projected and actual performance results," said Mark Obrinsky, NMHC Chief Economist. "Going forward, we hope that these data help guide decision-making among student housing business leaders."
More information on the student housing benchmarks can be found here.
Student Housing and NMHC's Diversity, Equity and Inclusion Efforts
At a luncheon focusing on the intersection of the student housing industry and NMHC's DEI efforts, Jennifer Cassidy, Senior Vice President of Student Housing Operations, Cardinal Group, and Jennifer Hill, Chief People Officer and General Counsel, PeakMade Real Estate, kicked off discussion by noting that there may be student housing nuances to DEI programs, and it is important for industry leaders to weigh in as NMHC's efforts proceed. There followed a thoughtful discussion around gender and roommate matching with agreement that the industry shouldn't be afraid to take on these issues and that leadership needs to start at the top.
More information on NMHC's DEI efforts can be found here.
---