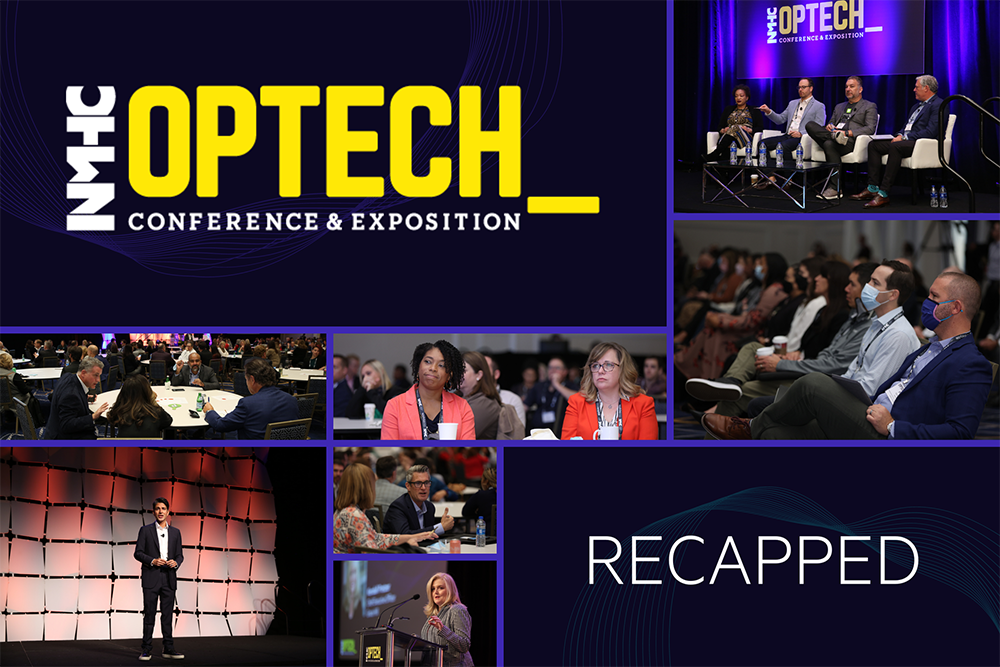 TOP TAKEAWAYS FROM OPTECH 2021
Last week's NMHC OPTECH in the Washington, D.C., area was a milestone moment for the multifamily industry in its post-COVID recovery. More than 2,000 apartment executives and technology partners were finally able to get together with friends, colleagues, clients, business partners and prospects to celebrate the industry's resiliency and set a path for what's next.
Yes, there was lots of hugging, too.
But beyond just an occasion to connect once again after a traumatic 18+ months of everything COVID-19, this year's NMHC OPTECH proved once again to be the industry's go-to place to go for new product launches and important industry research—not the least of which was a sneak peek at the 2022 NMHC/Grace Hill Renter Preferences Survey Report, which will officially launch in January. 
The Expo was a vibrant marketplace with more than 150  exhibitors showcasing the  industry's  latest and greatest technologies and services. The Marketplace Stage and 365 Connect Lounge also provided platforms for some of the most promising startups to fast pitch their products and prominent suppliers to share new offerings, data and insight.
NMHC's Women in Tech and Marketing Meetup was another hit, featuring three, heartfelt, "That Little Girl Was Me" vignettes from Whitney Kidd with ROVR Score, Stephanie Gonzalez with Venterra Realty and Cara Athmann with The Cardinal Group. The Emerging Leaders group also hosted its first OPTECH networking event to encourage participation from the property and asset management side of the business.
NMHC thanks all sponsors, exhibitors, speakers and attendees for their contributions to another successful OPTECH. More than any other year, it was wonderful to see you all healthy, happy and in the flesh once again. We look forward to next November, when we will be in Las Vegas once again for the 2022 NMHC OPTECH.
In the meantime, we're happy to share a few highlights from some of the most popular sessions at this year's conference. NMHC members and OPTECH attendees are welcome to view all the recorded sessions here. Additional discussion topics included tech legal risks, self-service leasing, resident fintech, intelligent buildings and more.
How COVID Changed Multifamily Innovation Strategy for the Long Haul
The future in multifamily looks bright along the horizon for the industry. In a discussion lead by Richard Malpica, Yardi Systems Inc., top industry leaders Marcie Williams, RKW Residential, Miguel Gutierrez, CAPREIT, and Cynthia Fisher, KETTLER, shared how they embraced changes in their operations and communications and dove into which tech and workplace initiatives they'll carry in our new world. With the help of data, lasting opportunities drive better experiences for both the resident experience and team members for 2022.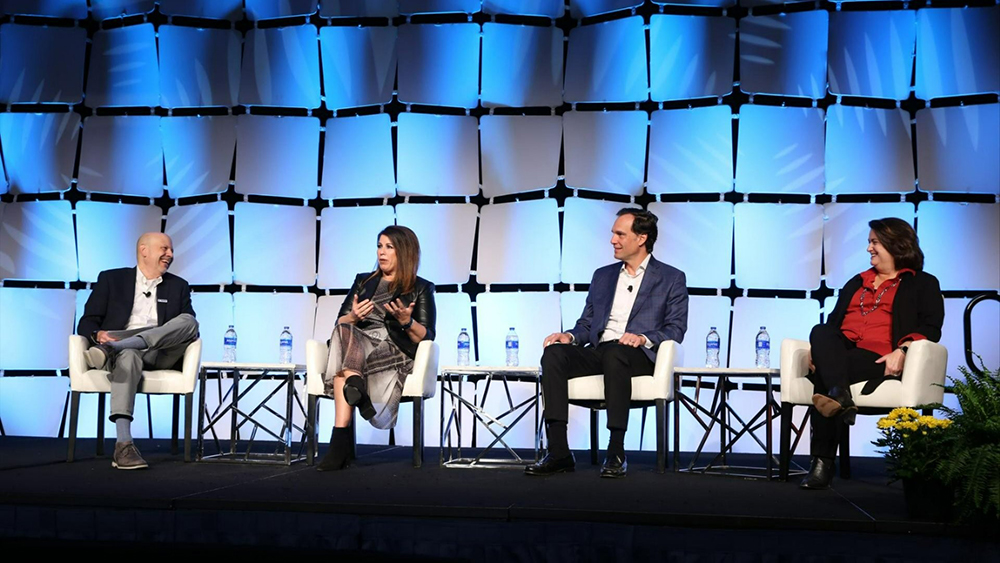 Strategies for Beating Burnout and Cultivating Resilience
This year's conference was marked by the resounding keynote Suneel Gupta, CEO of Rise and bestselling author of Backable. With the last year and a half under our belts—whether it's working in front of blaring computer monitors or juggling packed day-to-day schedules—burnout remains a hot topic that resonates with everyone.
"We have the tools to thrive when things are going well, but what about when things are tough?" addressed Gupta. In his talk, he parallels the path to success to the path to burnout. Inspired by his research in Bhutan, the happiest country in the world, Gupta encouraged attendees to partake in practical modes on unwinding, destressing and re-centering their focus in moments we recognize burnout as he unfolded the art of reframing failure through neuroscience.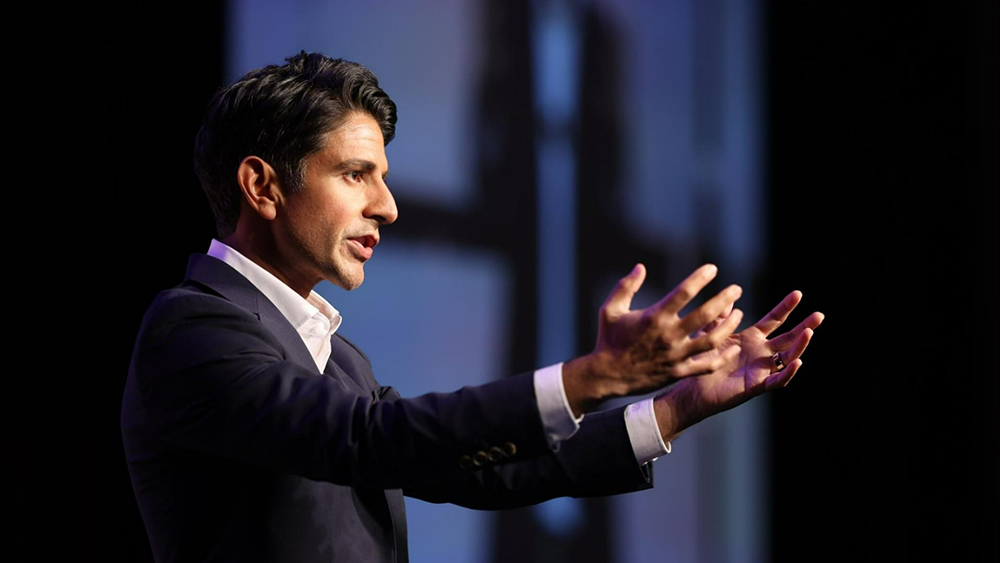 Developers and Operators Debate the Value of Managed Wi-Fi
If COVID-19 ever drove home a point to the multifamily industry, it was that connectivity is paramount for both multifamily residents and operators. But delivering the kind of connected experience residents expect increasingly has operators wondering whether managed wi-fi, also known as ubiquitous wi-fi, might provide the speed, ease and security they need to make it happen.
In this session, moderated by Holland Partner Group's Jeff Gengler, Realty Com Partners' Rush Blakely, Dish Fiber's Nathan Block and CommScope's Sandy Jack walked through the pros and cons of managed wi-fi for both the resident and operator. Topping the list of pros for the consumer was the fast set-up, convenience of having connectivity follow him or her throughout the property and potential cost savings, while access to data and critical infrastructure to be able to institute IoT solutions like smart locks and leak protections were major benefits to operators. But the benefits also come with some tradeoffs.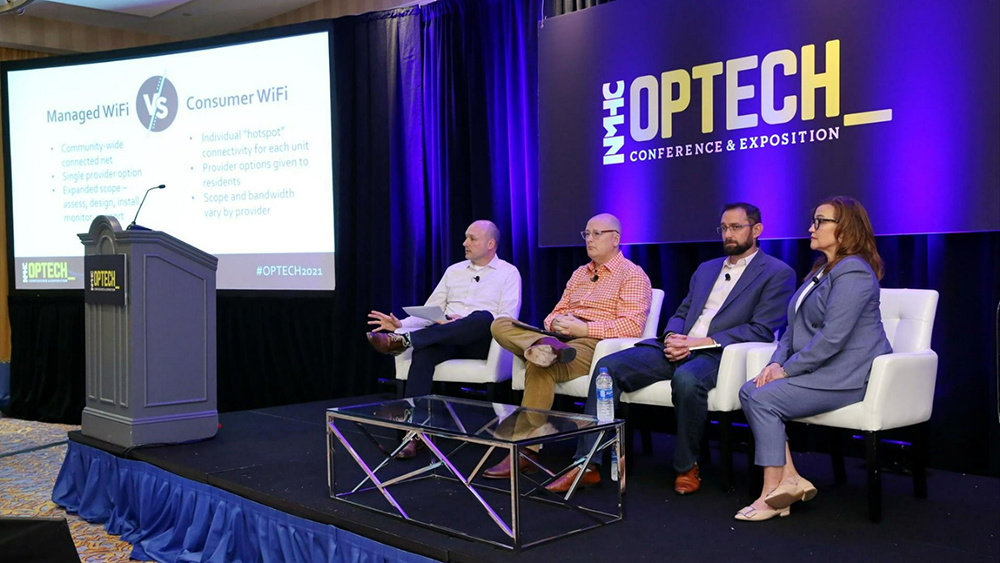 Can Proptech, AI and Humans Truly Work Together?
More than just healthy industry skepticism is keeping widescale adoption of AI technologies at bay in multifamily for the moment. But those on the leading edge see that changing—and quickly. During a panel discussion lead by consultant Judy Bellack, Funnel Leasing's Tyler Christiansen, Anyone Home's Todd Katler, AvalonBay Communities' Karen Hollinger and Bozzuto's Kelley Shannon highlighted a number of existential industry threats that may force companies' hands to adopt automation and AI technologies sooner rather than later.
For these proponents, AI technologies can better facilitate today's new customer journey, which requires instant answers to repetitive questions, while improving operational efficiencies around rote tasks. In addition, AI breeds consistency, which is helpful when it comes to compliance, and produces reems of quality data that can better inform decision-making.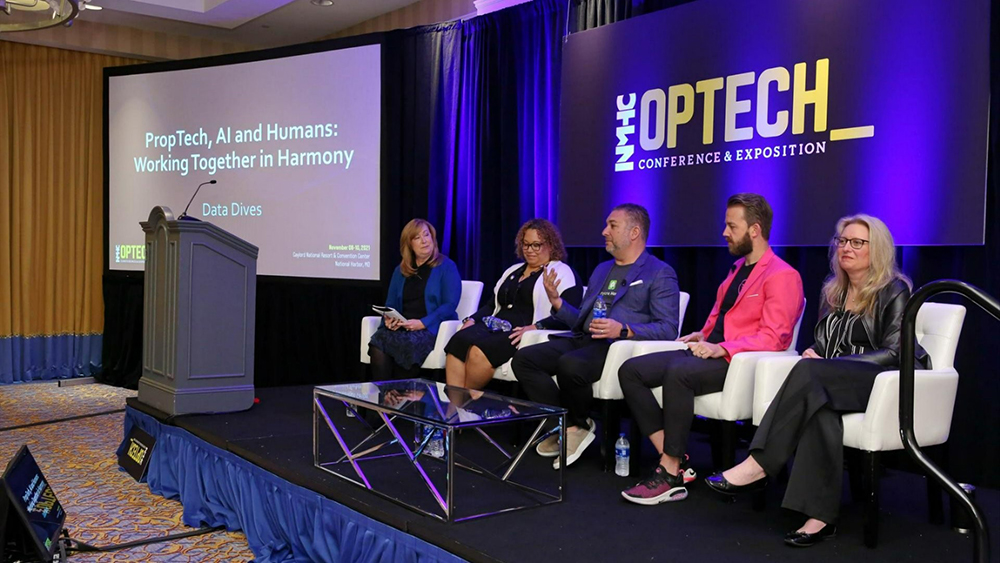 How to Make Better Technology Decisions
With proptech solutions proliferating, industry executives increasingly need a well-articulated strategy for vetting, investing and rolling out new tech solutions. That starts with knowing where you want to end up. That was the takeaway from a session led by Yardi System's Michael Tuer, featuring BH Equities' Brandy Daniel, Draper & Kramer's Tim Kramer and MG Properties Joseph Anfuso.
Panelists noted that there was a lot of so-called low-hanging fruit in the industry where tech solutions could reduce paperwork, save time or otherwise optimize asset or team performance. However, industry executives need to truly see the dollars spent as an investment, involve the staff who will be using the solutions in the evaluation process and avoid seeking perfection at the expense of progress.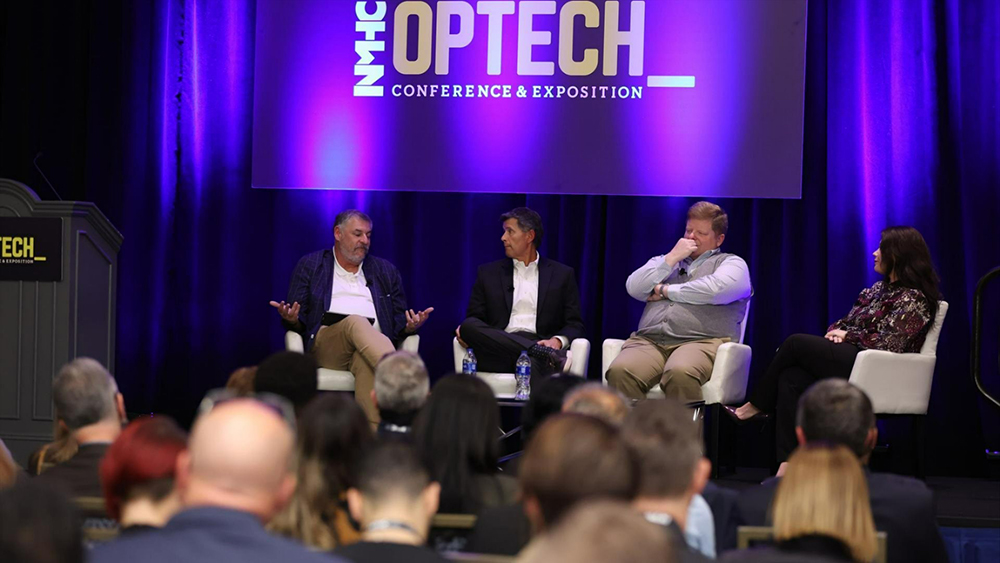 The Culture of High-Performing Data-Minded Teams
The biggest tech lesson overall? Data is important, but it's simply not enough to implement a data platform and hire smart data scientists to achieve a data-driven organization.
With this understanding, moderator Brent Steiner, Engrain, navigated through the culture of data from innovation to communications with panelists Kevin Geraghty, AvalonBay Communities, Diana Norbury, Pillar Properties, Stephanie Gonzalez, Venterra Realty and Brandy Daniel with BH Equities, LLC. The key takeaway was successful data implementation is not just looking in hindsight but also, "What can we do with this to create more efficiencies to our team members?"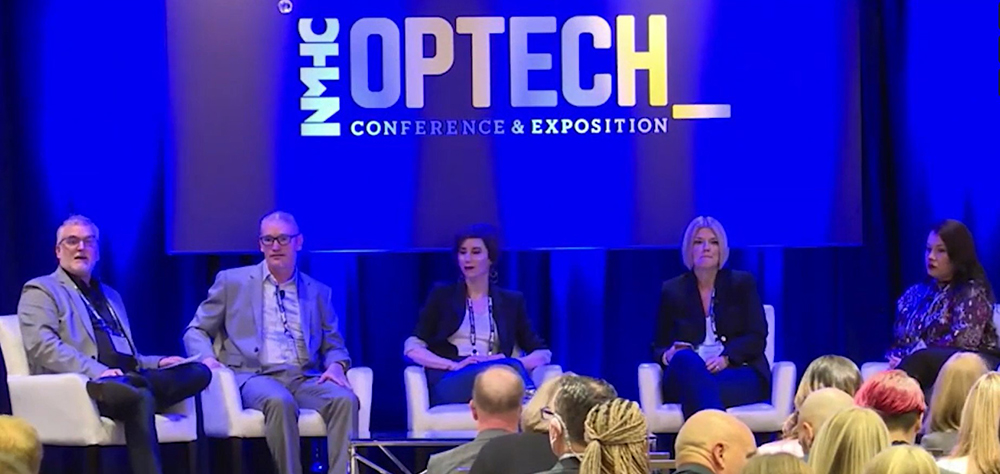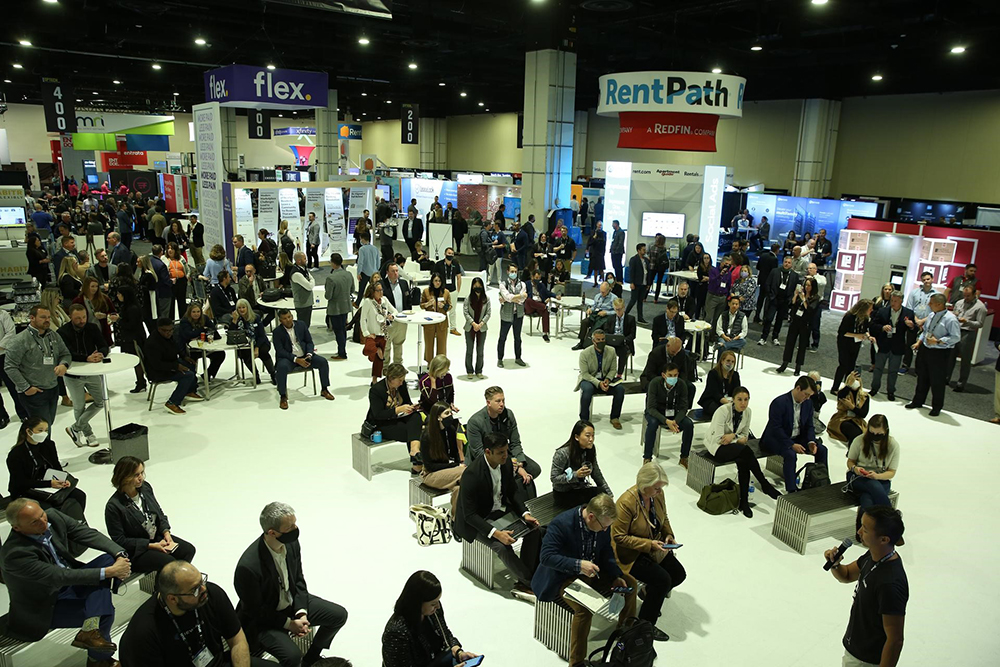 The 2021 OPTECH Expo reimagined time and space for solution providers to showcase their innovations in an expanded hall with 150 exhibitors and a lounge to establish industry connections.
---