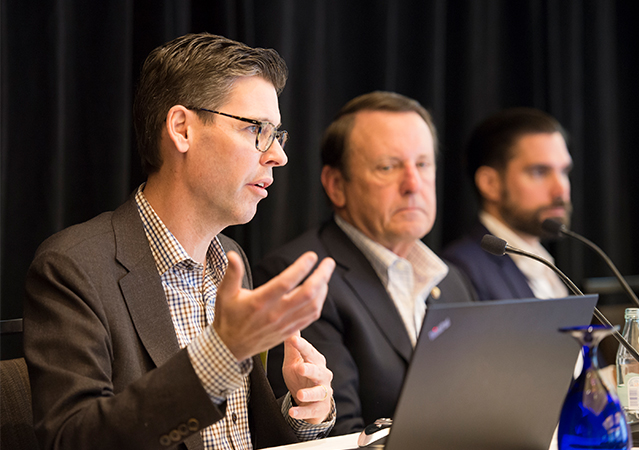 Multifamily firms' interest in so-called age-targeted apartment communities that are specifically designed for older residents has grown in recent years. The massive size of the baby boomer generation suggests a deep pocket of housing demand—and especially rental demand going forward.
This potential for significant growth in the age-targeted market segment was the topic of discussion for a panel of industry experts at the 2018 NMHC Research Forum. Panel participants included Bozzuto's Mark Franceski, Greystar's Quinn Eddins, KTGY's Manny Gonzalez and Waterton's Philip Martin.
The primary impetus for the increasing interest is demographics. Not only is the baby boomer generation huge in and of itself, but the American population is aging as whole. According to Census data, the 65 and older set is set to expand faster than any other age cohort between 2010 and 2050, growing roughly 120.1 percent compared to 32.2 percent for those 18 to 44 and 35.1 percent for those under 18.
And as people age, many are considering downsizing, trading in their single-family homes for low-maintenance apartment living as they age. However, apartment communities built for boomers differ from standard market-rate product in a number of ways:
High risk, high reward: Age-targeted communities are generally more expensive to design, build and operate and they are slower to lease. Further, residents' needs evolve over time, making it incumbent on the community manager to make extra efforts to be sensitive to that process and residents' changing priorities. Yet, if the risks are properly managed, this market segment commands significant rent premiums, benefits from longer than average resident tenure and achieves higher returns on cost.
Amenities and activities: On top of a generous offering of on-site amenities, which may include a fitness center, pool or movie theater (yes, still popular with older residents), boomers expect much more in the way of planned social activities. Many of them are retired or only work part time, so they look for more programming for their free time. Apartment firms need to think cooking classes, bocce leagues, happy hours, or even dog-friendly yappy hours
Larger units and additional storage: Residents moving from single-family homes would prefer larger units than is typical in market-rate communities. In this same vein, boomers often need a place to store their excess belongings, so the availability of storage is a key value proposition.
With this segment of the apartment industry still in its nascent stages, there is much to be learned about what it takes to design, develop and operate a successful age-targeted community. Yet, as America's oldest age groups continue to grow at rates far above that of the total population, apartments designed for baby boomers are likely to continue to be an area of interest and growth for the apartment industry.
Slides from the session can be found here.
---