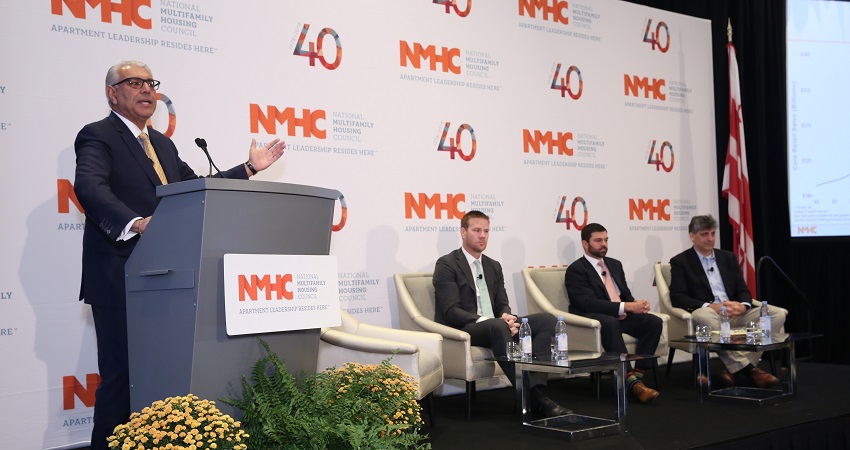 While policy discussions and the issue of housing affordability were front and center on the program at the 2018 NMHC Fall Meeting, industry executives also heard from a number of speakers on additional business topics. Here are three main takeaways.
No. 1. Retail as We Know It Is Changing
With e-commerce grabbing more retail market share every year, there's question about the future of brick-and-mortar retail, especially as it relates to mixed-used developments. To help provide perspective, Hessam Nadji, president and CEO of Marcus & Millichap, led a panel discussion with DJ Busch, managing director retail of Green Street Advisors; Stephen Manaker, managing director of retail REIT research at Compass Point Research and Trading; and James Milam, vice president of finance for the mixed-use division of Federal Realty Investment Trust.
The good news is that "today's consumer is in the best shape in perhaps decades," said Nadji. And while e-commerce is the fastest growing segment of retail, it remains relatively small at 13 percent of all retail sales. But societal patterns are changing, reshaping how the consumer wants to spend their money. In fact, Nadji noted that restaurants are the second fastest growing segment of retail.
"For the first time in the history of our country, expenditures on dining out exceeded expenditures on groceries," he said, adding that within the restaurant group, bars are growing at an even more rapid rate.
So, while department stores and traditional malls are faltering in many cases, there are segments that continue to grow. Noting that retail has long been a cyclical business, Manaker said, "The key, from our perspective, is to find retailers who can figure out how to grow their business in different environments.
Access more data and presentation slides here.
No. 2. There's More to Know About Opportunity Zones
Enacted as part of tax reform legislation in 2017, Opportunity Zones are designed to provide tax incentives for investments in distressed communities. Steve Friedman, director of CohnReznick, and Ira Weinstein, managing principal of CohnReznick, briefed executives on the real opportunities behind Opportunity Zones.
"Opportunity Zones are a little different in philosophy than things you might have seen for affordable housing before," Friedman explained.
However, for qualifying investors, there are several benefits: deferral of federal income tax on recognized capital gains; the potential to have a portion of that deferred gain forgiven; and no federal income tax on gain from the Opportunity Zone investment.
Moreover, Freidman noted that the zones warranted a look, as he had been surprised at what the zones comprised.
For more information on NMHC's advocacy efforts regarding Opportunity Zones, please click here.
Download the presentation here.
No. 3. Changes Are Coming to the Community Reinvestment Act
Joseph Firschein, deputy associate director and community affairs officer at the Division of Consumer and Community Affairs under the Board of Governors of the Federal Reserve System, and Barry Wides, deputy comptroller of community affairs for the Office of the Comptroller of Currency, provided an update on the Community Reinvestment Act (CRA).
In September, the federal government put out a notice of proposed rulemaking, a first step in making changes to the CRA. These changes have the potential to affect multifamily access to capital.
"The CRA is a pretty important incentive for banks, as they think about making loans and investments," explained Firschein. "It's important to understand how it affects bank incentives—and that's why it's important to [the multifamily industry.]"
The pair discussed how the existing CRA rules are outdated, lack transparency and fail to reflect the modern-day banking industry and also identified a handful of areas where improvements should be made. They also cited a recently released treasury report as a resource for the multifamily industry looking to learn more.
Executives are encouraged to become involved in the rulemaking process and, more specifically, submit comments to the notice. Comments are due Nov. 19 and can be made through the Federal eRulemaking Portal or by sending an email to regs.comments@occ.treas.gov.
---