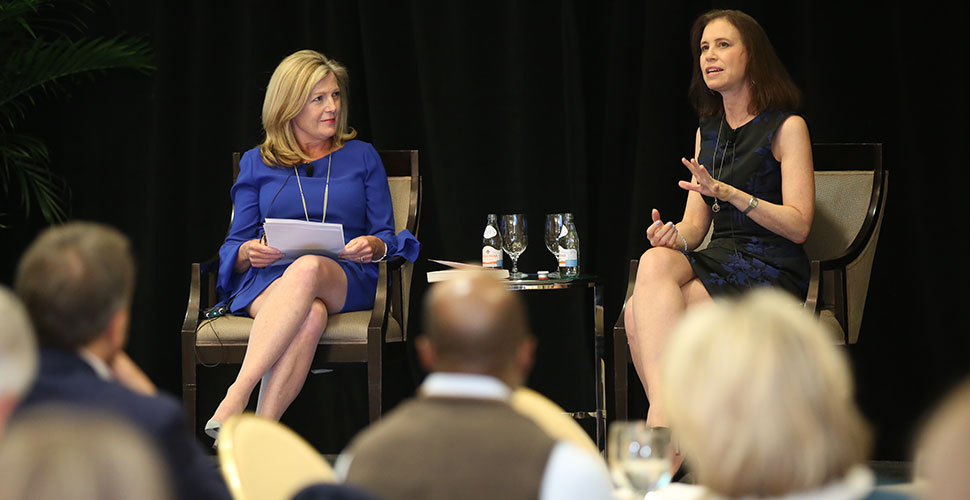 Multifamily industry leaders strive to build high-performing companies. They understand the strategic importance of diversity in achieving those goals, as well as its power to drive business results. But what does a diverse—and inclusive—workplace really look like, and how is the plan developed and implemented?
These were central questions during the 2019 NMHC Leadership Forum on Diversity & Inclusion, where more than 100 industry executives gathered for dialogue and resources to help their organizations and the industry move forward. Special speakers from beyond the industry weighed in on creating great places to work, supporting the LGBTQIA+ community and tackling gender equity in the workplace.
Some First Steps Forward
To help shape the dialogue, a panel of apartment industry executives provided updates on their D&I strategies, offering practical information on what's worked and what they've learned. The panel included Gregory S. Bates, COO and EVP with GID; Jeff Coles, senior director at Berkadia; and Summer K. Haltli, SVP of strategic management and sustainability for FCP.
Some speakers stressed the importance of having specific action items tied to D&I goals. For example, at FCP, Haltli said that the company identified tactics they could implement right away to begin to move the needle:
Rethink language. Job descriptions were reviewed changed to be more attractive to women and minorities.
Focus on the talent pipeline. They developed strategic partnerships with specific schools to better market the company, and the industry at large, to students.
Take more time. A new policy was created to bring at least two diverse candidates to the final interview stage before finalizing a new hire.
Change the hiring mindset. Managers often place a premium on job experience. However, that can significantly limit the talent pool, and probably isn't necessary for sourcing the best candidates. So, managers began looking for candidates that could learn rather than just those with certain experience.
Create guiding oversight. The company created a diversity ombudsman role to ensure diversity is considered in the hiring and talent management process.
Coles, Bates and Haltli shared numerous reasons for their companies' movement toward a more formal D & I strategy – and all relate to the bottom line. Increased focus on the part of their investors and clients, competition for talent and business advantage were among the topics discussed.
Benefits of a High-Trust Environment
While policies and practices are important to building more diverse teams, an inclusive organizational cultural is essential to retaining and ultimately growing talent, according to Julian D. Lute, a consultant with Great Place to Work. The key to unlocking diversity's benefits, he argued, begins with creating workplaces where everyone, from the front lines to the C-suite, can have a high-trust experience with their peers and leaders. (View Lute's presentation)
A lack of trust stagnates collaboration and innovation because it prevents people from fully understanding the organization's goals, how their roles are connected to that purpose and how each individual contributes to that end. People are unable to fully contribute, or will leave the company, without trust as the foundation of engagement. Companies can bridge this "purpose gap" by recognizing individual talents and nurturing people's gifts.
The benefits of high-trust environment are plenty. Lute said research shows that high-trust workplaces have teams with greater energy, more productivity, fewer sick days, higher satisfaction and less burnout.
Understanding LGBTQIA Inclusion
When it comes to LGBTQIA inclusion, literacy in the evolving lexicon of the LGBTQIA community is important, said Zaylore S. Stout, Esq., principal at Zaylore Stout & Associates, LLC. Stout explained the meanings of gender identity, gender expression, biological sex, sexual orientation and more. (View Stout's presentation.) He spoke about not only avoiding outdated terms, but also becoming fluent in contemporary language and meanings.
Stout also noted that the concept of identity is multifaceted, or "intersectional." He showed executives a "wheel of intersectionality" that diagrammed how identity can be shaped by many characteristics. He emphasized that it isn't just age, gender, race, ethnicity, sexual orientation and physical ability, but also family status, geographic location, military experience, religion, education, political ideology, to name a few, that can be major contributors to identity.
Stout's presentation emphasized the market influence of the LGBTQIA community as renters and employees, and the impact of inclusion on the bottom line. Importantly, this growing market power is further bolstered by LGBTQIA allies. As an example, Stout compared two photos—one of the handful of Members of Congress who openly identify as being LGBTQIA, and another picture of the LGBT Equality Caucus with roughly 20 times the number of people. The point was that even if people don't personally identify as members of the LGBTQIA community, they can be allies, and their magnified influence is even more significant.
Similar to Lute, Stout also stressed the importance of creating an inclusive organizational culture to building a high-trust, high-performing company. Stout flagged examples of workplace policies and practices that may reflect unconscious bias, and suggested measures to consider when companies review them for potential modification.
Gender Equity in the Workplace
During a special fireside chat with Julie Smith, Chief Administrative Officer with The Bozzuto Group and also NMHC's Diversity and Inclusion Committee Chair, best-selling author and leading journalist Joanne Lipmann discussed a range of topics related to gender equity in the workplace which are also highlighted in her book, "That's What She Said: What Men and Women Need to Know About Working Together."
Lipman shared examples of leading companies that have thrived – or declined – because of diversity. Importantly, she emphasized the opportunity for businesses that meaningfully address the issue in a way that includes everyone.
Lipman noted the importance of community within organizations, and the dynamics of "belonging uncertainty."
"It's where you are at work and doing a good job, but you're not with the cool kids at the cafeteria," she explained.
Women often experience a sense of not fitting in, which can erode confidence and may ultimately result in tenuous ties to the organization. Lipman emphasized that executives cannot underestimate how pervasive this crisis of confidence is among female employees, and its relationship to the wage gap between men and women.
Executives also need to be more cognizant of the "emotional labor" that most working women experience, as it can have a spillover impact in the workplace and lead to decision fatigue. "Who is the person setting up the doctor appointments, play dates, signing the kids up for soccer, organizing birthday parties, researching doctors?" she said. "That's the stuff that doesn't count in traditional estimations of labor."
More multifamily companies mindful of diversity and inclusion and are setting goals. They are talking about unconscious bias, reviewing job descriptions, changing search and interview policies, improving marketing efforts to reach a broader talent pool, rewarding diversity efforts, and establishing accountability and oversight structures—all to attract and retain more diverse talent for the long-term success of their organizations.
NMHC's third Leadership Forum on Diversity & Inclusion is part of our long-term commitment to promote diversity and inclusion for the multifamily housing industry. To learn more, visit www.nmhc.org/diversity or contact NMHC General Counsel Betsy Feigin Befus at BFBefus@nmhc.org.
---