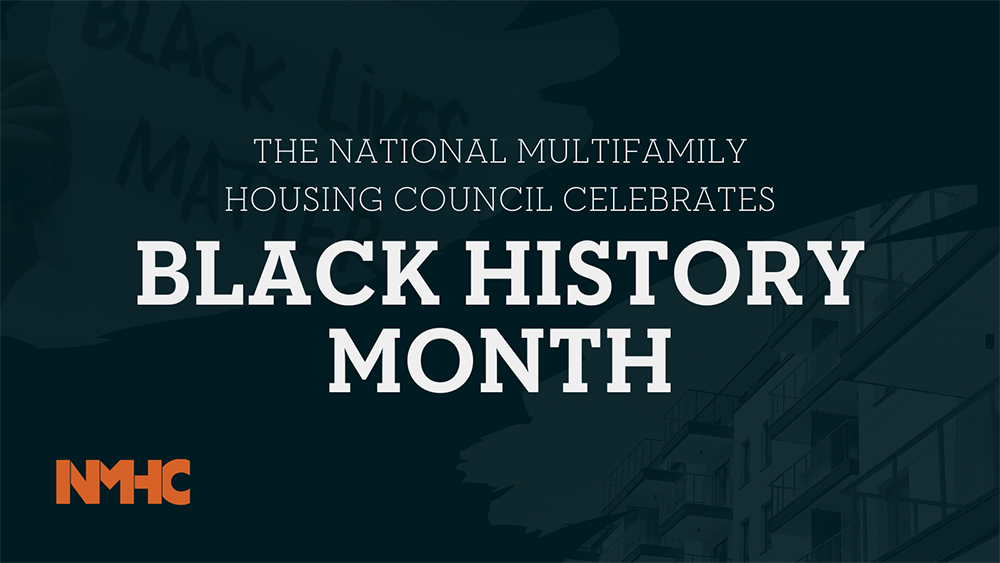 Over a decade ago, NMHC began a movement to advance diversity, equity and inclusion (DEI) as a business imperative. Formation of NMHC's Diversity, Equity and Inclusion committee was an early step from that commitment. Since its inception, this committee has helped shape industry efforts to highlight best practices, provide resources and leverage strategic alliances to help create diverse, equitable and inclusive multifamily organizations where talent and the communities they build will thrive.
Although NMHC's commitment is longstanding, the 2020 social unrest brought on by deep-rooted racial inequity created urgency to do more. Nearly two years ago, NMHC convened a Racial Equity Task Force with the Real Estate Executive Council (REEC), to launch the NMHC Industry Framework for Racial Equity and Economic Inclusion. The goal of the Framework is to expand economic inclusion for commercial real estate professionals of color, both within NMHC member organizations and across the multifamily sector, by expanding access.
Specifically, the Framework encourages hiring and partnering with minority-owned companies; expanding access to capital and credit for firms owned by CRE professionals of color; and increasing the number of CRE professionals of color in senior leadership positions and throughout organizations. In addition to outlining those overarching goals, the Framework recommends industry actions and NMHC-specific commitments to execute those goals.
Since setting those goals and committing to action steps, NMHC and the DEI Committee have produced a robust, measurable body of work to further our progress.
Black History Month provides an opportunity to not only reaffirm NMHC's ongoing commitment to strive for a more diverse, equitable and inclusive multifamily industry but it should also serve as a time of reflection on the many contributions made by the Black community—including those within our industry.
NMHC is committed to using our national platform to elevate Black voices and create a space for critical conversations that directly impact outcomes for Black multifamily real estate professionals and benefit the entire industry as a whole.
We encourage industry stakeholders to explore our "Dialogues With Doug" webinar series, which features conversations with NMHC President Doug Bibby and real estate leaders on the immediate and interrelated issues of racism and social injustice in America. Each episode explores the opportunities and actions for meaningful transformation that corporate leaders can do to effect change in their companies and communities. Access the series here.
We'd also like to highlight an NMHC program launched last year intended to create greater access to the Council and its business benefits through more inclusive, forward-facing membership policies. Our program provides a two-year complimentary Advisory Committee level membership to apartment firms and suppliers owned by members of under-represented groups, specifically minority and woman-owned firms. Interested organizations should mark their calendars for the 2022 application process kick off on March 1. Program details can be accessed here.
Keep your eyes open for two important products planned for release in the coming months—the NMHC Diversity, Equity and Inclusion Toolkit: Executing an Organizational Commitment and Opening Doors of Opportunity: A Guide for Advancing Housing Equity in the Multifamily Industry. We hope both products will serve as meaningful tools for apartment firms to deploy strategies to further racial equity and inclusion within their organizations and communities.
Lastly, save the date for NMHC's 2022 Leadership Forum on DEI on May 18 in Dallas. Registration opens March 22.
Working toward a more diverse, equitable and inclusive future is not just the right thing to do, but it's what our industry must do to remain competitive and prosperous. Thank you for taking the time to celebrate Black History Month with us through exploration of our recent and upcoming initiatives.
---