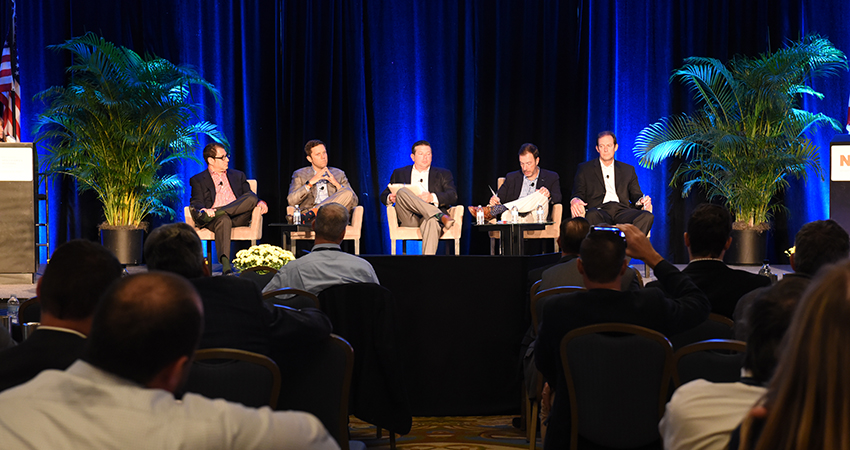 Back by popular demand for the third consecutive year, NMHC's DealTank was once again a highlight at the 2017 NMHC Student Housing Conference & Exposition. The session featured a Shark Tank-style series of presentations, where individuals fast pitched real student housing deals to a panel of savvy investors in hopes of nailing down an important piece of their capital stacks.
This year, investors seemed especially hungry for deals, perhaps motivated by today's competitive deal-making environment and/or a need to deploy investment capital sooner rather than later. All presenters' deals were met with some degree of interest from the investor panel. We'll look forward to seeing whether any of these deals get done.
Our investor panel included Scott Barton, senior vice president of acquisitions and development for EdR; JD Goering, vice president for Harrison Street Real Estate Capital; Kristopher Kelley, senior vice president of acquisitions for American Campus Communities; Andrew Stark, president of Pinnacle Campus Living; and Peter Stelian, CEO and cofounder of Blue Vista.
Here's the quick rundown of the pitches.
Thurston Hall. Located nearly equidistant from Hawaii Pacific University (6,000 students) and the University of Hawaii (19,000 students), this 78-bed, micro-unit student housing project needs $1.6 million in additional equity to move development forward. The project, which has an estimated total project cost of $24 million, is fully entitled and in the process of obtaining permits and has secured construction financing. Located on key bus lines serving both universities and across the street from Waikiki Beach, the project is slated for delivery in August 2019.
Urban Icon. This 3.2-acre project intends to serve the University of Alabama at Birmingham (19,500 students) with a new 625-bed student housing facility walkable to campus. The project is currently in due diligence and is in need of a joint-venture partner to help fund construction. It has an estimated total cost of $57 million and expected delivery of August 2019.
9 on Canal. This 397-bed project in Indianapolis serves Indiana University-Purdue University Indianapolis (28,000 students) and specifically targeting the engineering school. This is a second go at transacting the project, which delivered in 2014 and also includes 6,800 sf of commercial space. Investors initially penalized the seller for not being fully leased on the commercial space, something that has since been remedied.
Latitude. This is two-part deal serving the University of Illinois Champagne Urbana (44,900 students) and is situated adjacent to both the university and the hospital and medical center. Investors have an opportunity to purchase both the completed 519-bed Latitude project, which delivered in the summer of 2016 and has a stabilized value of $88 million, and invest in a presale opportunity for the second phase of the project, either at construction completion or stabilization. Phase II of the project includes 675 beds and 18,000 sf of commercial space. Phase II is currently under construction and should be completed in the spring of 2019.
Wolverhampton Gateway. This deal is for an opportunity to invest at an 812-bed student housing project at England's Wolverhampton University, a 23,000-student university located 130 miles northwest of London. Planning is approved for the project, which is expected to deliver in 2019 with a total project cost of nearly $7 million.
NMHC thanks Steve Helfrich, vice president of business development for CampusWorks, and Dorothy Jackman, executive managing director at Colliers International, for their work moderating the session and assembling the suite of deals.
---