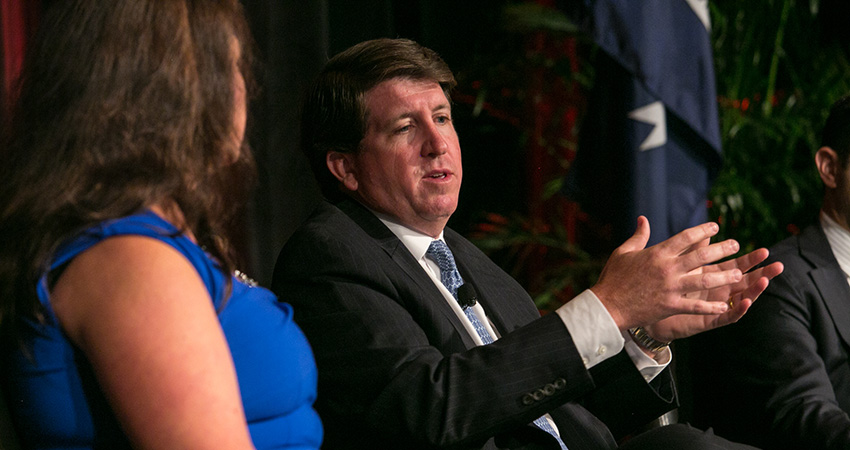 As a competitive capital landscape drives up student pricing and values, it's also putting the squeeze on cap rates and investor yield. While this is good news for sellers, for those looking for new investment opportunities, it's beginning to reshape their strategies.
During a session at the 2016 NMHC Student Housing Conference and Exposition, Jeanette Rice, head of investment research for the Americas for CBRE, shared some analysis that showed that the biggest compression is happening in markets anchored by large, public universities with leading football programs.
According to her data for 2Q 2016, cap rates for deals at Division I football schools were 73 basis points lower than non-Division I schools. Even within Division I schools, there was a notable difference between cap rates at Power 5 schools, meaning football powerhouses in the five major conferences (ACC, Big Ten, Big 12, Pac-12 and SEC), and regular Division I schools.


Also notable in the CBRE data was that assets that were pedestrian to campus had a cap rate 15 basis points lower than assets located more than 0.5 miles from campus, although that spread had continued to narrow since 2013.
For student housing REITs like American Campus Communities and EdR, these trends supported their market picks and preference for fall-out-of-bed locations, although it was forcing them to re-rank and order their investment priorities in the nearer term.
During another panel discussion, EdR Chairman and CEO Randy Churchey said his company's top three priorities in descending order were on-campus development opportunities, off-campus developments and acquisitions.
"We look at campuses in the Power Five with some add-ons. And those are assets we'd be willing to own off campus. But when you go on campus, we widen the pool because there's less downside risk," he said. "So, if there are 125 schools where we are willing to own off campus, there are probably 150 that we would do on campus."
Similarly, Bill Bayless, CEO and president of American Campus Communities, said, "When we get into on-campus [deals], we will go smaller to the Princetons and Drexels." Bayless also said that his company was putting much more emphasis on development over acquisitions as a growth strategy.
However, other executives were more skeptical of the focus on on-campus development, saying the privatization of on-campus student housing still represents such a small part of the overall market opportunity. For them, there was more opportunity in acquisitions, particularly for pedestrian-to-campus and value-add, pedestrian assets.
However, during a separate discussion, Harrison Street Real Estate Capital President and CEO Christopher Merrill said he looks at on-campus opportunities in a different way. "It's interesting how the on-campus opportunity has evolved. We've probably done between $500 million and $600 million in on-campus deals. We set up a vehicle where investors can earn long-term income. It doesn't have the upside that you might get in off campus, but it's got great income stream."
Moreover, Merrill says his company has a different target profile. For example, he noted an on-campus deal his company did with a small school in Seattle. "We wouldn't do an off-campus deal [there], but it's a master lease with a school with a long history. But even if the school went away, I've got a property in downtown Seattle. Same thing with our deal with Long Island University. If it goes away, I've still got a property in Brooklyn."
Still other executives are looking a little further outside of traditional core student housing markets in hopes of capturing more yield. "If you are looking for more juice in your yields, you are going to have to go to that Tier 2 or take on more risk, maybe a value add," said John Preiss, chief investment officer for The Preiss Company. "But there's more risk in your exit."
For Brian Minnehan, a vice president with Blue Vista Capital, the risk is worth the reward. "We like the stories in the high-growth Tier 2 markets. We get concerned on the Tier 3 schools that most people haven't heard of. But we still look at everything that comes out. There are lots of buyers."
---