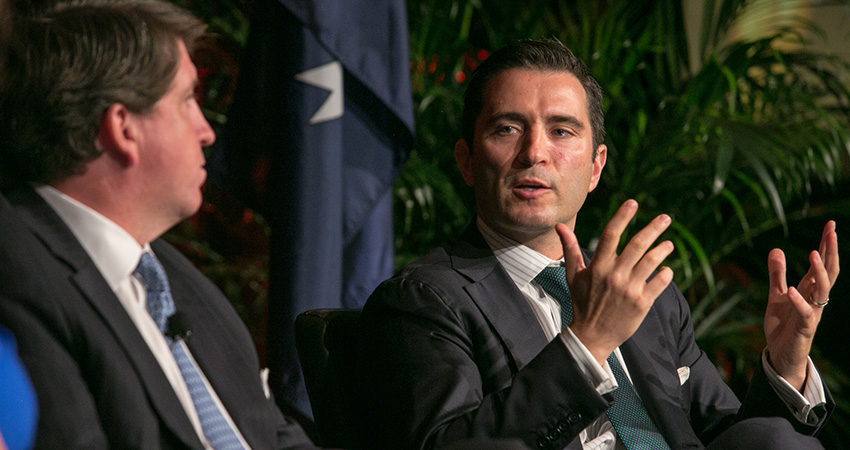 The student housing market's strong fundamentals and positive performance relative to other asset classes has attracted a lot of capital to the sector. While capital sources remain diversified, executives at the 2016 NMHC Student Housing Conference and Exposition noted that foreign capital, in particular, is taking a bigger stake in the sector.
"Equity-including global equity-is seeing student housing as the place that they want to be," said Bill Bayless, CEO and president of American Campus Community.
During another discussion on the trend, Peter Katz, executive director at Institutional Property Advisors, said that roughly 20 percent of the capital pouring into the sector is from abroad from places like China, the Middle East and Canada; this compares with roughly 5 percent for traditional multifamily. Beyond pure performance, Katz said many foreign executives are attracted to the sector because either they've been educated in the U.S. or their kids are going to school in the U.S., so they are familiar with the concept and, more important, the schools.
"It's because of the brand names of the universities," Katz said. "They know Harvard, Yale and the other big ones. In the conventional [multifamily] space, the brand names aren't necessarily there."
John Preiss, chief investment officer for The Preiss Company, said that despite some degree of familiarity with the sector, foreign investors are proceeding with caution.
"We're seeing more foreign investment. It's becoming more and more popular," he said. "But they tend to start by just sticking their foot in. You start hearing about them and meeting with them, but it takes them awhile to get comfortable. They want strong operators because they don't know what they're doing [when it comes to operations]."
Rob Bronstein, president of The Scion Group, echoed the same comment during another panel discussion of the company's $1.4 billion purchase of University House Communities. The deal, which Bronstein said was "years in the making," came together through a joint venture with investors Canada Pension Plan Investment Board and GIC, a sovereign wealth fund from Singapore. While both foreign investment groups had student housing experience abroad, the U.S. student housing market was new to them, he said.
"There was a lot of searching on their side and on our side. Absolutely investors around the world recognize U.S. colleges and universities and U.S. real estate investment opportunity. And certainly they recognize that it's an area that is resilient to or even counter cyclical to the economy," Bronstein explained. "What they liked about our particular thesis is that we've been at this for a very long time. ... So we had the focus, the track record, we already had a significant 20,000-plus bed portfolio when we began those discussions. There was a lot of due diligence."
---