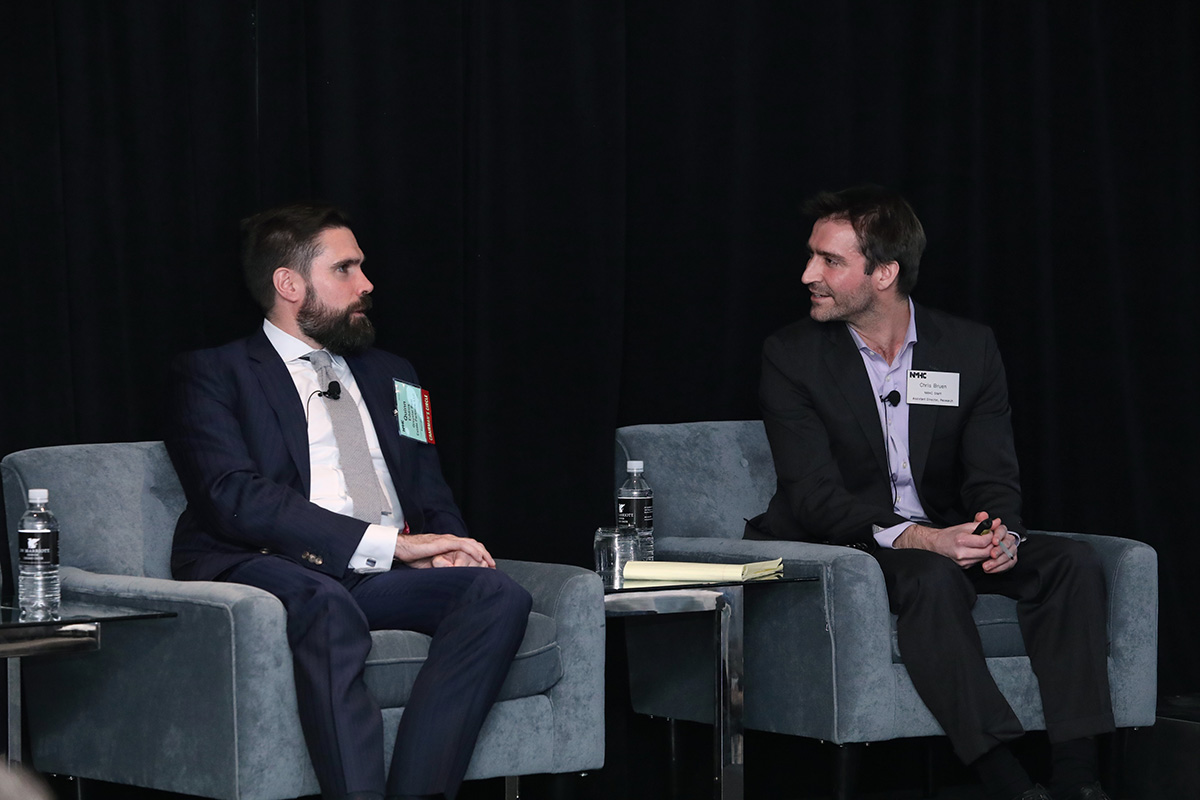 Do residents care about having a gym? Or would they prefer valet parking? What about soundproofing? These are some of the questions about resident preferences that a panel of industry experts debated last week as part of the 2019 NMHC Research Forum in Denver.
Moderated by Aimee Baumiller, vice president and senior market analyst at PNC Real Estate, discussion participants also included Quinn Eddins, assistant director research at Greystar, and Chris Bruen, assistant director of research at NMHC. Click here to view the presentations.
Eddins kicked off the session with a presentation of the results of a recent Greystar resident survey. The survey included more than 28,000 responses from new residents collected between March and September 2018. Residents were asked to rank 18 apartment features and 29 community amenities on a 5-point Likert scale based on how much of a priority each feature was for them when making a leasing decision. They were also asked how much more rent they would be willing pay per month for each of the features using a slider with $5 increments, from $0 to $200. 
Based on the results, Eddins grouped responses about into four categories based on priority—(1) borderline very high priority, (2) high priority, (3) borderline high priority and (4) neutral.
In terms of apartment features, Eddins found that the very highest priority feature was additional soundproofing for the unit, followed by like in-unit washer and dryers, living room balconies, hardwood floors and stainless-steel appliances. Lower on the priority list were features like gas stoves, mudrooms and Bluetooth sound systems. However, there was some geographic variation. For example, gas stoves were more popular in the West, Midwest and Northeast and floor-to-ceiling windows were more popular in Northeast and major Midwest cities. 
The survey results get even more interesting when community amenity preferences become apparent. On the high priority side are features like pools and secure community access. In fact, according to Eddins, pools were highly highly valued in both warm and cold climates because, when you cannot use it all year-round, "you appreciate it more when you can." Slightly lower priority were features centered around sustainability. More neutral feelings came around dog parks, community exercise classes and business centers. Concierges were a lower priority to many, which was somewhat surprising given that other lower priority items were more old-school amenities like theater rooms. 
There were also some fascinating results around parking features. While reserved parking was the fifth most prioritized amenity, valet parking was one of the lowest priority features. "As long as folks are guaranteed a spot," says Eddins, "they are fine parking their own cars." However, when it came to paying monthly premiums, valet parking was seen as having some of the highest value. This indicated that for those who prioritize valet parking, they value it highly. 
Renters assigned low premiums to technology features like smart appliances because, according to Eddins, technology has "a perceived replacement cost." Unlike features like a balcony, that are harder for the regular renter to price, with technology, a resident "can get an idea as to what they would pay for the product." 
With regard to community amenities, renters put the highest value on secure parking. In fact, this was the case with all car-related amenities. Meanwhile, sustainability-related amenities were viewed as having the lowest premiums. That said, renter in urban areas placed a higher priority and value on sustainability than those in suburban ones. 
NMHC's Bruen said analysis of the most recent NMHC/Kingsley Associates Renter Preferences Survey, which included responses from more than 250,000 renters at more than 4,000 properties, yielded some similar results as Greystar's survey. For example, the NMHC survey also found that soundproofing, secure parking and pool/fitness centers were among the highest rated and desired amenities.
However, Bruen shared some deeper analysis on parking and short-term rentals trends. When it came to cars, the survey indicated that 55 percent of renters have at least one car while 77 percent said that they commute by car either always or often. When analyzed with other demographic features, Bruen found that age and marital status were significant factors in likelihood to own a car. In general, the older a renter got, the more likely they were to own a car. The same was true in terms of likelihood to own a car. Married households were more likely to own a car while those with children were more likely to commute by car. Another interesting factor was that those who own pets were also more likely to own cars.  
City household density also was a significant factor. Car ownership, commuting by car and preference for secure parking were much higher in less dense metros like Orlando and Arlington, Va. The opposite was true of dense areas like San Francisco or New York's Upper East Side. 
When it comes to short-term rentals, 66 percent of respondents said short-term rentals on site would either have no effect or a positive effect on their leasing decisions. are currently an important issue in the industry as it can inform the design of future buildings. However, 16 percent of respondents said they would not rent in a community with short-term rentals while 19 percent said that they would negatively view communities with short-term rentals. Also, results showed that younger people were more likely to be interested in earning money through short-term rentals than older people. There was also less interest among those who have been in their apartments longer.
Both Eddins and Bruen said they were gearing up for some follow-up surveying. They discussed ways they will be looking to improve their respective surveys. Eddins said he would like to ask more about "proptech features, particularly around resident services." He also mentioned a virtual butler system. Bruen echoed this, saying he was more interested in asking more about cell service and wifi instead of business centers and movie theaters. In addition, he saw an opportunity to learn about the intersection of old spaces, like fitness centers, and new technology. For example, he would want to ask about gym equipment with virtual classes, like Peloton bikes. 
Results from the 2019 NMHC/Kingsley Associates Renter Preferences Survey will be released at the 2019 NMHC OPTECH Conference & Exposition. In the meantime, takeaways from the current survey are available at https://www.nmhc.org/residents.
---